Track and Field
For thousands of years, sports have inspired human excellence, improved society, promoted togetherness, and extended human longevity. People of every creed and background have expressed sports to express creativity and the love of constructive competition. Track and field is one of the greatest sports in human history. It can improve human endurance, strength, and athleticism. It is very diverse. It deals with running, jumping, and throwing. Track and field is an international sport. It is found in America, Africa, Asia, Europe, Australia, etc. Many oval shaped stadiums have track and field sports being performed. Adults, college students, high school students, middle school students, and other youth perform track and field. There are so many activities involving track and field as well. There is sprinting. There are the actions of road running, cross country running, and race walking. Marathon running is very famous. Many athletes run in hurdles. Jumping events include the long jump, the triple jump, the high jump, and the pole vault. People throw in activities of the shot put, javelin, discus, and hammer. Combined events are common in track and field. An activity including 5 events is called the pentathlon. Those that deal with 7 events is called the heptathlon and those including 10 events is called the decathlon. In these situations, athletes participate in a combination of track and field events. Most track and field events are individual sports with a single victor; the most prominent team events are relay races, which typically feature teams of four. Events are almost exclusively divided by gender, although both the men's and women's competitions are usually held at the same venue. Back then, there were track races in the ancient Olympic Games from ca. 776 B.C. Today, there is track and field in the Olympic Summer Games. Also, there is the IAAF World Championships in Athletics that deals with track and field. The International Association of Athletics Federations is the international governing body. Records are readily kept involving track and field in our modern age. Women, men, and children love track and field as they express all of the time. There are many legendary track and field athletes too. They include: Jesse Owens, Jackie Joyner Kersee, Usain Bolt (who is the greatest sprinter in human history), Carl Lewis, Carmelita Jeter, Flo Jo, Shelly-Ann Fraser-Pryce, Paula Radcliffe, Dennis Kimetto, Patrick Makau, Catherine Ndereba, Joan Benoit, Sohn Kee-chung, Mike Powell, Michael Johnson, etc. Track and field is an awe inspiring sport and we love it wholeheartedly.
Its Early History
The history of track and field goes back thousands of years. In human prehistoric times, track and field activities existed. Some of the oldest sports were track and field actions like running, jumping, and throwing. Human expression deals with these specific activities. The first recorded examples of organized track and field events are found at a sports festival called the Ancient Olympic Games. The first Games transpired in 776 B.C. in Olympia, Greece. One event there was contested. It was called the stadium footrace. Back then, a cook from the nearby city of Elis, named Koroibos won the stadium race. It was a foot race of about 600 ft. long. Games expanded into other areas as time went onward. It includes other running competition. Some scholars believe that the ancient Olympics existed as early as the tenth or ninth century B.C. The introduction of the Ancient Olympic pentathlon evolved into modern track and field sports today. It was made up of the five event competition of the long jump, the javelin throw, the discus throw, stadion footrace, and wrestling. There was ancient boxing in the ancient Olympics too. Equestrian events were held in the hippodromes. The Panhellenic Games in ancient Greece around that time period had these activities too. It spread into Rome, Italy by 200 B.C. After the period of Classical ancient times (which used the sport in Greco-Roman areas), new track and field events developed in parts of Northern Europe during the Middle Ages. There was the stone put and weight throwing competitions. They were popular among Celtic societies in Ireland and Scotland. These were precursors to the modern shot put and hammer throwing events. The pole vault existed from competitions like the Fierljeppen contests in Northern European Lowlands by the 18th century. In the 19th century, discreet modern track and field competitions transpired. These were organized by educational places, military organizations, and sports clubs. They had teams that were rivals against teach. Competitions in the English public schools were conceived as human equivalents to horse racing, fox hunting, and hare coursing. The oldest running club in the world was the Royal Shrewsbury School Hunt. It has records that go back to 1831. Some evidence point to its existence in 1819. The school had races in which runners followed a trail of paper shreds left by two foxes. Today, the RSSH runner care called hounds and a race victory is found. The first definite record of Shrewsbury's (cross-country) Annual Steeplechase is in 1834, making it the oldest running race of the modern era. The school also lays claim to the oldest track and field meeting still in existence, originating in the Second Spring Meeting first documented in 1840. This featured a series of throwing and jumping events with mock horse races including the Derby Stakes, the Hurdle Race and the Trial Stakes. Runners were entered by people and named as though they were horses. 13 miles (21 km) away and a decade later, the first Wenlock Olympian Games were held at Much Wenlock race course. Events at the 1851 Wenlock Games included a "half-mile foot race" (805 m) and a "leaping in distance" competition. In 1864, Oxford and Cambridge universities (found in the UK) had its first college track and field meet.
In 1865, Dr. William Penny Brookes of Wenlock helped to create the National Olympian Association. It held their first Olympian Games in 1866. It was done at the Crystal Palace in London. It was a national success. It attracted a crowd of over 10,000 people. Later, in that same year, the Amateur Athletic Club was created. It held a championship for "gentlemen amateurs" in an attempt to reclaim the sport for the educated. Later, the NOA continued and the AAC was changed into the Amateur Athletic Association in 1880. That was the first national body in America for the sport of athletics. The AAA Championships (or the de facto British national championships) existed despite being for England only. It held events annually since July 3, 1880 with breaks only during the two world wars and 2006-2008. The AAA had a global governing body in the early years of the sport. It has codified its rules too. In the United States, it started its own annual national competition. It is called the USA Outdoor Track and Field Championships. It was first held in 1876 by the New York Athletic Club. The establishment of general sports governing bodies for America (the Amateur Athletic Union in 1888) and France (the Union des sociétés françaises de sports athlétiques in 1889) put the sport on a formal footing and meant that international competitions became possible. There was an early model of hurdling at the Detroit Athletic Club in 1888.
International Impact
The modern Olympic Games came about at the end of the 19th century. It was a new era of track and field. The Olympic athletic program, made up of track and field events plus a marathon race, contained many of the foremost sporting competitions of the 1896 Olympics. The marathon was used in the 1896 Olympics. It was a race of 42.195 km. It commemorated the run of Pheidippides, an ancient "day runner" who carried the news of the Persian landing at Marathon of 490 BC. to Sparta (a distance of 149 miles) in order to enlist help for the battle. According to the fifth-century BC ancient Greek historian Herodotus, Pheidippides delivered the news to the Spartans the next day. The Olympics embraced the usage of metric measurements in international track and field events. That system was utilized for both race distances and for measuring jumps and throws. The Olympic athletics programs quickly expanded over the course of decades. Track and field contests remained among the Olympic Games' among some of the most prominent events. The Olympics back then was the elite competition for track and field and only amateur sportspeople could compete. Track and field back then continued to be mainly an amateur sport. This rule was strictly enforced. Jim Thorpe (one of the greatest athletes of the 20th century) was stripped of his track and field medals from the 1912 Olympics after it was revealed that he had played baseball professionally. In 1912, the International Amateur Athletic Federation or the IAAF was formed. It was the international governing body for track and field. It promoted amateurism as part of its goal. The National Collegiate Athletic Association had its first Men's outdoor Track and Field Championship in 1921. It was one of the most prestigious competitions for students. It was followed by the introduction of track and field at the inaugural World Student Games in 1923. The first continental track and field competition was the 1919 South American Championships. It was followed by the European Athletics Championships in 1934.
Up until the early 1920's, track and field was mostly made up of males. This changed. There was a growing women's sports movement in Europe and North America. This movement caused the creation of the Women's World Games in 1921. It led to the introduction of five track and field events for women in the athletics at the 1928 Summer Olympics. In China, women's track and field events were held in the 1920's. They were disrespected unfortunately by the audience there. By 1923, physical education advocate Zhang Ruizhen called for greater equality and participation of women in Chinese track and field. The rise of Kinue Hitomi and her 1928 Olympic medal for Japan signified the growth of women's track and field in East Asia. More women's events were gradually introduced as years progressed (although it was only towards the end of the century that the men's and women's programs approached parity of events). In September 1, 1921, there was the establishment of the NCAA Track and Field Championship. By September 1, 1948, starting blocks and wind gauges are introduced. This allows for faster sprints and more accurate readings of results. Marking an increasingly inclusive approach to the sport, major track and field competitions for disabled athletes were first introduced at the 1960 Summer Paralympics. Track and field regional championships grew. There is also the growth of Olympic style multi-sport events (like the Commonwealth Games and the Pan-American Games). So, competition among international track and field athletes is more widespread now. The sport gained more exposure and commercial appeal via television coverage since the 1960's. There is also an increasing wealth of nation. Over more than 50 years of amateurism, the amateur status of the sport was replaced by the growing professionalism from the late 1970's. Therefore, the Amateur Athletic Union was dissolved in America. It was replaced with a non-amateur body solely focused on the sports of athletics. This organization is called the Athletics Congress (later USA Track and Field). The IAAF followed suit by 1982. It abandoned amateurism. It removed all references to it form its name. It re-branded itself as the International Association of Athletics Federations. In 1983, there was the establishment of the IAAF World Championships in Athletics. This was the first ever global completion just for athletics, which with the Olympics became one of track and field's most prestigious competitions.
Track and field has dramatically increased in popularity by the 1980's. Many athletics became household names back during the 1980's. Their names are Carl Lewis (who worked hard in many sports), Sergey Bubka, Sebastian Coe, Zola Budd, Florence Griffith-Joyner (who is the fastest woman track and field sprinter in human history), Evelyn Ashford, and other human beings. Many world records were broken during this period and members from the United States, East Germany, and the Soviet Union competed against each other during that Cold War period. An increase of the commercial capacity of track and field developed. Sports science improved. Coaching methods were modernized. Training facilities became more advanced along with diet regimes plus sports equipment. Also, many athletes were caught using performance-enhancing drugs from the 1980's and beyond like members of the East German team, Ben Johnson, Marion Jones (to her credit, she apologized, served her time like a woman, and is an activist for real change in society).
Sister Florence Griffith Joyner was the greatest, fastest woman sprinter in human history. She is also known as Flo-Jo. She is the fastest woman of all time and many of her records still exist to this very day. She was a woman who was a legend. Her elegant stride in the track, her fashion style, and her charismatic personality were readily known by a wide spectrum of human beings. She was born in Los Angeles, California. We know that many track and field greats were born from Southern California as we always love the great people of the West Coast. She was born in 1959. Her father inspired her to run. She set school records while she ran track in Jordan High School in LA. Griffith attended the California State University at Northridge, and she was on the track team coached by Bob Kersee. She won silver medals in the Los Angeles 1984 Summer Olympics. In the Summer Olympics of Seoul, South Korea, she won multiple gold medals. In the 100-meter final, she ran a 10.54, beating her nearest rival Evelyn Ashford by 0.30 seconds. In the 200 meter semifinal, she set the world record of 21.56 seconds and then she broke this record again in winning in the final by 0.38 seconds with her time of 21.34 seconds. No other woman has beaten the 21.56, much less approached the 21.34. At the same Olympics, Griffith Joyner also ran with the 4 × 100 m relay and the 4 × 400 m relay teams. Her team won first place in the 4 × 100 m relay and second place in the 4 × 400 m relay. Their time is still the second fastest in history, following the winner of this race. Flo Jo is known for her gorgeous nails too. She retired from track and field in 1989. She continued to work in fashion, was in a TV show, and continued to raise her family. She married and has a child with her husband (Al Joyner). She passed away in September 21, 1998. Tons of track and field athletes and athletes in general are inspired by her legacy. Also, people not involved in athletes honor her memory too by advancing excellence, helping our neighbors, and loving truth. Her legacy is eternal.
Resist in Power Sister Florence Griffith Joyner.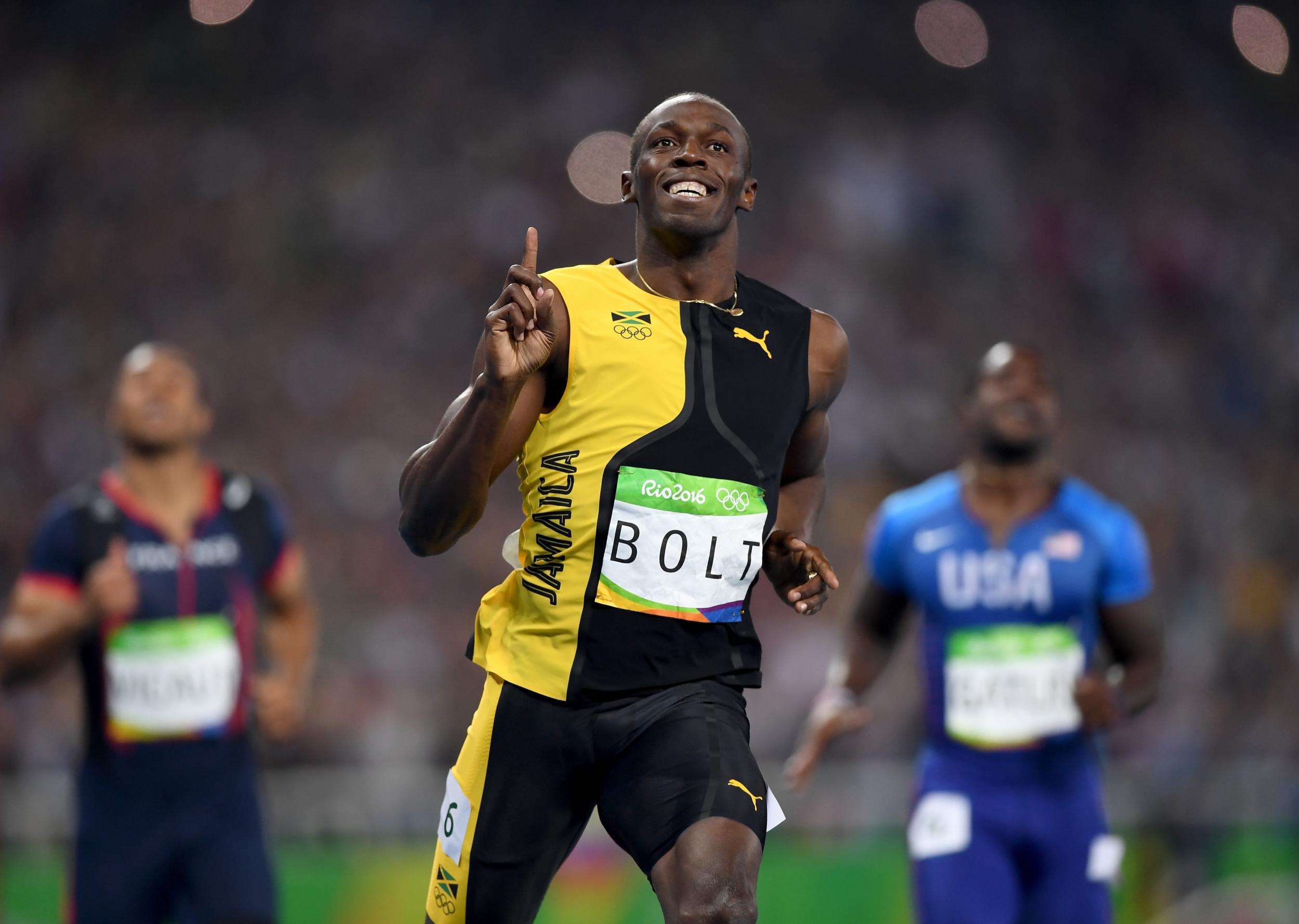 From the 1990's to our current generation, track and field has become more professional and international. During the 1990's, Jackie Joyner Kersee, Michael Johnson, Gail Devers, and others delivered magnificent performances in track and field. The IAAF gained over 200 member nations. The IAAF World Championships in Athletics became a fully professional competition with the introduction of prize money in 1997. By 1998, the IAAF Golden League (which is an annual series of major track and field meetings in Europe) gave a higher level of economic incentive in the form of a US$1 million jackpot. By 2010, the series was replaced by the more lucrative IAAF Diamond League. That league is a fourteen meeting series held in Europe, Asia, North America, and the Middle East. This was the first ever worldwide annual series of track and field meetings. In our generations, some of the greatest track and field athletes are Usain Bolt, Allyson Felix, Carmelita Jeter, Sanya Richards-Ross, Jessica Ennis-Hill, English Gardner, LaShawn Merritt, Justlin Gatlin, Ashton Easton, Wayde van Niekerk, Shelly-Ann Fraser-Pryce, Mohamed Farah, Veronica Campbell-Brown, and tons of other human beings.
Its Benefits to Society
Track and field has tones of benefits to society. It promotes teamwork. There are coaches who help track and field athletes in maximizing their performances. Even individual track and field activities revolve around a team from a coach, advertisers, research leaders, reporters, and other people who are engaged in the sport. Track and field is both an individual and team sport. Relay races personify team sports since when all of them do well, then the team excels. One example of a great track and field team was the 2012 and 2016 Olympic USA Women's Track and field 4 X 100 relay teams. They worked together as one in order to be victorious in the Olympic relay 4 X 100 Relay races. For a long time, track and field has caused friendships to blossom. Track and field caused tons of health benefits too. Running is a real way to improve cardiovascular fitness. It can reverse bone loss. It can lose weight and it improves the running abilities of human beings. Running can also burn fact and increase muscle tone. It's a fact that healthy foods along with training plus a powerful will can cause magnificent results involving track and field. Track and field has promoted mutual respect and cooperation among peoples among many nationalities and backgrounds too. Track and field can develop a positive mood. Exercise causes the brain to reorganize itself to handle stress. Exercise grows neurons in the brain. Better sleep patterns, better balance, stronger legs, and better decision making (which increases the brain derived neurotropic factor called BDNF. BDNF is a brain protein that helps with decision making), etc. are all benefits from track and field plus exercise in general. Exercise can increase the volume of a human's prefrontal cortex, which assists with thinking, memory, and other aspects associated with learning. Therefore, track and field is a beautiful sport that has improved the lives of so many people in the Earth.
Inspiration
At times of our lives, inspiration can motivate anyone to achieve their goals. We aren't naive about life. Life can be filled with wonderful times and it can be filled with stumbling blocks along with pain. Yet, it is important to count the blessings that we do have. Many people in the world suffer being paralyzed, some have severe illnesses, some are homeless, and some people in the world have other complications. We are blessed. We have access to the Internet. We have a roof over our heads and many of us have the resources to help others. That is why I don't take life for granted. Every aspect of our lives make us aware that we are our Brothers and our Sisters keepers. We share one planet and the hopes of us are shared by those who live internationally. Despite our cultural differences, we certainly desire the exact same goal, which is human liberation and justice. The road won't be easy. It has twists and turns, but the final destination of our journey is always tranquility and freedom. Along this journey, we witness advice from friends and family. We express love. We sacrifice our time to grow, to learn, to appreciate the wonders of Creation, and to visualize a better world. Regardless of the haters say, we believe in the freedom of the press and the freedom of speech. Despite what a person in the White House (who overtly disrespects women, Muslims, minorities, etc. His name is Donald Trump) says, xenophobia is repugnant in any society. It doesn't matter what the naysayers proclaim, because opposing police brutality is sacrosanct. My views are very known and clear. You know where I stand. Also, we are not ashamed of our views, because we're right. Our ancestors were right to defeat Confederate traitors. Our ancestors were right to fight for voting rights in Selma and our generation currently is right to defend health care as a human right. Therefore, the inspiration from past generations stirs up my soul and I will continue to fight for the freedoms that they have fought for too.
By Timothy