Chicago
The great city of Chicago is filled with strength, activism, and great people. Chicago is the largest city in population in the Midwest and Chicago has the third highest amount of people in a city in America. Today, Chicago is going through many changes. In order to figure out Chicago's present, we have to discover information about its interesting past. The First Lady Michelle Obama was born and raised in Chicago (from the South Side). Chicago is not only the place where President Barack Obama (I will discuss more about the President in this work about Chicago) worked as a community organizer. It is also a place where it is a modern, international center of finance, commerce, industry, technology, telecommunications, and transportation. While Harlem is a cultural center of Black America, Chicago is also another cultural center of Black America too. In real life, I never met a weak person who was from Chicago at all. Chicago represents the strength, the resiliency, and the passion for justice which is found in Black America. Chicago's O'Hare International Airport is the busiest airport in the world. Chicago has the largest number of U.S. highways and railroad freight. Its metropolitan area (also called Chicagoland) has almost 10 million people, which is the third largest in America. Chicago is additionally the seat of Cook County. On the shores of the Great Lakes region is where the city of Chicago is located too.As of 2012, Chicago has the third largest gross metropolitan product in America at about $571 billion. In 2014, Chicago hosted 50.2 million international and domestic visitors. Its motto is the Latin phrase Urbs in Horto or "City in a Garden." Yes, you will get my take on Mayor Daley and his son. LOL. The Windy City is filled with history that deals with black people, immigration, political movements, labor rights movements, and professional sports (as Chicago is home to three major professional leagues. Other than Kareem and Wilt, there is one man who was the greatest player in NBA history. We know who he is. He used to play for the Chicago Bulls during the 1980's and during the 1990's He played for the Washington Wizards during the early 21st century. He is Michael Jordan).
The Beginnings of Chicago
Now, it's time to start from the beginning. In the beginning, Chicago was inhabited by Native Americans. The Chicago area was inhabited first by the Algonquian peoples (which existed in the East Coast, the Midwest, the Northeast, and in the Mid-Atlantic regions of America). The peoples were the Mascouten and the Miami. The name of Chicago is the French version of the Miami-Illinois word shikaakwa (or "Stinky Onion") named for the plants common along the Chicago River. It is not related to Chief Chicagou of the Michigama people. Native Americans in Chicago were readily part of the Miami Confederacy (which included the Illini and the Kickapoo). Europeans explorers soon came into the region. In 1671, Potawatomi guides first took the French trader Nicolas Perrot to the Miami villages near the site of present day Chicago. Pierre François Xavier de Charlevoix would write in 1721 that the Miami had a settlement in what is now Chicago around 1670. French explorers traveled along the short canoe portage or the Chicago Portage, which connected the Great Lakes with the Mississippi River system. In 1673, the French-Canadian explorers Jacques Marquette and Louis Jolliet on their way to Quebec passed through the area that will become Chicago. The Jesuits came into the area to as a means for them to try to convert the Native Americans to Catholicism. In 1677, Jesuit "Father" Calude Allouez arrived to try to convert Native Americans to Catholicism. According to the Jesuit Relations, the Iroquois tribes of New York had driven the Algonquian tribes out of Lower Michigan in its entirety and as far as the portage during the later Beaver Wars. By 1682, French explorer René Robert Cavelier, Sieur de la Salle, passes through Chicago en route to the mouth of the Mississippi River. Rene-Robert Cavelier traveled along the Kankakee and Illinois Rivers south of Chicago during the winter of 1681-1682. He identified the Des Plaines River as the Western boundary of the Miami.
La Salle built Fort St. Louis on the Illinois River. Almost 2 thousand Miami including Waes and Piankeshaws left the Chicago area to gather at the opposite shore that the Grand Village of the Illinois. They sought French protection from the Iroquois. The Jesuit missionary Jean-Francois Buisson de Saint-Cosme founded the Mission of the Guardian Angel in 1696. The French Jesuits wanted to convert the local Weas and Miami people to Catholicism. It was abandoned four years later. Shortly thereafter, Augustin le Gardeur de Courtemanche visited the settlement on behalf of the French government, seeking peace between the Miami and Iroquois. Miami chief Chichikatalo accompanied de Courtemanche to Montreal. The French traders traded with the Native Americans and they wanted territory for not only trade, but for control. Conflicts would develop between French traders and the Fox tribe of Native Americans. The situation is that the Algonquian tribes began to retake the lost territory in the later decades. In 1701, the Iroquois abandoned their claims to their hunting grounds as far as the portage to England in the Nanfan Treaty, which was ratified in 1726. This was a political move. The reason is that the English had no real presence in the region. The French and their Algonquian allies were the dominant force in the ear during that time. There was a writer in 1718. This writer wrote that the Weas had a village in Chicago, but they recently fled to due to concerns about the approaching Ojibwes and Pottawatomis. The Iroquois and Meskwaki probably drove out all Miami from the Chicago area by the end of the 1720s. The Pottawatomi assumed control of the area, but probably did not have any major settlements in Chicago. French and allied use of the Chicago portage was mostly abandoned during the 1720s because of continual Native American raids during the Fox Wars.
By the mid 18th century, the Chicago area was inhabited by a Native American tribe called the Potawatomi, who had taken the place of the Miami, Sauk, and Fox peoples.
The first non-Native American permanent settler in Chicago was Jean Baptiste Point du Sable. He was the founder of the city of Chicago. He was born in San Marc, Haiti in 1745. He was educated in France. In 1764, Du Sable and his friend Jacques Clemorgan moved from Haiti to New Orleans. Du Sable was eventually thankful for moving to New Orleans because it was here that he and his friend Clemorgan met their future partner of a trading post in New Orleans, and later in what would become Peoria, Illinois. The young man Du Sable and Clemorgan met was Choctaw, a Native American from the Great Lakes. At the time, Choctaw was working at a Catholic mission. Du Sable, Clemorgan, and Choctaw later moved to Illinois. Du Sable excelled in trading goods and services in Illinois. Du Sable would met with the Native American leader Chief Pontiac. Pontiac asked Du Sable and Clemorgan to arrange a peace treaty between the Ottawa, Miami, and Illinois tribes. Du Sable eagerly arranged the meeting in order to restore peace between the tribes.
During the mid to late 1700's, there was the Northwest Indian War (which was between the French and Native Americans against the British). In 1795, Kittahawa (or du Sable's Potawatomi Native American wife) would give birth to Eulalia Point du Sable. She was Chicago's first recorded birth. Du Sable and Kittahawa (or Catherine) had two children and lived in a cabin built by Du Sable and Choctaw. This cabin was built on a waterway that is now called the Chicago River. But Du Sable called it Checagou, the name given it by the Native Americans.
He built a farm at the mouth of the Chicago River in the 1780s. He was of black African and French descent. He left Chicago in 1800. On August 29, 1818, Jean Baptiste Point Du Sable at age seventy-three died quietly in his sleep. He was honored at Pioneer Court in 1968 as the city's founder and featured as symbol.
The British won the French-Native American war and gained huge territories, but the American Revolution caused the British to be defeated. Later, Native Americans ceded the area of Chicago to America for a military post in the Treaty of Greenville. The U.S. built Fort Dearborn in 1803 on the Chicago River. It was destroyed by the British forces during the War of 1812 in the Battle of Fort Dearborn. The War of 1812 was about the British trying to recapture America as the Revolutionary War caused the defeat of the British years earlier. The Battle of Fort Dearborn involved the British who killed the inhabitants and taken prisoners in the area of Fort Dearborn. On June 17, 1812, Jean La Lime was killed by John Kinzie, which was the first recorded murder victim in Chicago. The fort was forced to evacuate. During the evacuation soldiers and civilians were overtaken near what is today Prairie Avenue. After the end of the war, the Potawatomi ceded the land to the United States in the 1816 Treaty of St. Louis. (Today, this treaty is commemorated in Indian Boundary Park). Fort Dearborn was rebuilt in 1818 and used until 1837. On December 3, 1818, Illinois joined the Union.
The Illinois legislature in 1829, appointed commissioners. Their job was to locate a canal and layout the surrounding town. The commissioners employed James Thompson to survey and plat the town of Chicago. Back then, it had a population of less than 100 people.
Historians view the August 4, 1830 filing of the plat as the official recognition of a municipality known as Chicago. Many Northern entrepreneurs saw the potential of Chicago as a transportation hub in the 1830's. So, they used land speculation to obtain the choicest lots. On August 12, 1833, the Town of Chicago was incorporated with a population of 350. On July 12, 1834, the Illinois from Sackets was the first commercial schooner to enter the harbor, a sign of the Great Lakes trade that would benefit both Chicago and New York State. Chicago was granted a city charter by the State of Illinois on March 4, 1837. It was part of the larger Cook County. Om 1837, C. D. Peacock jewelers was founded. It is the oldest Chicago business, which still operates today. By 1840 the boom town had a population of over 4,000.
After 1830, the rich farmlands of northern Illinois attracted more Northern settlers. These Northern real estate operators created a city overnight during the 1830's. The Cook County commissioners wanted to open the surrounding farmlands to trade. So, they built roads south and west. These roads were crossing the "dismal Nine-mile Swamp," the Des Plaines River, and went southwest to Walker's Grove, now the Village of Plainfield. The roads allowed hundreds of wagons per day of farm produce to arrive, so the entrepreneurs built grain elevators and docks to load ships bound for points east through the Great Lakes. Produce was shipped through the Erie Canal and down the Hudson River to New York City. So, the growth of the Midwest farms back then expanded New York City as a port.
The Growth of Immigration
During the 1840's and in the 1850's, Chicago grew as a transportation hub. There was massive immigration in Chicago too. Chicago mostly was settled by Northerners. Then, many Irish Catholics came into Chicago by the 1840's as a result of the Great Famine in Ireland. As time went on, Chicago developed more railroads, stockyards, and other heavy industry by the late 19th century. This attracted many skilled workers from Europe like the Germans, the English, the Swedes, and the Dutch. In the Midwest in general, there are a high amount of these ethnic groups in that region. Chicago's population grew rapidly. In 1840, Chicago was the 92nd most populous city in America. In 20 years, Chicago was the ninth most populous city in the nation. The Illinois and Michigan Canal was opened in 1848. It allowed shipping from the Great Lakes through Chicago to the Mississippi River and the Gulf of Mexico. The first rail line to Chicago or the Galena & Chicago Union Railroad was completed in the same year too. The growth of the first steam locomotives, the introduction of steam powered grain elevators, and the telegraph grew Chicago too. The Chicago Board of Trade dealt with economies. By 1870 Chicago had grown to become the nation's second largest city, and one of the largest cities in the world. By 1857 Chicago was the largest city in what was then known as the Northwest. In a period of twenty years Chicago grew from 4,000 people to over 90,000. Chicago's transportation hub grew with its road, rail, after, and later air connections. Many national retailers developed in Chicago offering shopping like Montgomery Ward, Sears, Roebuck and Company, etc. These companies used the transportation lines to ship supplies nationwide. By the 1850's, railroads in Chicago was even more widespread. Over 30 lines entered the city. The main lines from the East ended in Chicago and those oriented to the West began in Chicago. By 1860 the city became the nation's trans-shipment and warehousing center. Cyrus Hall McCormick in 1847 opened the harvester factor in 1842 as factories grew. The harvester factory was a processing center for the natural resource commodities extracted in the West. The Wisconsin forests supported the millwork and lumber business; the Illinois hinterland provided the wheat. Hundreds of thousands of hogs and cattle were shipped to Chicago for slaughter, preserving in salt, and transport to eastern markets. There were refrigerated cars allowed the shipping of fresh meat to eastern cities in 1870.
In 1883, the standardized system of North American time zones was adopted by the general time convention of railway managers in Chicago. So, for now on, the continent had its uniform system for telling time. The prairie bog nature of the area provided a fertile ground for disease-carrying insects. In springtime Chicago was so muddy from the high water that horses could scarcely move. Chicago created a massive sewer system. First, sewage pipes were laid across the city above ground to use gravity to move the waste. Since Chicago was in a low lying area, it was subject to flooding. So, in 1856, the city council decided that the entire city should be elevated four to five feet by using a newly available jacking up process. In one instance, the 5-story Brigg's Hotel, weighing 22,000 tons, was lifted while it continued to operate. This was a great example of American determination and ingenuity. Chicago along with St. Louis and Cincinnati were important Midwestern cities back then.
Chicago was the home of Stephen Douglas, the 1860 Republican National Convention in Chicago (where they nominated the home-state candidate Abraham Lincoln). The xenophobic and racist Know-Nothing Party (which was made up of Protestant groups. Now, this Party is not representative of every Protestant, so I want to make that perfectly clear) in Chicago demonized the Irish Catholic and German immigrants who were coming into the city. The Know Nothing Party was anti-immigration, anti-liquor, and wanted to reduce the power of saloonkeepers. In 1855, the Know Nothings elected Levi Boone mayor, who banned Sunday sales of liquor and beer. His aggressive law enforcement sparked the Lager Beer Riot of April 1855, which erupted outside a courthouse where eight Germans were being tried for liquor ordinance violations. After the American Civil War, saloons became community centers only for local ethnic men, as reformers saw them as places that incited riotous behavior and moral decay. Between 1870 and 1900 Chicago grew from a city of 299,000 to nearly 1.7 million, at the time the fastest-growing city ever. Chicago's flourishing economy attracted huge numbers of new immigrants from Europe and migrants from the eastern states. Relatively few new arrivals came from Chicago's rural hinterland.
The Gilded Age
The Gilded Age was a very important era in Chicago's history. In 1871, there was the Great Chicago Fire. Most of the city was burned up. It lasted from Sunday October 8 to early Tuesday on October 10, 1871. It killed up to 300 people and destroyed about 3.3 square miles. It left more than 100,000 residents homeless. Much of the city's central business district was destroyed. The fire started in a small barn that bordered the alley behind 137 and DeKoven Street. The fire was spread by the city's use of wood as a predominant building material during that time period in a style called balloon frame, a drought before the fire, and strong southwest winds. In 1871, the Chicago Fire Department had 185 firefighters with just 17 horse-drawn steam engines to protect the entire city. The streets, sidewalks, and many buildings were built of wood. The Chicago Water Tower was one of the few surviving buildings after the Chicago Fire. After the fire, Chicago caused the incorporation of stringent fire safety codes that included a strong preference for masonry construction. Danish immigrant Jens Jenson was celebrated landscape designer. He wanted a democratic approach to landscaping. He was also informed by his interest in social justice and conservation. He rejected democratic formalism. Jenson was heavily involved in the creation of four Chicago parks like Columbus Park. Some of the region's most influential millionaires had some of his garden designs. The World's Columbian Exposition of 1893 was constructed on former wetlands at the present location of Jackson Park along Lake Michigan in Chicago's Hyde Park neighborhood. The land was reclaimed according to a design by landscape architect Frederick Law Olmstead. The temporary pavilions which followed a classical theme were designed by a committee of the city's architects under the direction of Daniel Burnham.
The Exposition drew 27.5 million visitors. It was considered among the most influential world's fairs in history, affecting art, architecture, and design all over the nation. There was the revival of the Beaux Arts architecture style as well. Skyscrapers and other new technologies developed during the Gilded Age. Tall masonry buildings was said to be unstable because of the soft, swampy ground near the lake. Yet, builders used the innovative use of steel framing for support and invented the skyscraper in Chicago. Much of the modern architecture in urban communities nationwide takes influence from Chicago. The Jeffersonian grid in Chicago was built upon more. The Haymarket affair was when labor rights activists fought for an 8 hour work day. There was a peaceful demonstration on May 4, 1886 in Chicago. This was done near the West side. A bomb was thrown at the police and 7 cops were killed. Violence soon broke out. A group of anarchists were indicted and convicted. Some were hanged and others were pardoned. This represented a new era of the labor movement in America and this history is commemorated in the annual May Day celebrations. The Progressive Era in 1900 did cause people to issue reforms in the American criminal justice system in Chicago. So, during the Guided age, Chicago grew as prominent as New York City.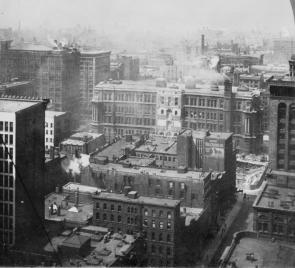 The Progressive Age
The Progressive Era dealt with reforms in fighting against child labor, bad working conditions, and other economic problems. By April 23, 1875, the voters of Chicago decided Chicago to operate under the Illinois Cities and Villages Act of 1872. Chicago is operated under this act in lieu of a charter. There has been heavy competition back then among newspapers like the Chicago Daily News (which was created in 1875), the Chicago Times, the Chicago Tribune, and the Daily News. The Windy City nickname of Chicago came about during the late 19th century. By the early 20th century, Chicago became worldwide known for its high rates of murder. Many courts failed to convict the killers. More than three-fourths of cases were not closed. Even when the police made arrests in cases where killers' identities were known, jurors typically exonerated or acquitted them. A blend of gender-, race-, and class-based notions of justice trumped the rule of law, producing low homicide conviction rates during a period of soaring violence. There was a high level of domestic homicide in the late 19th and early 20th centuries. Many people involved in murder back then (like Germans, Italians, Irish, African Americans, and other ethnic immigrants) did so to promote patriarchal supremacist notions of families and gender.
The northern and western suburbs developed in Chicago during the 20th century. Their public schools strengthened and they were supported by the wealthier residents. The suburban trend accelerated after 1945 with the construction of highways and train lines that made commuting easier. Middle class Chicagoans headed to the outlying areas of the city and then into Cook County and Dupage County suburbs. When the Jewish people and the Irish people rose in economic class, many of them left the city and headed north. The well-educated migrants from around the country moved to the far suburbs. Chicago's "Polonia" sustained diverse political cultures in the early twentieth century, each with its own newspaper. In 1920 the community had a choice of five daily papers - from the Socialist Dziennik Ludowy [People's daily] (1907–25) to the Polish Roman Catholic Union's Dziennik Zjednoczenia [Union Daily] (1921–39). They all supported workers' struggles for better working conditions and were part of a broader program of cultural and educational activities. The decision to subscribe to a particular paper reaffirmed a particular ideology or institutional network based on ethnicity and class, which lent itself to different alliances and different strategies.
Many ethnic European neighborhoods wanted to use family resources to achieve home ownership as a strategy. They sacrificed current consumption and pulled children out of school as soon as they could earn a wage. By 1900, working-class ethnic immigrants owned homes at higher rates than native-born people. After borrowing from friends and building associations, immigrants kept boarders, grew market gardens, and opened home-based commercial laundries, eroding home-work distinctions, while sending out women and children to work to repay loans. They sought not middle-class upward mobility but the security of home ownership. Many social workers wanted them to pursue upward job mobility (which required more education), but realtors asserted that houses were better than a bank for a poor man. With hindsight, and considering uninsured banks' precariousness, this appears to have been true. Chicago's workers made immense sacrifices for home ownership, contributing to Chicago's sprawling suburban geography and to modern myths about the American dream. The Jewish community, by contrast, rented apartments and maximized education and upward mobility for the next generation. The 1965 Immigration law, which was signed by President Lyndon Baines Johnson, allowed more Asian immigrants and Latin American immigrants to come into America. Many Indians and Chinese came into Chicago and most settled in the suburbs. Throughout the 20th century and today, the labor movement had a strong history in Chicago. Chicago was heavily unionized. Factories were nonunion until the 1930's. The IWW was created in Chicago in June of 1905 at a convention of 200 socialists, anarchists, and radical trade unionists from all over America. In Chicago, the American Federal of Labor and the Railroad brotherhoods were strong. There were strikes like the teamsters' strike in 1905. It outlined a clash over labor issues and the public nature of the streets. To the employers, the streets were arteries for commerce, while to the teamsters; they remained public spaces integral to their neighborhoods.
Progressive reformers in the business community established the Chicago Crime Commission or the CCC in 1919 after an investigation into a robbery at a factory showed the city's criminal justice system was deficient. The CCC initially served as a watchdog of the justice system. After its suggestion that the city's justice system begin collecting criminal records was rejected, the CCC assumed a more active role in fighting crime. The commission's role expanded further after Frank J. Loesch became president in 1928. Loesch wanted to target criminals. One person that he wanted to target (out of many in his public "enemies" list) was Al Capone. Capone was a criminal, but Loesch made him a scapegoat for widespread social problems. During the 1920's, Prohibition existed. This era involved the national banning of the sale and purchase of alcohol. This led into the growth of gangs, speak easies, and other forms of crime. This era proved that total prohibition doesn't work. There were bootleggers and smugglers bringing in liquor from Canada formed powerful gang. We know about the movie the Untouchables. This movie was based on real life authorities like Elliot Ness fighting against gangs in order to enforce the Prohibition laws. Prohibition was later banned by 1929.
Further Immigration
There was massive immigration in Chicago during the late 19th century and the early 20th century. Chicago attracted especially unskilled workers from Eastern and Southern Europe including Poles, Lithuanians, Ukrainians, Hungarians, Czechs, Slovaks, Greeks, and Italians including Jewish people from throughout Eastern Europe (most of them came from mostly the then Russian Empire). This is why new immigration legislation back in 1924 to be restricted populations from eastern and southern Europe, apart from refugees after World War II. During and after both wars, rural Americans arrived from the South, whites from Appalachia and blacks from the cotton areas of the Deep South. The near South Side of the city became the first Black residential area, as it had the oldest, less expensive housing. There was segregation back then in Chicago and competing ethnic groups like the Irish. Yet, black people continued to migrate into the South Side and in black neighborhoods near the West Side. These neighborhoods were de facto segregated areas (as few black people lived in ethnic white neighborhoods). The Irish and ethnic groups who had been longer in the city began to move into the outer areas and the suburbs. After World War II, the city built public housing for working class families to upgrade residential quality. The problem was that such public housing came about when industrial jobs left the city and poor families became concentrated in the facilities without true economic justice. After 1950, public housing high rises anchored poor black neighborhoods south and west of the Loop. More people left to the suburbs. Their commutes were eased by train lines. This made Oak Park and Evanston enclaves of the upper middle class to grow. In the 1910s, high-rise luxury apartments were constructed along the lakefront north of the Loop, continuing into the 21st century. They attracted wealthy residents but few families with children, as wealthier families moved to suburbs for the schools. There were problems in the public school system; mostly Catholic students attended schools in the large parochial system, which was of middling quality; and there were few private schools in the city. Many private school back then existed that served people who could afford it like: The Latin School, Francis Parker, and the Bateman School.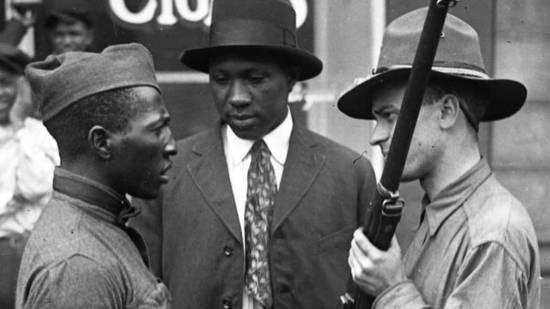 From WWI to the Great Depression Era
The Chicago race riot of 1919 was one of the most tragic events in American history. It showed that white racism is vicious, evil, and abhorrent. It lasted from July 27, 1919 to August 3, 1919. The riot caused 38 people to die, which included 23 African Americans and 15 white people. These riots were part of Red Summer, because of the violence and deaths nationwide over racial and other political issues. Riots occurred all over the nation and worldwide during Red Summer too. During this time, the Great Migration caused thousands of African Americans to come from the South to Chicago and into other places of America (black people wanted to escape lynchings, segregation and disenfranchisement by the white racist Southern aristocracy including by the Klan). From 1916 to 1919, the African American population in Chicago increased from 44,000 to 109,000. This was a 148 percent increase. Many black people came into Chicago's South Side. They lived next to the areas filled with European immigrants (from southern and Eastern Europe. These ethnic groups were protective of their neighborhoods). The Irish were there first and many of them opposed the advance of black people or ethnic immigrants in Chicago. There were overcrowding and competition for labor and housing markets including jobs (like the meatpacking industry in Chicago). So, this caused racial and class tensions. The police neglected to solve these problems. More black people came to Chicago after WWI and they demanded equality and rightfully so. William Hate Thompson was the Mayor of Chicago during the riot. Illinois Governor Frank Lowden has to deal with the issues too. Some places of Chicago weren't segregated and some places were like beaches back then. There was an African American representative to the state legislature in 1876. In 1917, the Chicago Real Estate Board established a policy of block by block segregation. New arrivals in the Great Migration generally joined old neighbors on the South Side. By 1920, the area held 85% of Chicago's African Americans--middle and upper class and poor. We know that many Irish and other white gangs would harass, assault, and kill black people. For example, the Hamburg Athletic Club contributed to gang violence in the area. One member of that club was a 17 year old Richard J. Daley. The riot started when a white man was throwing rocks at black swimmers in the water at a beach on the South Side. The black swimmers were exercising their human rights and these black human beings were called racial slurs by white racists. Eugene Williams died by the rock throwers (he drowned) in 29th Street beach on the South Side of Chicago. Eugene Williams was a 18 years old black American. A white police officer Daniel Callahan refused to arrest the white man responsible for Williams' death (who was George Stauber), but he arrested an innocent black man instead. A skirmish on the beach immediately ensued, as angry bathers attacked Callahan and a fight between blacks and whites erupted. Black people objected to Stauber not being immediately arrested and whites used violence against black people. Stauber would never be arrested until sometime later by detectives. When night fell, white gangs retaliated against black gangs by attacking thirty-eight blacks who had wandered into white neighborhoods. By eight o'clock at night, the news of Williams's death had spread throughout the South Side and the whole area was subsumed in rioting. Blacks and whites would assault each other in various places of Chicago. The violence was so bad that many black people used self-defense against white racist mobs. At one point, a white mob threatened Provident Hospital, many of whose patients were African Americans. The police successfully held them off. 2 years before the riot, 27 black people were murdered by whites for moving into predominately white neighborhoods.
The riot started in the South Side, and it spread into the Loop or the city's commercial district. White gangs attacked black neighborhoods and black people just coming from work. Some of the white gangs in involved in the attacks against black people were the Hamburg Social Club, the Ragen's Colts, and the Stockyards. It lasted for almost a week.
By eight o'clock at night, the news of Williams's death had spread throughout the South Side and the whole area was subsumed in rioting. Some black people derailed trolley cars and beat up the white passengers and automobiles were stopped and their drivers beaten. Five hundred patrolmen were sent to occupy the black district and remained there until Monday morning. During the day, stores were closed and most women and children stayed at home.
By the evening of Monday, July 28, rioting was again rampant as white gangs assaulted black stockyard workers as they headed home. Whites began to raid black neighborhoods and fire on the homes and cars of black residents. Twenty people were killed in the rioting on this night alone.
Blacks gathered in the streets and began to seek revenge, attacking more street-cars and automobiles as well as the homes of whites. The police successfully persuaded the rioters not to enter the Angeles building (an apartment building at Wabash and Thirty-fifth Street) after occupants threw objects out the windows of this building at the rioters. Elizabeth Dadabo has great literature on the Chicago riot too. According to one source:
"…Several newspapers and many civic leaders demanded that Mayor Bill Thompson ask Governor Frank Lowden for a detachment of state militia. The governor, responding promptly to the outbreak of hostilities, ordered the mobilization of several companies of militia and stationed them at nearby amories, but he could send them into the streets only at the mayor's request. Throughout Monday night and all of Tuesday, both the mayor and the chief of police insisted that the local forces held "full command" and that no outside assistance would be necessary. Black leaders hesitated to the request the militia because they recalled the state forces had supported the white mobs in East St. Louis in 1917." ("Anatomy of Four Race Riots: Racial Conflict in Knoxville, Elaine (Arkansas), Tulsa, and Chicago, 1919-1921" by Lee E. Williams and Lee E. Williams II. The Foreword was written by Roy Wilkins from 1972).
Almost 6,000 National Guard infantrymen came in to stop the Chicago riot. They were stationed around the Black Belt in order to stop white attacks. Most of the violence was done by white ethnic groups attacking the black population in the city's Black Belt found in the South Side. Rioters stretched cables across the streets to prevent fire trucks from entering the areas where arson took place in the Black Belt. On Tuesday, July 29, rioting began to spread north, reaching the Loop, Chicago's busy downtown area. White soldiers and sailors, with some civilians, raided the Loop, killing blacks and robbing businesses. Blacks who lived in largely white neighborhoods (such as Englewood) fled as their homes were robbed, burned and destroyed. The Cook County Sheriff deputized between 1000 and 2000 ex-soldiers to help keep the peace. With the reserves and militia guarding the Black Belt, the city arranged for emergency provisions to provide its residents with fresh food. White groups delivered food and supplies to the line established by the military; the deliveries were then distributed within the Black Belt by African Americans. While industry was closed, the packing plants arranged to deliver pay to certain places in the city so that African-American men could pick up their wages. Thursday and Friday were calm days, although on Saturday morning 948 Lithuanian immigrants were left homeless after forty-nine homes were burned down. Order was established. 342 blacks and 178 whites were injured. The Illinois Governor Frank Lowden urged to create a state committee to study the cause of the riots. Lowden proposed a committee to form a racial code of ethics and to draw up racial boundaries for activities within the city. The economy of Chicago suffered and many black Americans left Chicago all together because of the vicious racism. The Chicago Race Riot of 1919 shocked the nation and made naïve people aware that African Americans faced discrimination, racism, and oppression every day in the United States (even in our 21st century generation).
The Black Chicago Renaissance
The Black Chicago Renaissance has a great impact in the history of black Americans just like the Harlem Renaissance. Chicago's black Renaissance lasted from the 1930's to the 1950's. It was a time of an explosion of the growth of black culture. Black people during this time period focused on art, literature, music, and other aspects of great culture. There were black visual artists, musicians, intellectuals, and other human beings who expressed the black aesthetic in diverse ways. It showed the multifaceted nature of black life. The Black Renaissance in Chicago was influenced by the Great Migration when tens of thousands of Southern black people came into Chicago. They came into the area of the segregated South Side mostly. African American migrants resided in a segregated zone on Chicago's south side, extending from 22nd Street on the north to 63rd Street on the south, and reaching from the Rock Island railroad tracks on the west to Cottage Grove Avenue on the east.This zone of neighborhoods was known as the "black belt" or "black ghetto." They suffered overcrowding, joblessness, and poverty. Yet, even during the Great Depression, black people in Chicago organized their own institutions to promote community solidarity and growth. More black consciousness grew. There were theater troupes that explored works by black playwrights. Jazz, blues, and new gospel music inspired many artists during this time period. Richard Wright and Margaret Walker founded the South Side Writers Group in order to provide support and feedback to a group of black Renaissance writers. There were the growth of black owned newspapers and magazines like the Chicago Defender, Chicago Sunday Bee, Negro Story Magazine, and Negro Digest, also played an important role in the cultivation and spread of literature during the Renaissance. These important institutions gave jobs and opportunities to journalists, writers, and they encouraged emerging writers to print their work. Even the WPA and the Works Progress Association gave financial support to artists. Writers and authors did amazing work. Chicago is on great center of urban African American arts, blues, jazz, dance, theater, literature, and sociological study. Marion Perkins was a great black sculptor.
Vivian Harsh was the first African American to head a branch of the Chicago Public Library. She promoted the civic and social cultivation of the Black Renaissance. She worked in the Association for the Study of Negro Life and History, which was founded by Carter G. Woodson. She collected literary works by African Americans. She created programs and forums at the George Cleveland Hall Branch Library to promote the cultural and intellectual pursuits for the residents on the South Side. She loved black people and black history. Today, there is the Vivian G. Harsh Research Collection of Afro-American History and Literature continues to grow and expand under the stewardship of the Chicago Public Library Woodson Regional Branch staff. Henry Avery was an amazing painter. Gwendolyn Brooks is a great poet, artist, and a strong person. William Carter was excellent, and Elizabeth Catlett was an artist too. Gordon Parks was a great photographer who was a friend of Malcolm X. Katherine Dunham was an amazing dancer and there are so many names of Brothers and Sisters who worked during the Black Chicago Renaissance. William Edouard Scott was an active member of the South Side Community Art Center and his work, "There Were No Crops This Year," won a first prize at the Negro Exposition in 1940. The talented Sister Lorraine Hansberry, and musicians like Louis Armstrong, Thomas A. Dorsey, and Earl Hines contributed a great deal for Chicago and for the rest of America (including the world).
The WWII era
During the World War II era in Chicago, factories allowed machines to be built for the U.S. military, so U.S. forces can fight against the evil Axis Powers. The first controlled nuclear reaction happened at the University of Chicago on December 2, 1942. This action was part of the top secret Manhattan Project, which ultimately caused the US to successful test an atomic weapon in New Mexico. During the 1940's, there are a massive amount of Hispanic immigrants coming into Chicago. The largest numbers were human beings from Mexico and Puerto Rico. There were Cuban immigrants coming into Chicago by the time of Fidel Castro's rise as well. By the 1980's, Hispanic immigrants would come from Central and South America as well. During World War II, women and people of color went to work in a large number in defense plants. There were scare and rationed consumer goods. Some children brought 25 cent saving stamps and bringing paper and kitchen fat to school during scrap drives. Families gave and received letters from soldiers worldwide. Mayor Edward Kelly of Chicago worked in this time. There were blackouts too. A 1945 rally at State and Madison streets featured Gene Oxley, who was a survivor of an incident during the Normandy invasion. "Don't let them down — those 36 men who died in the second LST — and the thousands of others who died for you," Oxley told the Loop crowd. . By 1945, US Steel was Chicago's largest single employer with 18,000 workers at the company's South Works entity. In a few decades, massive restructuring in the industry led to the losses of thousands of jobs among the working class. In the fall of 1945, Ebony Magazine was founded by John H. Johnson in Chicago. As a black person, I was raised by looking at Ebony Magazine covers all of the time from my youth to the present in the 21st century. Its articles and photographs show actors, entertainers, politicians, scientists, entrepreneurs, and other black people like Dorothy Dandridge, Diana Ross, Michael Jackson, U.S. Senator Carol Moseley Braun, President Barack Obama, Anita Baker, and so many other Brothers and Sisters.
Civil Rights and Movements for social change
The civil rights movement in Chicago has a long history. African Americans fought for human rights for centuries. Before the Civil War, Illinois was a free state. Yet, its laws prohibited the immigration of African –Americans and voting by black people. Chicago was a center of antislavery activity, but city schools, and places of public accommodation were racially segregated. Black Chicagoans fought back against these restrictions. By 1870, black people gained the right to vote. In 1874, state law forbid segregated education. A decade later, black people successfully urged the state legislature to endorse a sweeping civil rights measure which provided, "that all persons ... shall be entitled to the full and equal enjoyment of ... inns, restaurants, eating houses, barber shops, theatres, and public conveyances on land and water and all other public accommodations." After a legal challenge in 1896, the Illinois legislature more directly stated the scope of the Illinois Civil Rights Act of 1885. Still, black people in Chicago suffered massive discrimination. Restaurants and hotels constantly turned away back people. The Chicago branch of the NAACP was created in 1910. A black newspaper, the Chicago Whip, led a "Don't Spend Your Money Where You Can't Work" campaign. The Communist Party spurred agitation over employment rights and access to public accommodations. Also, local residents protested segregated schools. From 1934 to the present, Chicago would be the headquarters of the Nation of Islam. Also, Chicago would host NOI's Saviors Day for years on many times. Even CORE was created in Chicago back in 1942 to use nonviolent direct action in opposition to discrimination, racism, and Jim Crow apartheid. James Farmer and other human beings founded CORE. Other founders of CORE were George Houser, James R. Robinson, Samuel E. Riley, Bernice Fisher, Homer Jack, and Joe Guinn. Back during the 1940's, CORE used sit-ins and other protests in opposing discriminating Chicago restaurants and recreational centers. During the late 1940', the activists from the United Packinghouse Workers union targeted segregated eateries. By the early 1960's most public accommodations in Chicago were open to African Americans. It is important to note that James Forman (who was a great leader of SNCC. he was involved in the voting rights movement in Selma, etc. He passed away in 2005) was born in Chicago. Diane Nash, who was a great civil rights activist an she opposed he Vietnam War, was born in Chicago (in 1938) and graduated from Hyde Park High School. Also, we learn about the past to learn lessons, to repent (as there is nothing wrong with PRAYER. People have the right to pray and ask for change), and to follow the truth including righteousness.
By the early 1960's Chicago's black citizens experienced massive racism, economic inequality, and other injustices. Brown v. Board of Education was the Supreme Court decision that made segregation based on race illegal. Yet, Chicago authorities still enacted discrimination in education, housing, jobs, etc. This made de facto segregation a reality in Chicago, the Midwest, and in the North. Many black people came into Chicago from the South in order to receive better working conditions and escape overt Jim Crow apartheid. The Coordinating Council of Community Organization or CCCO back in 1962 was dedicated to eradicate racial inequality and economic injustice in Chicago. Albert Raby would be a great leader of the CCCO. Albert Raby was himself a great teacher too. In January of 1962, students and parents held a sit in to protest de facto segregation in Chicago Public Schools. Still, authorities forced black students to overcrowd in black schools while white schools had many empty seats. Some classes in the black schools had to meet in the hallways and there weren't enough books for all of the students in the school. The main culprit in permitting this evil was superintendent of schools Benjamin Willis. Willis placed trailers in the parking lots of the black schools instead of solving this problem. Rosie Simpson of the Englewood community coined the term, "Willis Wagons." In some schools, the segregation was maintained even within the school, such as at Waller High School (now Lincoln Park High School), where classes of white children continued to meet inside the building but classes of black children were forced to meet inside the trailers.
On August 5th, 1963, a protest took place at 73rd street and Lowe in Englewood at a site where the Chicago Board of Education was installing "Willis Wagons," which were aluminum trailer classrooms used to perpetuate de facto school segregation. Dick Gregory, Lillian Gregory, and others were involved in the protests. William Yancey and Sibylle Bearskin sat atop the utility polices to protest school segregation in Chicago. Back in 1963 in Chicago, students had to attend neighborhood schools. The Chicago Board of Education resisted integration. Black parents organized to fight back. Some parents would lay in the dirt overnight in order for them to prevent bulldozers from coming to prepare ground work for the trailers to be placed. Chicago's public schools were segregated and received unequal learning opportunities, especially in Chicago's South Side. Therefore, Brothers and Sisters started to protest this injustice. Later, activists of many backgrounds organized protests in Chicago. On October 22, 1963, the famous 1963 Chicago Boycott came about (which was organized by a coalition of civil rights groups like CORE, the CCCO, etc.).
The day of the boycott was called Freedom Day, which included demonstrations and boycotts. 250,000 students didn't attend school. At least 20,000 people marched on the streets of Chicago. One major person involved in the 1963 Boycott is Sister Rosie Simpson (she was an union organizer and a CPS parent. Back in August of 1963, she laid the groundwork for the boycott). Rosie Simpson has fought for education equality. She also worked for the Packing House Workers Union, the Woodlawn Organization, and the Urban League. She visited Freedom Schools on October 22, 1963 in order to set up for boycotting students. She is the mother of six children during the time of the boycott. She talked with Dr. Martin Luther King Jr. as well .Parents in the black community protested nonviolently en masse along with black children. Many schools in the West and South Sides were empty. Many demonstrators had a variety of signs, some of which compared Superintendent Ben Willis to then Alabama Governor George Wallace. The police prevented the protesters to enter the Chicago Board of Education Building. Their voices were heard. The CPS also lost a lot of money as a product of the boycott. Willis retired early a few years later. Another Chicago boycott would exist in 1964. Bernard Lafayette tapped by the American Friends Service Committee to begin organizing on Chicago's West Side in 1964. On January 17, 1964, First Lady Michelle Obama was born in Chicago. She was raised in the South Side too. Her father was named Fraser Robinson III. He was a city water plant employee and Democratic precinct captain. Her mother was Marian (née Shields) and she was a secretary at Spiegel's catalog store. She is related to the Gullah people of South Carolina. She grew up in a two-story house on Euclid Street in Chicago's South Shore community area. Her parents rented a small apartment on the house's second floor from her great-aunt, who lived downstairs.
By the summer of 1965, CCCO would create nearly daily marches and protests against segregation and against the school superintendent Benjamin Willis. The CCCO has grown and they are made up of 40 affiliates including groups that were largely white. As early as 1965, Dr. Martin Luther King Jr. always wanted to do a campaign in Chicago to address racial injustice, because he wanted to see if his strategies would work up North. He got his chance with the Chicago Freedom Movement. The roots of the Chicago Freedom Movement started in July of 1965 when the SCLC toured Chicago. During the summer, Dr. Martin Luther King Jr. and the SCLC also toured Cleveland, New York City, Philadelphia, and Washington, D.C.
The Chicago Freedom Movement
In September of 1965, the Southern Christian Leadership Conference decided to target Chicago for the next campaign. The SCLC and the CCCO (with leaders like Chicago's Al Raby) would form the Chicago Freedom Movement on September 1, 1965. The SCLC activists, James Bevel, and Chicago civil rights activists would target the West Side for their organizing efforts during the fall of 1965. There was also the group called the American Friends Service Committee too. This group was committed to equality and justice and it had members like Kale Williams, Bernard Lafayette, David Jehsnen, and others. This movement was multiracial and multi-religious. People of numerous backgrounds collaborated to fight for justice. One of the main goals of this movement was to end slums, so quality, affordable housing would be available for the black and poor residents of Chicago. Dr. Martin Luther King Jr. wanted to see if his actions in Selma and Birmingham would be replicated in the North. Chicago has complex, metropolitan politics. Chicago back then not only had racism. It had economic exploitation, dilapidated housing, educational problems (like overcrowded schools and de facto segregation in education), transportation issues, issues of health, welfare issues, crime, and other important issues that progressive minded people wanted to address. This was new territory for Dr. King and for the SCLC. They were courageous and wanted to confront these problems in Chicago. Chicago had a strong black population with over 1 million black people living in Chicago back during 1966.
On January 5, 1966, Dr. Martin Luther King Jr. would go into Chicago to start the campaign in the next level. Dr. King, Coretta Scott King, and the rest of his family moved into a dilapidated apartment on the third floor of a building at 1550 South Hamlin Avenue in Chicago's West Side. He wanted to express solidarity with the oppressed and the poor. Also, he wanted to display the situation as serious, which it was. Mayor Daley was a strong part of the Democratic machine in Northern cities. Daley back in 1963 spoke in favor of civil rights, but he abhorred demonstrations, because he felt that things were improving in Chicago (which wasn't the case at all. Daley had black supporters too. Some black churches feared to ally with Dr. King for fear of Daley's machine. Black conservative preacher John H. Jackson opposed the civil disobedience actions of Dr. Martin Luther King Jr.). Back then, Chicago's black population was more secular than the black population of the South. So many people had suspicious of the black clergyman Dr. Martin Luther King Jr. leading a social justice movement in Chicago. Chicago wasn't Selma and it wasn't Birmingham. The city of Chicago was many times bigger than both cities of the Deep South. SCLC and Sister Dorothy Tillman worked in the campaign as well. Dr. King and others wanted an independent political force to confront the power structure, so slums can be abolished and affordable, quality houses can be available for black and poor residents of Chicago. During this time, white people increasingly moved into suburbia while the city, state, and federal government was doing a terrible job in helping the black citizens of Chicago.
Dr. King knew that the federal, state, and local governments (along with grassroots organizations) had a role to play in solving the problems of Chicago. One key area of the Chicago Freedom Movement dealt with housing rights. Black people were readily discriminated against in trying to own quality housing in Chicago and in the suburbs. The Chicago Freedom movement used activists to test the housing agencies. Black activists were discriminated against in an experiment while white activists were not in the same experiment. This showed that discrimination and racism was structural beyond just individual. Apartments in poorer communities were dangerous filled with rats and people suffered. In February of 1966, Operation Breadbasket in the Chapter of Chicago would be created. It was headed by Jesse Jackson.
Back then, Jesse Jackson was a young Brother. Jesse Jackson was born in October 8, 1941 in Greensville, South Carolina. He marched in Greensboro, North Carolina and he marched in Selma too. There have been a lot of stories about him. The truth is that he was a well-known athlete and he joined the civil rights struggle. Dr. King admired his courage and his tenacity. Each man had similarities and differences. Operation Breadbasket (it lasted from 1962 to 1972) was a SCLC national program that wanted to develop the black community and fight against corporations who discriminated against black people via warnings, and boycotts if necessary (in order for the black community to develop economically and for black people to have job opportunities). Operation Breadbasket was a highly successful program during the 1960's. Jesse Jackson was influenced by Dr. T.R.M. Howard (who was a capitalist and he promoted black capitalist principles in his life as he was anti-socialist and especially anti-communist) who was a civil rights activist and entrepreneur. As time went on, Jesse Jackson would promote justice for black people overtly, but he worked more in the capitalist, reformist model (like Al Sharpton. In many ways, Al Sharpton is more conservative than even Jesse Jackson. Jesse Jackson has opposed police brutality, racist attacks on black people, and has recently opposed the War on Drugs, which is the right thing to do). On the other hand, Dr. Martin Luther King Jr. outright questioned capitalism and sympathized with democratic socialism (as a way to solve our problems as human beings). Many of Dr. King's closet advisers had suspicions about Jesse Jackson (they accused him of being too ambitious and egocentric). Despite their disagreements, Dr. King and Jesse Jackson worked together in the Memphis sanitation workers campaign. Jesse Jackson, despite his imperfections, sacrificed a great deal for black people. So, both Jesse Jackson and Dr. Martin Luther King Jr. wanted the same goals, but at times they differed in the methods in getting towards the same goal (which is freedom, justice, and equality for the entire human race). Jesse Jackson during this campaign would work heavily in the South Side of Chicago and in other areas in order to fight for housing rights. Jesse Jackson would also create the Kenwood-Oakland community organization in the South Side.
The Chicago Freedom Movement continues to pick up. Mayor Daley offered strong resistance to the Chicago Freedom Movement since Daley wanted token reforms not revolutionary changes that would transform society. He was hostile to demonstrations and he fought against the fight for the Fair Housing Act. The activists continued. Hostility to the movement didn't just come from reactionaries. It also came from many establishment labor unions and other groups expressing disdain towards the progressive Chicago Freedom Movement. Daley even denied the existence of slums, which was ludicrous. Dr. King wanted to target poverty as well. He knew that poverty must be fought against in order for real freedom to come. He also believed that the poor must be involved in the decision making process of establishing solutions.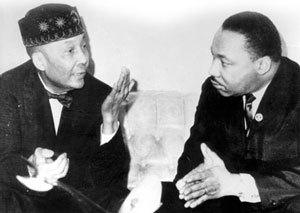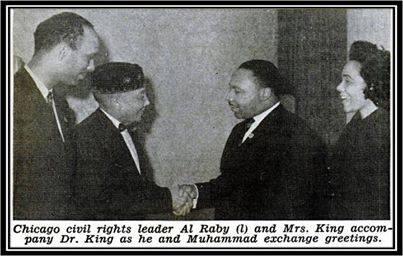 Dr. Martin Luther King Jr. also had a meeting with Elijah Muhammad (who was the leader of the Nation of Islam. The Nation of Islam's headquarters back then and today is in the city of Chicago) in February 23, 1966. They discussed about many issues like housing, religion, and black people. Both men didn't agree on the issue of integration. They did agree that the system of racism and oppression contributed to the deplorable conditions of slums, which is true. They expressed a willingness to agree to oppose anti-black racism. Each man agreed with the precept that black people must express self-determination, which is also accurate. Dr. Martin Luther King Jr. said the following words: "...I know we are in absolute agreement on that. We suffer domestic colonialism like the black people in Southern Rhodesia. We must achieve self-determination." There is no question that Dr. King became more radical overtly in public (since Dr. King wrote radical ideas before the 1960's) after that meeting. Regardless of our ideological views as black people, we (who are sincere and love truth) want the same goal of freedom, justice, and equality. Now, I don't condone Elijah Muhammad's errors as Malcolm X publicly and courageously told the truth about Elijah and the NOI in 1964 and in 1965. This is why Malcolm X was threatened by many NOI members. Also, it is important to note that Elijah Muhammad was a victim of white racism in his life and white racism is totally wrong and evil.
Also, Malcolm X was illegally monitored by the FBI, the CIA, and the NYPD. That is why the FBI and other entities are just as much responsible for the assassination of Malcolm X as the shooters are. This event in Chicago came after Malcolm X's passing in 1965. Brother Malcolm X promoted international solidarity among black people, Malcolm X condemned capitalism by his own words, and he left the Nation of Islam (as he formed the OAAU in 1964 to advance progressive solutions. Also, Malcolm X promoted the rights of women). The March Freedom Festival in March of 1966 caused the SCLC to raise $80,000. Dr. King knew about the ghetto existed as a domestic colony. The ghetto was exploited not only by various corporations, but it was neglected by the government in refusing to send the ghetto the necessary resources to end bad conditions. Unions like the AFL-CIO and the United Packinghouse Workers of America allied with the SCLC in the fight for open housing. Daley used a sophisticated political campaign to try to end the Chicago Freedom Movement. In June of 1966, the SCLC used the tactic of using direct demonstrations against realtors and white homeowners. This situation was different as the demonstrations exposed the white backlash against progress in the Chicago area. Dr. King said that the restrictive housing policies contributed to educational segregation and the "color tax" on ghetto housing (this means that housing in the ghetto was more expansive than housing in the suburbs or richer communities, which was done intentionally to deprive black people of economic power).
On July 10, 1966, Dr. Martin Luther King Jr. spoke at Chicago's Soldier's Field to promote the action phrase of the Chicago Freedom Movement. This rally was large and about 55,000 people were there to hear Dr. King speak. Other guests there were Mahalia Jackson, Stevie Wonder, and Peter, Paul, and Mary. This was part of the Freedom Rally. In the speech, Dr. King said the following words:
"…We are here today because we are tried. We are tired of being seared in the flames of withering injustice. We are tired of paying more or less. We are tired of living in rat infested slums and in the Chicago Housing Authority's cement reservations. We are tired of having to pay a median rent of $97 a month in Lawndale for 4 rooms while whites in South Deering pay $73 a month for 5 rooms. We are tired of inferior, segregated, and overcrowded schools which are incapable of preparing our young people for leadership and security in this technological age. We are tired of discrimination in employment which makes us the last hired and the first fired. We are tired of being bypassed for promotions while supervisory jobs are granted to persons with less training, ability, and experience simply because they are white. We are tired of the fact that the average white high school drop out in Chicago earns more money than the average Negro college graduate…So, we must go out with grim and bold determination to free ourselves. We must desegregate our minds. We must believe and know that wear somebody. We must not allow anybody to make us feel that we are inferior. We must appreciate our great heritage. We must be proud of our race. We must not be ashamed of being Black. We must believe with all of our hearts that Black is Beautiful as any other color…"
After the speech, King and 5,000 supporters marched to City Hall. In the spirit of Martin Luther, the demands of the Chicago Freedom Movement were taped to the door. The demands were progressive and outlined reasonable reforms that the Chicago Freedom Movement desired from passage of the 1966 Civil Rights Act to steps to stop injustices against Black Americans and Latino Americans. Daley had his black patronage network and his other establishment supporters to try to stop the goal of the movement. On July 14, 1966, Chicago police turn off the fire hydrants in the West Side of Chicago. It was hot during that day in the realm of 98 degrees. Then, the rebellion happened in Chicago. Immediately, Daley and others falsely scapegoated the Chicago Freedom Movement for the violence. The next day, gang members meet with Dr. King, Andrew Young, and others to debate the merits of nonviolence. The National Guard and other cops suppressed the rebellion. Dr. King inspired many Chicago gangs to act nonviolent as a way to experience to see if nonviolent discipline could achieve meaningful social change. Many gangs would agree and work in nonviolent protests in Chicago and in the suburbs. Daley would further promote a law and order approach in trying to suppress the aspirations of the people instead of promoting revolutionary solutions. After the Chicago rebellion, Dr. Martin Luther King Jr. was further radicalized.
He knew that police brutality, economic decay, and the stripping of power form the ghetto (as one teenage Vice Lord teenage said that it was about people wanting their rights) contributed to rebellions. On August 5, 1966, SCLC and the CCCO promoted the protest in Gage Park. This was when nonviolent protesters encountered a large amount of white racists. These racists threw objects at the protesters, cursed them out, and assaulted some protesters. Dr. Martin Luther King Jr. was hit with the rock during this protest in Marquette Park in Chicago. This action represented what Dr. King called the white backlash. The white backlash was hatred shown by racist whites against the progressive movement of black people and other freedom loving human beings who wanted progressive social change in America plus all over the world. He said that the hate from racist whites in Chicago was worse than the hate that he found in Mississippi. Andrew Young, a supporter of King, stated that he never saw anything like this in the South. The violence and hate from thousands of white racists in Gage Park opened the eyes of many that oppression was much more complex and that racism was heavily ingrained in society. It would be on August 17, 1966, that the Chicago Freedom Movement negotiators, the CREB (or the Chicago Real Estate Board), The Conference of Religion and Race, and the Daley administration met with each other. Daley's major concern was that he wanted to end the demonstrations. They would form an agreement, but Daley would not enforce all of the agreement. After negotiating with King and various housing boards, a summit agreement was announced in which the Chicago Housing Authority promised to build public housing with limited height requirements, and the Mortgage Bankers Association agreed to make mortgages available regardless of race. Although King called the agreement ''the most significant program ever conceived to make open housing a reality,'' he recognized that it was only ''the first step in a 1,000-mile journey'' (King, 26 August 1966 Halvorsen, ''Cancel Rights Marches'').
Bevel and Jesse Jackson wanted to stay in Chicago to march on Cicero. The Chicago Freedom Movement did march on Cicero to advance open housing. They announced their plans on August 26. Cicero was a sundown town. A sundown town was when the sun came down in a town, black people were in danger of assault, harassment, and even murder. Back in 1951 in Cicero, the black Clarks family was at attacked by 6,000 white people. Harvey Clark and his family never lived in Cicero afterwards. By this time, Jesse Jackson would run Operation Breadbasket in Chicago. Cicero in 1966 had no black residents and it has plenty of white segregationists. Black people were employed in the city. The march in Cicero again was filed with racist haters. Nonviolent protesters were hit with bottles and bricks by the racists. The marchers picked up bricks and bottles and threw them right back at the racists in self-defense. In 1966, bad national political news came about. The reactionary Republicans mostly controlled Congress after the 1966 Congressional elections and they were hostile to housing legislation, the Civil Rights Bill of 1966, and other progressive legislation. The push to pass the 1966 Civil Rights Act, which dealt with provisions for fair housing failed in Congress (in September of 1966). In January of 1967, another group of SCLC activists (led by Hosea Williams) promoted the organize a get out the vote campaign. In May of 1967, Leadership Council for Metropolitan Open Communities, a product of the "Summit Agreement" launched "Project: Good Neighbor"; Martin Luther King declared that no more demonstrations were necessary; the Chicago Freedom Movement was over. There has been debates on whether the Chicago Freedom Movement was a victory or a failure. Most historians view it as a turning point in the civil rights struggle as Dr. Martin Luther King Jr. knew that a multiracial coalition of the poor and workers have the right to confront poverty. Also, one victory out of the movement was the 1968 Housing Rights Act, which unfortunately Dr. King didn't witness as it was signed into law after he was assassinated. The Chicago Freedom Movement taught us all how important civil rights, educational rights, housing rights, and justice are and how these concepts intersect with each other.
The Black Panthers in Chicago
There can be no understanding about Chicago without the understanding about the Black Panther Party movement. The Black Panther Party Illinois Chapter was established in 1967 by Student Nonviolent Coordinating Committee (SNCC) organizer Bob Brown. During this time period, over 300 black Chicagoans joined the Panthers. Young Black people legitimately opposed police brutality, racism, capitalism, and economic exploitation. The Black Panthers were created originally in Oakland, California by Bobby Seal and Huey Newton. The greatest Black Panther leader in Chicago was of course Fred Hampton. Brother Fred Hampton was a courageous black man and he stood up for justice in an unequivocal way. Even though, Fred Hampton was murdered by a tactical unit of the Cook County, Illinois State's Attorney's Office the Chicago Police Department, and the FBI, his memory lives on in all of us. He was born in Summit, Illinois in August 30, 1940. His parents moved north from Louisiana and they both worked at the Argo Starch Company. Hampton was gifted in academics and in the athletic field. He wanted to play center field for the New York Yankees. He graduated from Proviso East High School with honors in 1966. Fred Hampton had a natural ability to organize and be a leader. After his graduation, he enrolled in Triton Junior College in nearby River Grover, Illinois. In this location, he majored in pre-law. He wanted to be very knowledgeable about the legal system, because he wanted to use it as a defense against the police since many cops were getting away with murder literally back then (and today).
Fred Hampton was active in the NAACP or the National Association for the Advancement of Colored People. He was the leader of the Youth Council of the organization's West Suburban Branch. When he was a NAACP youth organizer, he led a youth group of 500 members strong (in a community of 27,000 people). He worked to get more and better recreational facilities established in the neighborhoods and to improve educational resources for Maywood's impoverished black community. He made social change via nonviolent activism and community organizing while he was in the NAACP. Soon, Fred Hampton joined the Black Panther Party in Chicago. He respected the Panther's 10 point program, its criticizing of capitalism, its advocacy of self-determination, and its approach in solving problems. He joined the Party and relocated to downtown Chicago. By November 1968, he joined the Party's ascent Illinois chapter. In less than 2 years, Fred Hampton made great accomplishments in Chicago. He made a nonaggression pact between Chicago's most powerful street gangs. Chicago gangs back then were very powerful. Fred Hampton believed that racial and ethnic conflict between gangs would keep people still in poverty and won't make real solutions. So, he made a class conscious, multiracial alliance between the Black Panther Party, the Young Patriots Organizations, and the Young Lords (under the leadership of Jose Cha Cha Jimenez). They met in Lincoln Park the day after the Young Lords occupied a community workshop meeting inside the Chicago Avenue 18th District Police Station. The coalition was joined by the SDS (or the Students for a Democratic Society), the Blackstone Rangers, the Brown Berets, and the Red Guard Party. In May of 1969, Fred Hampton called this truce via a press conference as a "rainbow coalition' which was a phrased coined by Hampton. It has been popularized by Rev. Jesse Jackson who used it to describe his Rainbow/PUSH organization. Fred Hampton was very intelligent and he taught political education classes every morning at 6 am. He launched a program for community supervision of the police He was involved in the BPP's local People's Clinic and he worked in the BPP's Free Breakfast Program in Chicago. This angered the FBI.
The FBI monitored Fred Hampton heavily especially since 1967. They or members of the FBI wanted not have a revolutionary black movement helping society. The FBI wiretapped Hampton's mother's phone in February of 1968. Fred Hampton in May of 1968 was placed on the "Agitator Index", and he would be designated a "key militant leader for Bureau reporting purposes." In late 1968, the Racial Matters squad of the FBI's Chicago field office brought in a black person named William O'Neal. O'Neal was an informant or a sellout. O'Neal agreed to monitor Fred Hampton in exchange to get his felony charges dropped (which were interstate car theft and impersonating a federal officer) and a monthly stipend. So, O'Neal infiltrated the Black Panthers in Chicago and gave the FBI information on the whereabouts of Fred Hampton. O'Neal was a bodyguard of Fred Hampton too. The FBI set up distrust and instigated tensions between the Panthers and the Rangers. O'Neal instigated an armed shootout between both groups on April 2, 1969. The FBI also used fake cartoons in trying to divide the SDS and the Panthers. In repeated directives, Hoover demanded that the COINTELPRO personnel "destroy what the [BPP] stands for" and "eradicate its 'serve the people' programs." On July 16, 1969, the Chicago police Department had an armed confrontation with party members. One BPP member was killed and six others were arrested on serious charges. Mayor Richard Daley opposed the Black Panther Party members since he saw them as trying to preempt the authority of city hall.
On May 26, 1969, Hampton was prosecuted in a case related to a theft in 1967 of $71 worth of Good Humor Bars in Maywood. He was sentenced to two to five years but managed to obtain an appeal bond, and was released in August. Fred Hampton and his girlfriend Deborah Johnson (who is now known as Akua Nejri) was pregnancy with their first child in early October. Their child would be Fred Hampton Jr. The couple rented a four and a half room apartment on 2337 West Monroe Street to be closer to BPP headquarters. O'Neal reported to his superiors that much of the Panthers' "provocative" stockpile of arms was being stored there. In early November, Hampton traveled to California on a speaking engagement to the UCLA Law Students Association. While there, he met with the remaining BPP national hierarchy, who appointed him to the Party's Central Committee. Shortly thereafter, he was to assume the position of Chief of Staff and major spokesman. O'Neal told the FBI about Fred Hampton's whereabouts. Another gun battle between the Panthers and the police happened in November 13. On December 3, O'Neal drugged Fred Hampton's drink so he would sleep during the raid. At 1:30 am. In November 4th, Hampton fell asleep. The raid was organized by the office of Cook County State's Attorney Edward Hanrahan.
Hanrahan had recently been the subject of a large amount of public criticism by Hampton, who had made speeches about how Hanrahan's talk about a "war on gangs" was really rhetoric used to enable him to carry out a "war on black youth." At 4:00 am, the heavily armed police came to the house. They divided into 2 teams in the front and back of the building. At 4:45 am, they stormed into the apartment. Mark Clark had a shotgun in his lap on security duty. He was shot in the heart and died instantly. No other Panthers fired a shot except when Clark fired his gun out of a reflex after he was shot automatic gunfire killed Fred Hampton. Other Panthers were wounded. Fred Hampton died in a pool of blood. The officers kept on shooting in the building. Satchel, Anderson, and Brewer were sleeping. Verlina Brewer, Ronald "Doc" Satchel, Blair Anderson, and Brenda Harris were seriously wounded. They were beaten and dragged into the street and falsely arrested on aggravated assault and attempted murder of the officer. They were each held on $100,000 bail. Hampton's fiancée, Deborah Johnson, was sleeping next to him when the police raid began. She was forcibly removed from the room by the police officers while Hampton lay unconscious in bed. The seven Panthers who survived the raid were indicted by a grand jury on charges of attempted murder, armed violence, and various other weapons charges. These charges were subsequently dropped. During the trial, the Chicago police department claimed that the Panthers were the first to fire shots; however, a later investigation found that the Chicago police fired between ninety and ninety-nine shots while the Panthers had only shot twice. Fred Hampton's funeral was filled with 5,000 people. Jesse Jackson, Ralph Abernathy, and many people were there. It is obvious that the cops executed 2 black men in cold blood. Yet, the police murderers were never convicted for their crimes. The families of Hampton and Clark filed a US$47.7 million civil suit against the city, state, and federal governments. The case went to trial before Federal Judge J. Sam Perry. At first the case was dismissed. Then, it was retried more than a decade later. The suit was finally settled for $1.85 million. The two families each shared in the settlement. December 4 is known as Fred Hampton Day in Chicago. A public pool was named in his honor in his hometown of Maywood, Illinois. The excellent documentaries of the Murder of Fred Hampton from 1971 and the Eyes on the Prize series show excellent information on the story of the late Brother Fred Hampton. RIP Brother Fred Hampton.
Political Developments in the late 1960's and the 1970's
After WWII in Chicago, veterans and more immigrants came from Europe. Many immigrants from Europe were the Displaced Persons from Eastern Europe. They created a postwar economic boom. This caused huge housing tracts on Chicago's Northwest and Southwest Sides. Many post war images of Chicago was recorded by street photographers like Richard Nickel and Vivian Maier. During the 1950's, in the postwar desire for new and improved housing was aided by new highways and commuter train lines, many middle and higher income Americans started to move from the inner city of Chicago to the suburbs. There was the restructuring of the stockyards and steel industries after 1950. This led into massive job losses in the city for working class people. The city population shrank by nearly 700,000. The City Council devised "Plan 21" to improve neighborhoods and focused on creating "Suburbs within the city" near downtown and the lakefront. It built public housing to try to improve housing standards in the city. As a result many poor human beings were uprooted from newly created enclaves of Black, Latino and poor in neighborhoods such as Near North, Wicker Park, Lakeview, Uptown, Cabrini–Green, West Town and Lincoln Park. The passage of civil rights laws in the 1960s also affected Chicago and other northern cities.
In the 1960s and 1970s, many middle and upper income Americans continued to move from the city for better housing and schools in the suburbs. There was growth of office building in the 1960's in the midst of massive social movements. Mayor Richard J. Delay was mayor from 1955 to 1976. Daley was part of the Chicago's Democratic machine politics. He dominated the Cook County democratic Central Committee. Daley used his influence to build in the Loop, the city-owned O'Hare Airport (which became the world's busiest airport displacing Midway Airport's prior claims). Several neighborhoods near downtown and the lakefront were gentrified and transformed into "suburbs within the city." Daley was filled with controversies from black people and other groups of people. The police in Chicago used discriminatory practices. In the Lincoln Park, Lakeview, Wicker Park and Humboldt Park communities, the Young Lords under the leadership of Jose Cha Cha Jimenez marched and held sit ins to protest the displacement of Latinos and the poor. After the assassination of Dr. Martin Luther King in 1968, major riots of despair resulted in the burning down of sections of the black neighborhoods of the South and West sides. There were the famous protests against the Vietnam War at the 1968 Democratic National Convention held in Chicago. Daley allowed the police to be police brutality in street violence with televised broadcasts of the Chicago police's beating of unarmed protesters. Daley yelled at Senator Abraham A. Ribicoff (D-Conn.) after Ribicoff courageously exposed Daley's Gestapo tactics in the streets of Chicago. A federal commission, led by local attorney, party activist Dan Walker, investigated the events surrounding the convention and described them as a "police riot." Afterwards, anti-war activists Abbie Hoffman, Jeffery Rubin, Bobby Seale, and others of the "Chicago Eight" were convicted of crossing state lines with the intent of inciting a riot. Bobby Seale was gagged in a seat while he was on trial, which was wrong. Their convictions were overturned on appeal.
Jesse Jackson by the late 1960's had ideological and management disputes with the SCLC. After Dr. Martin Luther King Jr. was assassinated in 1968, Jesse Jackson claimed that was the last person who speak to King, and that King died in his arms – an account that several King aides disputed. Dr. King explicitly states that if sometime happened to him, that Ralph Abernathy would take over leadership of the SCLC or the Southern Leadership Christian Conference. Ralph Abernathy was one leader of the Poor People's Campaign. Jesse Jackson also worked in the campaign. Jesse Jackson is a member of the Council on Foreign Relations and he is a Freemason. I don't agree with the agenda of the CFR and I disagree with Freemasonry ideologically. Unfortunately, Jesse Jackson has worked with the Democratic Party establishment.
Jesse Jackson was credited with managing the 15 acre tent city called Resurrection City in Washington D.C. during Poor People's Campaign. Many people by 1969 called Jesse Jackson as Dr. King's successor. Yet, we have to be our own leaders. Ralph Abernathy and Jesse Jackson had a dispute on ideology and management during this era of time. In the spring of 1971, Abernathy ordered Jackson to move the national office of Operation Breadbasket from Chicago to Atlanta and sought to place another person in charge of local Chicago activities, but Jackson refused to move. In October of 1971, Jesse Jackson organized the Black Expo in Chicago. The Black Expo was a trade and business fair. It promoted black capitalism and grassroots political power. It was a five day event. It was attended by black businessmen from 40 states, as well as politicians such as Cleveland Mayor Carl Stokes, and Chicago Mayor Richard J. Daley. The expo showed the growing political and economic power of black people. In December of 1971, Jackson and Abernathy had a complete falling out, with the split described as part of a leadership struggle between Jackson, who had a national profile, and Abernathy, whose prominence in the Civil Rights Movement was waning. The break began when Abernathy questioned the handling of receipts from the Black Expo. Angela Parker was a black reporter from the Chicago Tribune. Angela Parker did the research and send information to Rev. Abernathy about this issue. Later, Ralph Albernathy suspended Jackson as leader of Operation Breadbasket for not obtaining permission to from non-profit corporations. Al Sharpton, then youth group leader of the SCLC, left the organization to protest Jackson's treatment and formed the National Youth Movement. Jackson, his entire Breadbasket staff, and 30 of the 35 board members resigned from the SCLC and began planning a new organization. Jesse Jackson on December 25, 1971 formed Operation Push or the People United to Save Humanity. The name was changed by Jackson to People United to Serve Humanity.
The black capitalist T.R.M. Howard was installed as a member of the board of directors and chair of the finance committee (of Operation PUSH). Operation PUSH would deal with politics, it pressured politicians to improve economic opportunities for black people and poor people of all races. SCLC officials back then reportedly felt the new organization would help black businesses more than it would help the poor. Operation PUSH is still in existence today. Historically, Operation PUSH has helped many people in a diversity of ways form literacy programs, anti-crime initiatives, and assistance to black homeowners. Likewise, Operation PUSH worked with corporations to build up affirmative action programs. In 1978, Jackson called for a closer relationship between blacks and the Republican Party, telling the Party's that "Black people need the Republican Party to compete for us so we can have real alternatives ... The Republican Party needs black people if it is ever to compete for national office." The truth is that both capitalist parties (of the Republicans and the Democrats) have exploited black people for a long time and we need political independence. On a tour of South Africa in 1979 he pushed for "operational unity" with Gatsha Buthelezi, the Zulu tribalist leader whose Inkatha thugs work closely with the apartheid regime in murderous attacks on black trade unionists and young militants in the townships. Jackson complimented Pieter Koornhof, apartheid minister for "black affairs" as a "courageous man' for whom he had high regard." That was wrong.
Jesse Jackson formed the Rainbow Coalition in 1984. Financial problems in Operation PUSH caused Jackson to make the Operation PUSH and the Rainbow Coalition to merge as one in 1996. Jesse Jackson was involved in the 1984 and in the 1988 Presidential campaigns as a Democratic candidate. He was crucial in expanding the voting power of black Americans and he was involved in foreign policy initiatives from allowing Americans to come home after disputes and he also protested the Iraq War. So, when you look at Jesse Jackson's legacy overall, it is combination of good things (which should be acknowledged like how he wanted the then apartheid regime of South Africa to end, he opposed Reaganomics, his opposition to the War on Drugs recently, his standing up against police brutality, his respect given to the family of the victims of the 2015 Charleston Church shooting massacre, and how he has advocated universal health care) with errors (like Jesse Jackson loving black capitalism when capitalism is based on exploitation and oppression against all workers straight up). The Brother Jesse Jackson has lived a long life and now, more of the younger generation of Brothers and Sisters should continue in the work for social justice (in that sense, the entire human race can have equality and justice).
Richard Daley continued his mayor ship of Chicago until his death in December 20, 1976. He died of a heart attack while visiting his doctor's office. He was 74 years old when he died. When completed in 1974, the Sears Tower, now known as the Willis Tower, at 1451 feet was the world's tallest building during the 1970's. It was designed by the famous Chicago firm of Skidmore, Owings & Merrill, which designed many of the city's famous buildings.
Mayor Jane Byrne
Chicago is a city known of firsts. The first mayor of Chicago who was a woman was Jane Byrne. Throughout her life, she experienced triumphs and controversies. Her family loved her a lot. Her life was filled with a great amount of political experience and she worked heavily in the city of Chicago. She was a Democrat, but ironically her mentor was Richard J. Daley. Jane Byrne was a volunteer for the John F. Kennedy campaign for President back in 1960. In 1968, Daley appointed her as head of Chicago's consumer affairs department. She first campaigned as a reformer. Her campaign against the former mayor Michael Bilandic was brilliant. Snowstorms in Chicago in January of 1979 caused people to see Bilandic as ineffective as a leader. Jesse Jackson endorsed Byrne in 1979. She defeated Bilandic in the Democratic mayoral primary. She connected with the voters. She focused on issues that people cared about during her 1978 campaign. She won the general election with 82 percent of the vote, which is the largest margin in any Chicago mayoral election in Chicago history. Byrne made history in other ways too. She hired the first African American and woman school superintendent Ruth B. Love. She was the first mayor to recognize the gay community. In March 1981, she moved into the crime-ridden Cabrini–Green Homes housing project for a 3-week period to bring attention and resources to its high crime rate. She banned handgun possession for guns unregistered or purchased after the enactment of an ordinance which instituted a two year re-registration program. She supported Senator Edward Kennedy for President in 1980, but Jimmy Carter won the Illinois Democratic Primary. When, she was in office, she worked with the City Council. She made alliances with the powers that be in commerce and industry, which have a huge influence in how politics happen in Chicago. She is known to have a strong personality and there is one big issue. Later in her first term, she alienated many African Americans and Hispanic Americans in Chicago. They felt that she didn't do enough to address the socioeconomic problems of people of color in Chicago. Mayor Byrne was an ally of the Democratic machine. She knew political arithmetic, because she had to get strong support from the black community in order to be reelected in the city of Chicago. During her term, she had to deal with delievring basic services to people, she dealt with street lights, public transportation existed, and the city further shifted into a neo-liberal direction.
The problem was that there were huge budget shortfalls, a pensions problem, lagging revenues, schools were not performing strong enough, public housing was crumbling, and many public employee unions were dissatisfied. Teachers, firemen, and others went on strike during the early part of her administration. In Chicago, after the 1979 snowstorm, black people in Chicago were further exploited by the elites. Many L trains passed up the black community during the days when Bilandic was mayor. Many black people accused the Mayor Byrne of under representating black people in appointments, city jobs, and contracts. Marion Stamps or the Director of Chicago Housing Tenants Organization back then viewed Byrne moving into the housing project as patronizing and disrespectful. Sister Marion Stamps said that Charles Swibel (or the chairman of the housing department back then) didn't provide massive services to public housing or talked to the residents of public housing (so public housing residents had little recourse in expressing their concerns). Some of her critics, according to the Chicago Times, called her or Jane Byrne out of her name. Her husband was Chicago journalist Jay McMullen. Jane Byrne later on wanted to go at it alone mostly. She had a contentious campaign with Harold Washington in the 1983 mayoral campaign, which further turned many black people off (from supporting Byrne). So, she made many accomplishments for Chicago. Chicago was a little better than before she was in office, but the deficits, the problems with public housing, etc. are some of her overt errors She had allies and political enemies. She was Mayor of Chicago from April 16, 1979 to April 29, 1983. In 1982, there was a massive voter registration drive in Chicago. Sister Nancy Jefferson helped people to vote and spoke up about how public aid were cut back exist during that time. Mondale supported Richard Daley. Edward Kennedy supported Jane Byrne. Jesse Jackson supported the Brother Harold Washington in the early 1980's. Byrne lost to Harold Washington in 1983 (during the Democratic mayoral primary). Sister Rosie Mars supported Harold Washington. Ironically, Jane Byrne would later support Harold Washington in the future by 1987. She lived in Chicago. She suffered a stroke, was placed in a hospice care, and she died in November 14, 2014 in Chicago. She was 81 years old. Her daughter is Katherine and her grandson is Willie. Her funeral Mass was held at St. Vincent de Paul on Monday, November 17, 2014. She was buried at Interment Calvary Cemetery in Evanston, Illinois. In a dedication ceremony held on August 29, 2014, Governor Pat Quinn renamed the Circle Interchange in Chicago the Jane Byrne Interchange. In July 2014, the Chicago voted to rename the plaza surrounding the historic Chicago Water Tower on North Michigan Avenue the Jane M. Byrne Plaza in her honor. In essence, Jane Byrne's mayoral legacy (which was mixed) represented a transitional period in the history of Chicago. She loved politics and we remember this history in order for us to be inspired to help our neighbors as ourselves. After Jane Byrne was Mayor, the people of Chicago would vote for Harold Washington to be the first black American to be mayor of Chicago.
Mayor Harold Washington (the first Black Mayor of Chicago)
Harold Washington was a Brother who lived a life filled with a love of politics and a love for the city of Chicago. His love caused him to be the first black mayor of Chicago. He served in the Army during World War II in the Pacific. After World War II, he was activist in Illinois politics. He soon ran the election for Mayor in 1983. The election of 1983 was contentious, hardcore, and many folks appealed to racism in order to try to prevent Harold Washington from being Mayor. These racist forces failed. His mayoral journey was not easy. He faced massive deficits caused by the previous mayor and he faced the deindustrialization and the increasing crime rates that America experienced during the 1980's. He was a black Democrat who had more than 514,000 votes in the April 12th election. He led a coalition to win which included black people obviously, Puerto Ricans, Mexican Americans, and progressive whites. He defeated the Republican Bernard Epton. Washington sincerely wanted a broad-based coalition of African Americans, Hispanics, Asian Americans, progressive whites, the poor, etc. in a progressive multiethnic, multiclass coalition in order for Chicago to have justice and freedom for all. The problem was that this coalition had difficulties in forming independent structures to solve problems more readily. A large problem was not just with the Republicans (who were reactionaries heavy). It was also the Democratic machine who wanted to control Washington and even want him to follow neoliberal policies explicitly. One reactionary head of the Cook County Democratic Party machine was alderman E.R. Vrdolyak. He blatantly openly appealed to racists in order to control the aldermans of Chicago and he didn't wanting Harold Washington to implement progressive policies in Chicago. Vrdolyak was an enemy of Washington and the freedom loving peoples of Chicago. Vrdolyak helped to enacted a policy that only caused the city council to get a two-thirds vote to take bills away from committees that refused to act on them. Vrdolyak used race baiting in claiming that it's a race thing. He wanted the status quo. During the early years of his mayorship, Washington made some actions that were positive. From 1983 to 1985, Harold Washington allowed Chicago to build 9,596 new residential units, homes were rehabilitated, the infant mortality rate decreased. Yet, community development funds decreased in that span of time. Washington used tax increases in order to decrease the city's long term debt. The tax increases were about $312 million. The mayor reduced the city's debt by $27.5 million. The city council blocked many other alternative sources of revenue. In 1985, he executed an executive order to get city contracts for minority owned and women owned firms. African American and Hispanic business leaders wanted contracts to develop their enterprises.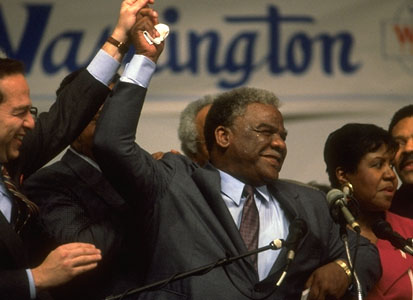 Harold Washington desired social democratic solutions, but some members of the city council (especially the corporate elites in Chicago) tried to push him into accepting more moderate actions. Some of the Democratic machine didn't like this man when he was alive. Overall city employment increased by 2.2 percent from 1983 to 1984 and there was a 5.1 percent increase in jobs on the South Side too. The Democratic primary of the mayorship in 1987 was hardcore, contentious, and personal. Many Hispanic people, Arabic people, Asian people, and other groups of people wanted more political power during this era. In a sense, this story is very similar to the coalition that caused President Barack Obama to be elected in 2008. Reverend Jesse Jackson, community progressive activist Marlene Carter, and others supported Washington. Yet, many people like Jane Byrne and others challenged him during the primary. Byrne would go on to support Harold Washington in the 1987 election. Harold Washington won the Democratic primary and won the mayor election in 1987 against Republican (and Northwestern University professor) Donald Haider, the reactionary race baiter Vrdolyak (Illinois Solidarity Party), and Cook County Assessor Thomas Hynes (Chicago First Party). He continued to work. During his second term, Harold Washington wanted to work to create affordable housing and he had a progressive view on the issue of immigration. He passed away by a heart attack on November 25, 1987. He was only 65. He brought many people together. He was the first black mayor of Chicago. He wanted to form coalitions of people across classes, across races, and across genders. His life is the reminder of the power of coalitions and the importance of dealing with diverse consistencies in a progressive way.
Richard M. Daley and the 1990's
The rise of Richard M. Daley as mayor came about in 1989. Questioned about the city's rising homicide rate on September 10, 1991, Daley said "The more killing and homicides you have the more havoc it prevents." That comment was blatantly disrespectful. He would be mayor until 2011. From his beginnings as mayor, he made Chicago a city for the rich and powerful to deal with via deals and various projects, but he didn't offer revolutionary solutions to address poverty.
Carol Moseley-Braun made history in 1992 when she became the first African-American woman elected to the United States Senate. Known as the "Year of the Woman," Moseley-Braun was one of an unprecedented five women sent to the Senate in a single election year. Carol Moseley-Braun was born in Chicago in 1947. She attended the University of Illinois, graduated with honors from the University of Chicago Law School, and was admitted to the Illinois bar in 1973. After three years working as a prosecutor in the office of the U.S. Attorney, Mosley Braun entered politics and was elected to the Illinois House of Representatives as a Democrat in 1978. She is a lover of wisdom and she has helped so many people in real life. She would later run for the Presidency of the United States in 2004. Moseley-Braun heads Good Food Organics, founded in 2005, which follows her commitment to public responsibility through a business approach of financial profitability, environmental sustainability, and social ethics.
Daley saw the growth of multimillion dollar parks, posh restaurants, hotels, and the Michigan Avenue shopping district in the Loop. During his time as mayor, there has been huge poverty, stripped down social services, struggling public schools, and police corruption. On other issues, he was more progressive. On March 19, 1997, the Chicago City Council adopted the Domestic Partners Ordinance, which made employee benefits available to same-sex partners of City employees. Daley said it was an issue of fairness. Many black people were appointed in high positions while Daley was mayor. Many public housing projects were torn down. On the other hand, Daley wasn't a revolutionary. He was a Republican mayor who wanted reform instead of revolution. The ex-cop Burge is known for torturing black people in Chicago and it is only recently when some of the victims are beginning to be compensation for their abuses and mistreatment. He defeated Bobby Rush in 1999 in the race for mayor. Amnesty International back in the 1990's wanted Mayor Daley to confront police brutality in Chicago. So, Richard M. Daley led neoliberal policies in Chicago.
Chicago during the 21st Century
Chicago in the 21st century has made many changes and there is still a long way to go. There can be no mention about Chicago without the mention of President Barack Obama. The President was not born in Chicago but he has great roots in Chicago then and now. During the 1980's, Barack Obama was a community organizer in Chicago. He helped people in some of the poorest neighborhoods of Chicago. He took inspiration to work in Chicago heavily from Mayor Harold Washington during the 1980's. Ironically, the multiracial coalition of Washington was similar to the multiracial coalition that supported Obama in his 2008 and 2012 Presidential campaigns. President Barack Obama is the first black President of America. That is very historic. Barack Obama gave his Presidential acceptance speech at Grant Park in Chicago, Illinois on November 4, 2008. The strength of President Barack Obama is that he has immense intelligence (as a constitutional professor and a civil rights lawyer) and he has great eloquence in outlining his views (whether people agree with him or not). Obviously, I do disagree with the President's drone policy (I believe that his foreign policy is heavily imperialist. For example, the US/NATO attacks on Libya, the US funding a reactionary Ukrainian regime, and other actions are not revolutionary but reactionary. I don't support those policies at all. The President is wrong to advance imperialism. Imperialism in the modern age has originated from white racist Europeans, who organized the Maafa and other forms of oppression against black people, other people of color, and other oppressed people worldwide. This system is classist and sexist too), his pro-surveillance policies, his neoliberal economic policies (which has benefited Wall Street and the 1% on many ways. There has been a massive transfer of wealth from the masses of the people to select wealthy oligarchs. We see massive increase of low wage jobs instead of living wage jobs while many people have left the job market), and on other issues. The President is wrong to ignore the discrimination, racism, occupation, and apartheid policies that Israel executes day in and day out.
There has been the growth of economic inequality. The recession didn't originate with the current President (an obstructionist mostly Republican Congress refuses to even pass a infrastructure bill, which is a disgrace on the part of the GOP. We know that GOP leadership supports the evils of war, austerity, anti-civil liberty laws, and anti-labor rights), but under his Presidency poverty, economic inequality, and wage stagnation are still serious problems in America. I do agree with the President on him signing the Lilly Ledbetter Fair Pay Act, the Dodd-Frank law, the American Jobs and Closing Tax Loopholes Act, the Civil Rights History Act, the expansion of the Pell Grant Program, the expansion of the the Nurse-Family Partnership program, the support of giving compensation to black farmers, and other actions. So, regardless of which year we live in, we have to continue to fight for justice and freedom worldwide. Also, another point is to be made. The current President is a representative of the system. We know that there is still the system of racism/white supremacy (including capitalism) that has harmed people worldwide beyond the power of the President (though the President is still accountable for the policies that he personally implements). In other words, when President Obama leaves office in 2017, the system of racism/white supremacy (which is pro-capitalist) still exists. Not only must we legitimately critique our elected officials. We have the responsibility to be part of the solution too. It is not enough to condemn evil. We have to do some good too and promote the view that the government should promote the general welfare for all people (which means that our social programs should be strong and freedom is to be made into a reality succinctly).
The problems in this country existed long before Obama was elected President though the President should have responsibility and accountability for his actions. We want the neoliberal/Empire agenda to end. We desire universal health care, educational justice, racial justice, an end to imperialism, and end to the War on Drugs. The system of racism/white supremacy must end and be replaced with the system of justice. Forever, I believe in social justice, environmental justice (where the world ecology is improved upon), and an end to the prison industrial complex. I reject materialism 100 percent. There ought to be end to police terrorism, and the creation of economic justice. I believe in jobs with living wages for humanity as Dr. Martin Luther King Jr. (who respected democratic socialism) has advocated. I want any Wall Street banker, who is a criminal, to be prosecuted. I believe in civil liberties and I oppose the USA Patriot Act and the NDAA. I believe in the common good and democratic rights. That's real talk.
The Great Recession came from the previous Republican administration. Not everything is terrible in America, but we have a long way to go. Not to mention, as I have said before, I will never call the Brother (who is the President) out of his name. We live in a new era with an African American President, but still we witness high levels of unemployment in the black community including a racist, classist criminal injustice system. The First Lady Michelle Obama (who is a beautiful black woman with blessed children) advancing fitness, exercise, and healthy eating has inspired people worldwide. That's good thing. The President has a tendency to overtly refuse to condemn the system of white supremacy and call out the oligarchy because of fear of offending right wing sensibilities. In essence, the neoliberal President Barack Obama embraces neoliberal philosophies (as he has admitted that he agrees with the free enterprise system, which I don't). There has been a high level of police brutality in America and we see the growth of social movements fighting back against police terrorism, economic inequality, xenophobia, misogyny, imperialism, and ecological injustices as well. This means that we should both address racial oppression and class oppression (which exists from capitalist exploitation as we need the poor and the workers to have liberation) in order for us to see justice.
The city increased its population density and its air quality has improved. There is the park district. The park district is the biodiversity recovery plan is set to restore damaged natural areas of the city as well as creating new ones. There is the existence of many green roofs that were created to reduce heat gain, aid in air quality, and provide insulation. Millennium Park on the lake demonstrates man of the new concepts. Political changes have taken place too. Mayor Richard Daley was mayor from the later 1980's until the early part of the 21st century. Richard M. Daley was focused on business development, he developed tourism, and he saw the construction of Millennium Park. Daley did some positive things. His problems were his over emphasis on privatization programs and many of his family members would disproportionately benefit from city contracting. Also, when Mayor Daley took office, there was a budget surplus (as caused by the late Brother Mayor Harold Washington). He left the city as Mayor with Chicago having massive structural deficits. His budgets ran up the largest deficits in Chicago history. He sold many public lands to private corporations, which many progressives didn't like. Mayor Daley didn't radically improve the conditions of its poor citizens in Chicago either. In 2003, Meigs Field was closed with the Chicago Film Archives founded. In 2005, the Chicago White Sox win their first World Series in 88 years. Back in May 1, 2006, U.S. immigration reform protests in Chicago draw over 400,000 people. "There were some positive benefits into the neighborhoods, there was some spreading of housing and economic development into particularly minority areas, which had not been seen for decades," said Dick Simpson, head of the political science department at the University of Illinois at Chicago who served two terms as alderman of the 44th Ward during the 1970s. "But it's not been enough to compensate for the other two problems: the recession and the collapse of affordable housing." Overall, Simpson said he considered Daley's impact on the city's impoverished areas would be viewed as "mixed". "Some of the neighborhoods, like Woodlawn and others, have begun to get more private housing development in them and some economic development," Simpson said. "But overall, poverty and unemployment have remained at unacceptably high levels and the Daley administration was not able to resolve that."
Many lower income neighborhoods suffered massive poverty. Census data showed that while the citywide unemployment rate decreased from 11.3 percent in 1990 to 10.5 percent in 2009. In fact, no ethnic group saw bigger changes over the course of the Daley era than the city's African Americans, which lost 12.5 percent of its total population between 1990 and 2009. He left behind a budget deficit estimated at more than $500 million, and famously sold off public assets such as the Chicago Skyway and the city's parking meters for one-time cash infusions whose proceeds are very nearly exhausted. During the Daley era, predominantly black communities witnessed the highest unemployment and the highest increase in unemployment from 18.4 percent in 1990 to 19.6 percent in 2009. So, his legacy was mixed with good and bad policies. The Chicago Blackhawks win the Stanley Cup in 2010. After Daley, Rahm Emanuel was sworn in as Mayor of Chicago in May 16, 2011.
The May 2012 NATO Summit took place in Chicago and massive protests has existed in the city as well. Rahm Emanuel is a neoliberal through and through. Rahm Emanuel has been a great reactionary force in Chicago. He closed tons of Chicago public schools. He promoted wage cuts. He is very unpopular among many people in Chicago. He was reelected in massive unpopularity. Kari Lydersen's book entitled, "Mayor 1%: Rahm Emanuel and the Rise of Chicago's 99%" talks about Emanuel's neoliberalism a great deal. Emanuel was once the White House Chief of Staff for the Obama administration from 2009 to 2010. He is known for his temper and his usage of vulgar language. The crime rate in Chicago has declined since the 1990's, but gun violence is still a serious issue as hundreds of people have died in Chicago every year. That is totally unacceptable. It is also unacceptable for innocent unarmed black people to be murdered by the police. Any death of any innocent person in any location of America is unacceptable, so this is a national problem. There are so many tragedies of gun violence in Chicago. One story was Hadiya Pendleton. She was only 15 years old when she was killed. She was killed only one week after performing at events for the President's second inauguration. She was shot in the back while she was standing with friends. She died in January 29, 2013. Cleopatra Cowley-Pendleton and Nathaniel A. Pendleton Sr are her parents. So, we mourn her passing. Also, we recognize there are tons of independent organizations in Chicago who are working all of the time to combat violence in the city. There are musicians, religious people, social activists, and other great person who are putting in work in fighting back against gun violence in Chicago. So, that should be acknowledged. That is why activists (then and now) among many backgrounds are constantly fighting in programs, community groups, and other real organizations to combat gun violence and any crime in Chicago. Rahm Emanuel has been re-elected as Mayor of Chicago. Karen Lewis and other fought back and are still fighting back. Jitu Brown, a member of the Coalition to Revitalize Dyett High School on August 2015, and other courageous people have organized a historic hunger strike. This hunger strike has been staged by parents and community residents, who are resisting the closing and privatization of their neighborhood high school and the intransigence of Chicago's City Hall. These heroic human beings are not only protesting the closing of public schools. They are against the closing of hospitals and trauma centers including the evil of gentrification. They are involved in grassroots organizing and they want the improvement of the South Side community and all areas of Chicago. I am in solidarity with them. So, Chicago is still here and it's a strong city that I have great respect for.
The Culture of Chicago
Chicago and culture goes hand in hand. There is so much culture in Chicago among different cultures that long books can be written on it. African Americans have a huge cultural history then and now in Chicago. Between 1916 and 1920, almost 50,000 black Southerners moved into Chicago. This has influenced the city of Chicago with the growth of local churches, businesses, and community organizations. This also spread the musical culture with songs like jazz traveling form the Mississippi region (in the Delta) up into Chicago. During the Jazz (from the 1920's to the 1940's), nationally renowned musicians rose up in the Chicago world. Louis Armstrong and other jazz greats would headline in places like Dlelux Café (along the Stroll, which was a bright light district on State Street). To this very day, many jazz clubs are common in Chicago. Blues artists who played in Chicago include Muddy Water, Junior Wells, Sonny Boy Williamson. Jazz greats like Gene Ammons, Benny Goodman, Nat King Cole, etc. performed in Chicago all of the time. Gospel music is a strong staple of African American culture in Chicago. We can go down the list. Our parents and our grandparents know about the Staples Singers, Edwin Hawkins, James Cleveland, etc. Mahalia Jackson, Edwin Hawkins, Rev. Milton Brunson and the Thompson Community Singers all lived in or worked in Chicago. Curtis Mayfield, Lou Rawls, the Chi-lites, Rufus, Chaka Khan, R Kelly, Jennifer Hudson, Dave Hollister, Carl Thomas, etc. were/are great soul or R&B singers. Hip hop artists in Chicago include Common, Lupe Fiasco, Da Brat, Chief Keef, Shawnna, Twista, and you know Kanye West. There has been much public art that celebrate black culture in Chicago too. Alison Saar designed the Monument to the Great Migration in 2600 S. Martin Luther King Drive, which celebrates the thousands of African Americans who came into Chicago for the purpose of trying to have freedom and opportunity during the early 20th century. The monument shows a statue of a man with a suitcase, which represents his journey as the Great Migration is one of the greatest events in African American and American history. The Chicago Defender (which is a black media institution) successfully campaigned for the memorial to African American veterans of World War I to allow the Victory Monument to exist in Bronzeville. It was created by the French sculptor Leonard Crunelle with large granite columns with designs. It remembers the names of the 137 fallen soldiers of the Eighth Regiment of the Illinois National Guard. America's first independent museum dedicated to the history of African and African American culture is the DuSable Museum. It's found in 740 E. 56th St. It is one of Chicago's greatest cultural institutions. It has more than 15,000 artifacts, priceless paintings, sculptures, and historical memorabilia. The South Side Community Art Center shows many art from paintings to sculptures as found in the South Side neighborhood of Chicago.
By Timothy