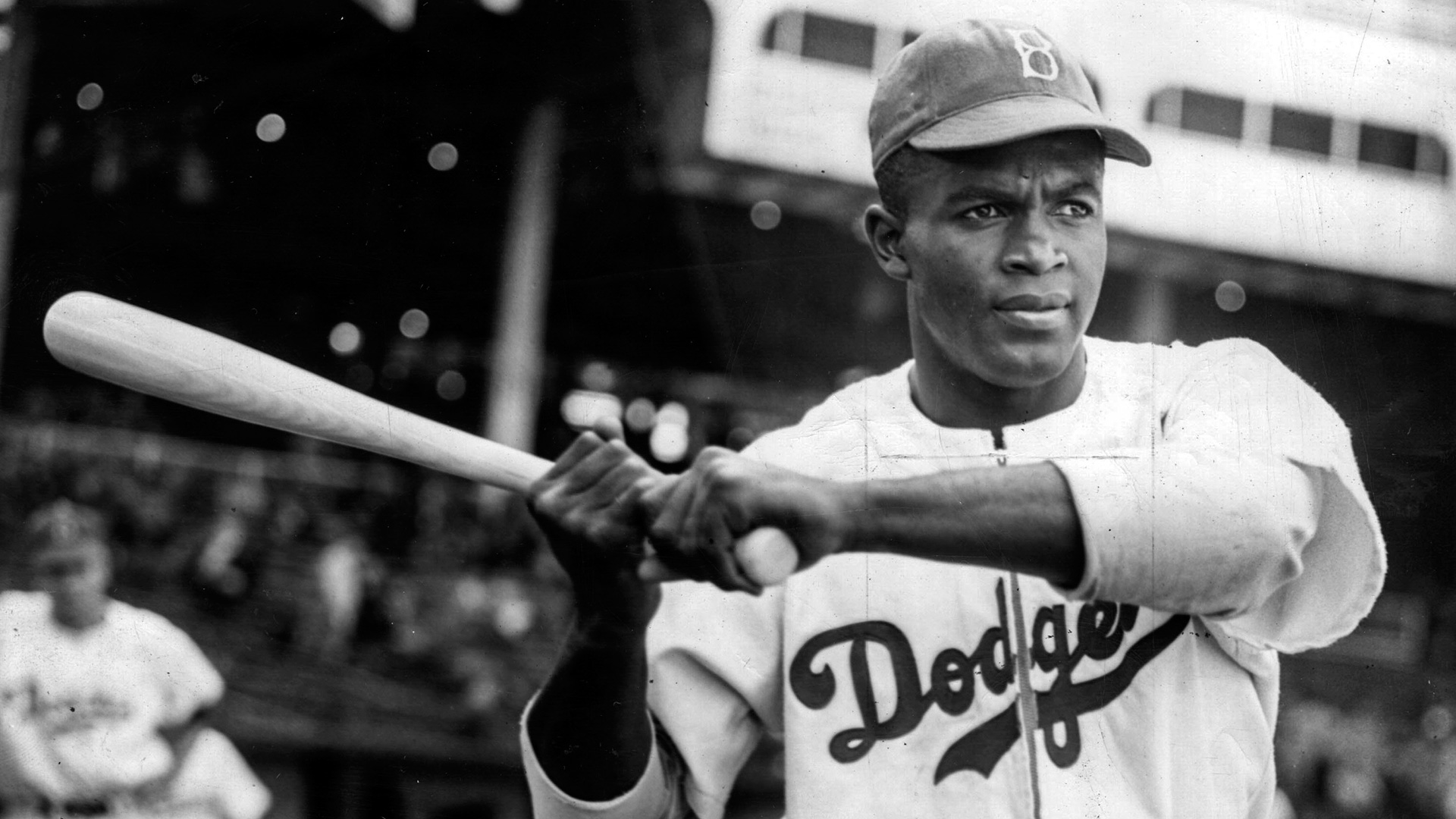 Jackie Robinson
Jackie Robinson was a man of courage. His wife is a woman of courage too. I saw a lot of the PBS documentary about Jackie Robinson's life from baseball to politics. Jackie Robinson experienced a huge amount of disrespect, slurs, and hate from racists. Yet, he never given up. He not only made accomplishments in baseball. He supported civil rights, opposed injustice, and advocated for black people to have ownership of teams in the major leagues. He personified class and character. His wife has promoted tolerance and human justice for decades as well. He lived as a man on a mission to advance racial justice and human dignity. We honor his memory and we always respect the courage and the great strength of his wife (including their children). In our generation, we, as black people, are still fighting for justice. Jackie Robinson played in the Negro League and he played in the Brooklyn Dodgers back in 1947. He was the first African American to play in the Dodgers. Dodgers President and general manager Branch Rickey supported the integration of baseball. During this time, there was the explosive development of American industry, so many African Americans came from the rural south to northern cities like New York City, Boston, Chicago, Philadelphia, Pittsburgh, Cleveland, and Detroit during the first 70 years of the twentieth century. Black people also traveled into the West Coast in cities like Seattle, Oakland, San Francisco, Los Angeles, San Diego, etc. There was the massive union movement that used strikes to fight for workers' rights. During World War II, despite a segregated military, nearly 900,000 black human beings served in the armed forces. Blacks and whites returning from the war soon took part in the greatest strike waves in US history. The years 1945 and 1946 saw more than 4 million workers on strike. By that time, over 500,000 black workers had become members of CIO unions. He fought discrimination and racism in the Army and in real life long before the 1950's. We're grown and reality shouldn't be sugarcoated. The labor movement, the civil rights movement, etc. fought to integrate baseball.
Early Life
To begin, Jackie Robinson was born in January 31, 1919 in Cairo, Georgia. His parents were Jerry and Mallie Robinson. He was the youngest of five children. His siblings are Edgar, Frank, Matthew, and Willa Mae. Jackie Robinson's extended family had a residential plot having two small houses at 121 Pepper Street in Pasadena, California. Jackie Robinson experienced discrimination including his family. By 1920, Robinson's family moved to Pasadena, California. In Pasadena, his mother worked various jobs to support her family. Robinson experienced poverty and his minority friends were excluded from many recreational opportunities. In 1919, 76 African Americans at least were lynched in America. In 1920, the Negro Leagues were created. One of his friends was Carl Anderson. During the 1920's and the 1930's, the Harlem Renaissance existed where African American writers, artists, and musicians developed culture and great work which was centered in Harlem, NYC. In 1935, Robinson graduated from Washington Junior High School. He enrolled in John Muir High School (Muir Tech) in the same year. He was known for his great athletic abilities. Mack was his brother and he was a silver medalist at the 1936 Summer Olympics. Mack and Frank (they are both his brothers) inspired Jackie Robinson to pursue sports. In Muir Tech, Jackie Robinson played many sports at the varsity level like football, basketball track, and baseball. On baseball, he played shortstop and catcher. He was the quarterback on the football team. He was a guard on the basketball team. On track and field, he won awards in the broad jump and he was a member of the tennis team. In 1936, Robinson won the junior boys singles championship in the annual Pacific Coast Negro Tennis Tournament and earned a place on the Pomona annual baseball tournament all-star team, which included future Hall of Famers Ted Williams, and Bob Lemon.
In late January 1937, the Pasadena newspaper reported that Robinson "for two years has been the outstanding athlete at Muir, starring in football, basketball, track, baseball and tennis." Jackie Robinson attended Pasadena Junior College or the PJC. He continued to play athletic sports like basketball, football, baseball, and track. Most of his teammates were white just like in John Muir High School. Robinson suffered a fractured ankle in the football field, which delayed his deployment status while in the military. In 1938, he was elected to the All-Southland Junior College Team for baseball and selected as the region's Most Valuable Player. Even from the earliest times of his life, he questioned authority. On January 25, 1938, he was arrested after vocally disputing the detention of a black friend by the police. He got a 2 year suspended sentence. Robinson stood up against racism in public and in private. Frank Robinson (to whom Robinson felt closest among his three brothers) was killed in a motorcycle accident. The event motivated Jackie to pursue his athletic career at the nearby University of California, Los Angeles (UCLA), where he could remain closer to Frank's family. Robinson came to UCLA after he graduated from PJC in the spring of 1939. In UCLA, he won varsity letters in baseball, basketball, football, and track.
He was one of the 4 black players in the 1939 UCLA Bruins football team. Others were Woody Strode, Kenney Washington, and Ray Bartlett. UCLA was college football's most integrated team during that time. He won the 1940 NCAA Men's Track and Field Championship in the long jump, jumping 24 ft. 10 ¼ in. Back then, he didn't do so well in baseball ironically enough in UCLA. While a senior, at UCLA, Jackie Robinson met his future wife named Rachel Isum. She was born in 1922. She knew about Robinson's athletic career at PJC. Robinson left college in 1941 just in the spring semester of 1941. He worked in as an assistant athletic director with the government's NYA or National Youth Administration in Atascadero, California. The government ended its NYA operation. So, Robinson traveled to Honolulu in the fall 1941 to play football for the integrated Honolulu Bears (or a semi-professional team). He returned to California in December of 1941 to pursue a career as a running back for the Los Angeles Bulldogs of the Pacific Coast Football League. During this time, there was the Japanese attack on Pearl Harbor. The United States overtly was overtly involved in World War II. This ended his football career. Jackie Robinson was soon drafted and assigned to a segregated Army cavalry unit in Fort Riley, Kansas in 1941. This would change his life forever.
The Military
Jackie Robinson was in the military in 1942. First, he was drafted and assigned to a segregated Army cavalry unit in Fort Riley, Kansas. Robinson and other black soldiers applied for admission to an Officer Candidate School or an OCS. It was located at Fort Riley. The Army's initial July 1941 guidelines for OCS had been drafted as race neutral. Yet, few black applicants were admitted into OCS until after subsequent directives by Army leadership. Later, the applications of Robinson and his colleagues were delayed for several months. After protests by heavyweight boxing champion Joe Louis (who was then stationed at Fort Riley) and the help of Truman Gibson (then an assistant civilian aide to the Secretary of War), the men were accepted into the OCS. This common military experienced caused a personal friendship between Jackie Robinson and Joe Louis (both great men). Jackie Robinson finished his OCS. Then, he was commissioned as a second lieutenant in January of 1943. Shortly afterward, Jackie Robinson and Isum were formally engaged. He received his commissioned and then reassigned to Fort Hood, Texas. In that location, he joined the 761st "Black Panthers" tank Battalion. Inside of Fort Hood, Robinson often used his weekend leave to visit the Rev. Karl Downs or the President of San Huston College (not Huston-Tillotson University in nearby Austin, Texas). Downs had been Robinson's pastor at Scott United Methodist Church while Robinson attended PJC. There was one event on July 6, 1944 that derailed his military career.
Jackie Robinson was awaiting the results of hospital tests on the ankle that he had injured in junior college. Robinson boarded an Army bus with a fellow officer's wife; although the Army had commissioned its own unsegregated bus line, the bus driver ordered Robinson to move to the back of the bus. Robinson refused. The driver backed down, but after reaching the end of the line, summoned the military police, who took Robinson into custody. Robinson's commander in the 761st, Paul L. Bates, refused to authorize legal action. So, Robinson was summarily transferred to the 758th Battalion where the commander quickly consented to charge Robinson with multiple offenses like public drunkenness, etc., even though Robinson didn't drink. By the time of the court-martial in August 1944, the charges against Robinson had been reduced to two counts of insubordination during questioning. Robinson was acquitted by an all-white panel of nine officers. The experiences Robinson was subjected to during the court proceedings would be remembered when he later joined MLB and was subjected to racist attacks. His former unit or the 761st Tank Battalion was the first black tank unit to see combat during World War II. Robinson never saw combat action, because of the court proceedings that prohibited him from being deployed overseas. Jackie Robinson was acquitted. He was transferred to Camp Breckenridge, KY. He served as a coach for army athletics until he received an honorable discharge in November 1944.
In that place, he met a former player for the Kansas City Monarchs of the Negro American League, who encouraged Robinson to write the Monarchs and ask for a tryout. Robinson took the former player's advice and wrote to Monarch's co-owner Thomas Baird. He was discharged from the military. He played for his old football club of the Los Angeles Bulldogs. Robinson then accepted an offer from his old friend and pastor Rev. Karl Downs to be the athletic director at Sam Huston College in Austin, then of the Southwestern. The job included him coaching the school's basketball team for the 1944-1945 season. Few students tried for the basketball team as it was a fledgling program. Robinson inserted himself in exhibition games. Robinson was a disciplinarian coach and he was respected. His teams were outmatched by opponents. Langston University basketball player Marques Haynes (a future member of the Harlem Globetrotters) respected him. Later, Jackie Robinson would play for the great, historic Negro Leagues.
Early Baseball Career
Jackie Robinson was first in the Negro leagues. The Kansas City Monarchs sent him a written offer for him to play professional baseball in the Negro leagues. Jackie Robinson accepted. He received a contract for $400 per month. He played well for the Monarchs. His schedule was hectic. He opposed gambling. He traveled all across America and communicated with Rachel Isum (by that time his fiancee) only by letter. Robinson played 47 games at shortstop for the Monarchs. He hit in a percentage of .387 with five home runs and registering 13 stolen bases. He also appeared in the 1945 Negro League All Star Games, going hitless in five at bats. During the season, Jackie Robinson pursued potential major league interests. The Boston Red Sox had a tryout at Fenway Park for Robinson and other black players on April 16. The tryout was a fraud by the major league as a means of them to assuage the desegregationist sensibilities of the powerful Boston City Councilman Isadore Muchnick. In the stands limited to management, Robinson was called racial epithets. He left the tryout in humiliation. More than 14 years later in July of 1959, the Red Sox became the last major league team to integrate its roster. Other teams had a more serious interest in signing black ballplayers. During the mid-1940's, Branch Rickey (club president and general manager of the Brooklyn Dodgers) started to court the Negro leagues for a possible addition to the Dodgers' roster. Rickey selected Robinson from a list of promising black players and he interviewed him for possible assignment to Brooklyn's International League farm club, the Royals. Rickey wanted to pick someone who could stand the racial abuse. In a famous 3-hour exchange on August 28, 1945, Rickey asked Jackie Robinson if he could take racial insults without responding back angrily. Robinson was aghast: "Are you looking for a Negro who is afraid to fight back?" Rickey replied that he needed a black American player "with guts enough not to fight back." After obtaining a commitment from Robinson to "turn the other cheek" to racial antagonism, Rickey agreed to sign him to a contract for $600 a month, equal to $7,887 today.
Rickey didn't offer compensation to the Monarchs. He believed that all Negro League players were free agents due to the contracts not containing a reserve clause. Among those Rickey discussed prospects with was Wendell Smith, writer for the black weekly Pittsburgh Courier, who according to Cleveland Indians owner and team president Bill Veeck "influenced Rickey to take Jack Robinson, for which he's never completely gotten credit." Although he required Robinson to keep the arrangement a secret for the time being, Rickey committed to formally signing Robinson before November 1, 1945. On October 23, it was publicly announced that Robinson would be assigned to the Royals for the 1946 season. On the same day, with representatives of the Royals and Dodgers present, Robinson formally signed his contract with the Royals. Jackie Robinson was the first black baseball player in the International League since the 1880's. He was not the best player in the Negro league as Satchel Paige and Josh Gibson were legends. They wanted to be selected first. Larry Doby, who broke the color line in the American League the same year as Robinson, said, "One of the things that was disappointing and disheartening to a lot of the black players at the time was that Jack was not the best player. The best was Josh Gibson. I think that's one of the reasons why Josh died so early – he was heartbroken." Jackie Robinson came into Pasadena, which was his home. He toured South America briefly with another barnstorming team while his fiancée Rachel Isum worked in nursing in New York City. On February 10, 1946, Jackie Robinson and Rachel Isum were married by their old friend, the Rev. Karl Downs.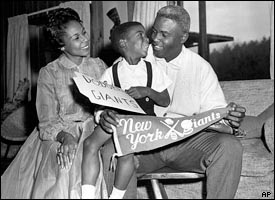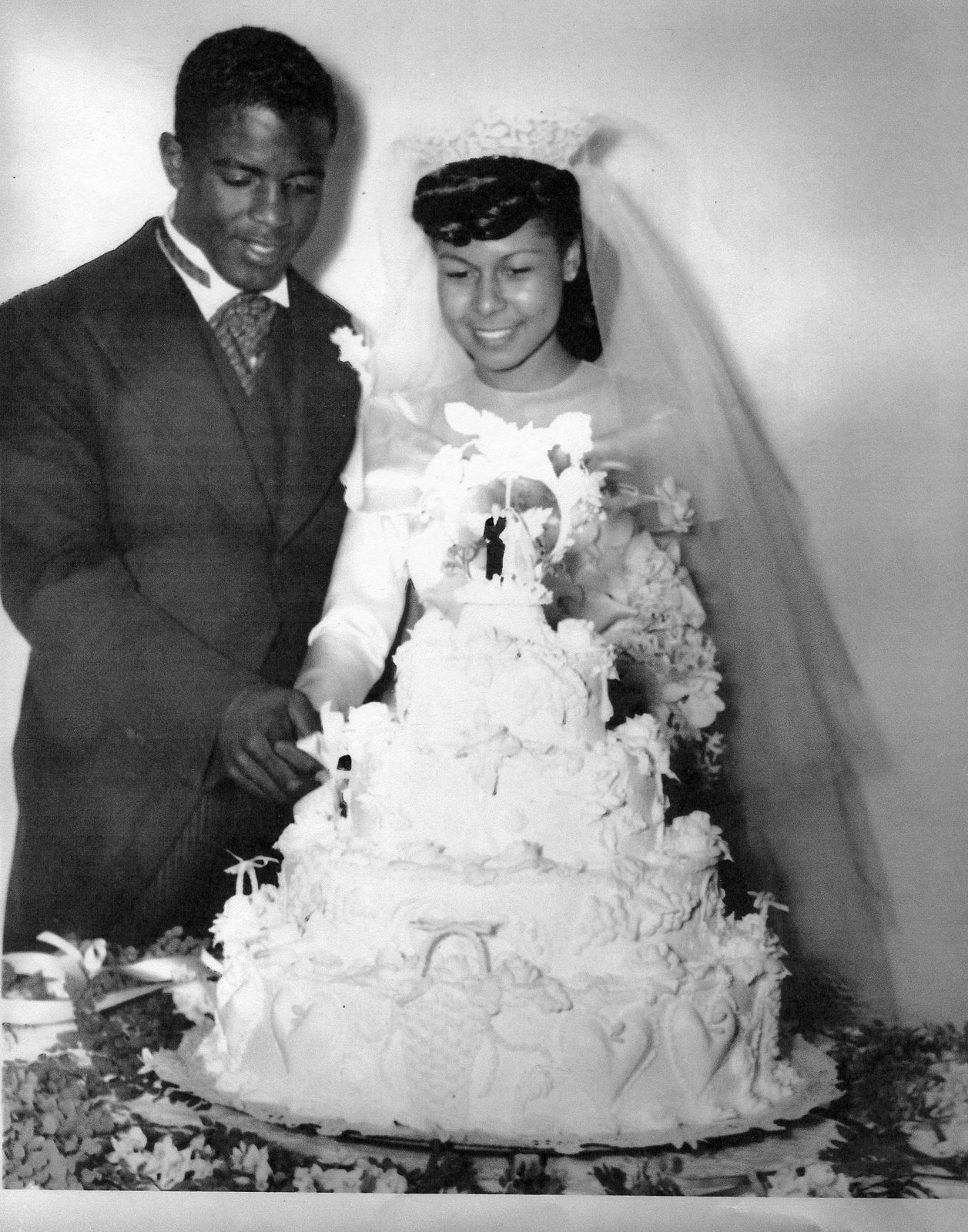 First, Jackie Robinson played for the Montreal Royals of the Class AAA International League. He was in Daytona Beach, Florida for training camp. This was the highest level of the minor leagues during the 1946 season. Florida was racially charged back then. Robinson was not allowed to stay with his teammates at the team hotel. He lodged at the home of a local black politician. In Sanford, Florida, the police chief threatened to cancel games if Robinson and Wright did not cease training activities there; as a result, Robinson was sent back to Daytona Beach. Robinson made his Royals debut at Daytona Beach's City Island Ballpark on March 17, 1946, in an exhibition game against the team's parent club, the Dodgers. Robinson thus became the first black player to openly play for a minor league team against a major league team since the de facto baseball color line had been implemented in the 1880's. Robinson shifted from shortstop to second base after mediocre performances. Later, his performance soon rebounded. On April 18, 1946, Roosevelt Stadium hosted the Jersey City Giants' season opener against the Montreal Royals, marking the professional debut of the Royals' Jackie Robinson and the first time the color barrier had been broken in a game between two minor league clubs. Pitching against Robinson was Warren Sandel who had played against him when they both lived in California. During Robinson's first at bat, the Jersey City catcher, Dick Bouknight, demanded that Sandel throw at Robinson, but Sandel refused. Although Sandel induced Robinson to ground out at his first at bat, in his five trips to the plate, Robinson ended up with four hits, including his first hit, a three-run home run, in the game's third inning. He scored four runs, drove in three, and stole 2 bases in the Royals' 14-1 victory. Robinson proceeded to lead the International League that season with a .349 batting average and .985 fielding percentage, and he was named the league's Most Valuable Player. Although he often faced hostility while on road trips (the Royals were forced to cancel a Southern exhibition tour, for example), the Montreal fan base enthusiastically supported Robinson. Many people attended his games. More than one million people went to games involving Robinson in 1946, an amazing figure by International League standards. In the fall of 1946, following the baseball season, Robinson returned home to California and briefly played professional basketball for the short-lived Los Angeles Red Devils.
The Dodgers
Six days before the start of the 1947 season, the Dodgers called Robinson up to the major leagues. With Eddie Stanky entrenched at second base for the Dodgers, Jackie Robinson played his initial major league season as a first baseman. On April 15, 1947, Robinson made his major league debut at the advanced age of 28 at Ebbets Fields before 26,623 spectators, including more than 14,000 black patrons. Although he failed to get a base hit, he walked and scored a run in the Dodgers' 5–3 victory. Jackie Robinson became the first player since 1880 to openly break the major league baseball color line. Black fans began flocking to see the Dodgers when they came to town, abandoning their Negro league teams. Many people loved him and hated him. Newspapers and players had a mixed reaction to him. The Dodger clubhouse had racial tension. Some Dodger players refused to play with him. The Dodgers management stood up for Robinson. Manager Leo Durocher informed the team that, "I do not care if the guy is yellow or black, or if he has stripes like a f____ zebra. I'm the manager of this team, and I say he plays. What's more, I say he can make us all rich. And if any of you cannot use the money, I will see that you are all traded." Robinson was also derided by opposing teams. Some, notably the St. Louis Cardinals, threatened to strike if Robinson played. After the threat, National League President Ford Frick and Baseball Commissioner Happy Chandler let it be known that any striking players would be suspended. Many players from opponent teams used rough play against Jackie Robinson, especially the Cardinals. He received a seven inch gash in his leg from Enos Slaughter.
On April 22, 1947, during a game between the Dodgers and the Philadelphia Phillies, Phillies players and manager Ben Chapman called Robinson a "n____ " from their dugout and yelled that he should "go back to the cotton fields." Rickey later recalled that Chapman "did more than anybody to unite the Dodgers. When he poured out that string of unconscionable abuse, he solidified and united thirty men." Many players sent Jackie Robinson encouragement. Jackie Robinson said that Lee "Jeep" Handley, who played for the Phillies at the time, as the first opposing player to wish him well. Dodgers teammate Pee Wee Reese once came to Robinson's defense with the famous line, "You can hate a man for many reasons. Color is not one of them." In 1948, Reese put his arm around Robinson in response to fans who shouted racial slurs at Robinson before a game in Cincinnati. A statue by sculptor William Behrends, unveiled at Key Span Park on November 1, 2005, commemorates this event by representing Reese with his arm around Robinson. Jewish baseball star Hank Greenberg, who had to deal with racial epithets during his career, also encouraged Robinson. Following an incident where Greenberg collided with Robinson at first base, he "whispered a few words into Robinson's ear", which Robinson later characterized as "words of encouragement."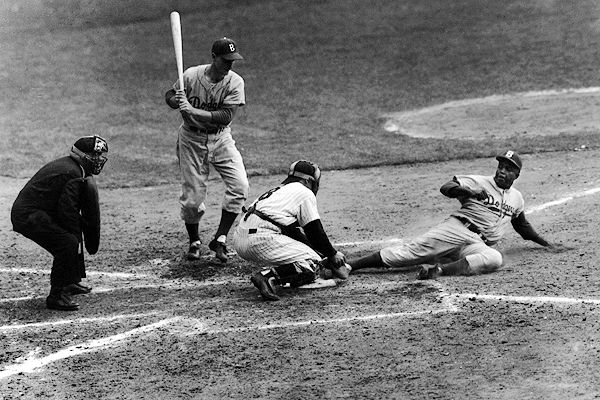 Greenberg told him that to defeat them in games is a way to defeat the critics. Robinson talked to Larry Doby, who endured his own hardships as being the first black player in the American League with the Cleveland Indians, as the two spoke to one another via telephone throughout the season. Robinson finished the season having played in 151 games for the Dodgers, with a batting average of .297, an on-base percentage of .383, and a .427 slugging percentage. He had 175 hits (scoring 125 runs) including 31 doubles, 5 triples, and 12 home runs, driving in 48 runs for the year. Robinson led the league in sacrifice hits, with 28, and in stolen bases, with 29. His cumulative performance earned him the inaugural Major League Baseball Rookie of the Year Award (separate National and American League Rookie of the Year honors were not awarded until 1949).
In March of 1948, Jackie Robinson took over second base. Stanky was traded to the Boston Braves. He had a .980 fielding percentage that year. He has a batting average of .296 and 22 stolen bases for the season. In a 12–7 win against the St. Louis Cardinals on August 29, 1948, he hit for the cycle—a home run, a triple, a double, and a single in the same game. The Dodgers briefly moved into first place in the National League in late August 1948, but they ultimately finished third as the Braves went on to win the league title and lose to the Cleveland Indians in the World Series. More black players entered the major leagues.
Legendary Accomplishments and Retirement
Larry Doby (who broke the color barrier in the League on July 5, 1947, just 11 weeks after Robinson) and Satchel Paige played for the Cleveland Indians, and the Dodgers had three other black players besides Robinson. In February 1948, he signed a $12,500 contract (equal to $123,113 today) with the Dodgers; while a significant amount, this was less than Robinson made in the off-season from a vaudeville tour, where he answered pre-set baseball questions, and a speaking tour of the South. He lost weight due to a right ankle injury. Hall of Famer George Sisler helped Jackie Robinson with batting techniques. His bat average increased from .296 to .342 from 1948 to 1949. In addition to his improved batting average, Robinson stole 37 bases that season, was second place in the league for both doubles and triples, and registered 124 runs batted in with 122 runs scored. For the performance Robinson earned the Most Valuable Player Award for the National League. Baseball fans also voted Robinson as the starting second baseman for the 1949 All-Star Game—the first All-Star Game to include black players. He lost the 1949 World Series to the Yankees. In the Summer of 1949, Jackie Robinson testified to the House over Communism. Paul Robeson, an activist and athlete, made comments. The HAUC wanted Robinson to testify and he did. Robinson regretted the remarks that he made about Robeson as he later said that Robeson had the right to believe in what he wanted to. Paul Robeson was a hero.
Near the end of his life, Jackie Robinson wrote in his autobiography about the incident
:
"...However, in those days I had much more faith in the ultimate justice of the American white man than I have today. I would reject such an invitation if offered now . . . . I have grown wiser and closer to the painful truths about America's destructiveness. And I do have increased respect for Paul Robeson who, over the span of twenty years, sacrificed himself, his career, and the wealth and comfort he once enjoyed because, I believe, he was sincerely trying to help his people...."
The 1950 Jackie Robinson Story was a famous biography about his life which starred himself. Ruby Dee played Rachel. In 1955, the Dodgers defeated the New York Yankees in the 1955 World Series. Jackie Robinson was 37 years old and at the end of his career. In 1956, he retired from baseball. He started to show effects of diabetes. He announced his retirement decision through the Look magazine. He brought an end to about 60 years of segregation in professional baseball. He inspired black athletes decades into the future and athletes in general. In his first year of eligibility for the Baseball Hall of Fame in 1962, Robinson encouraged voters to consider only his on-field qualifications, rather than his cultural impact on the game. He was elected on the first ballot, becoming the first black player inducted into the Cooperstown museum.
Jackie Robinson and Malcolm X
A lot of people didn't know that Malcolm X and Jackie Robinson had a strong debate over civil rights and black liberation. Healthy debate in the black community and in any place in general can be strong and necessary to grow human consciousness. I knew that Malcolm X and Jackie Robinson didn't agree with each other on many issues, but I didn't know that their disagreements were that deep until now. Both men opposed each others views in op-eds and in public speeches. When you look at both of their views, you see that given time, both of them would have agreed more with each other. In essence, Jackie Robinson underestimated Malcolm X's commitment to revolutionary change in the black community. Likewise, Malcolm X didn't have a chance to see Jackie Robinson's progressive political evolution as time went on. Malcolm X and Jackie Robinson were both victims of racism and discrimination. Each wanted the same goal, which is freedom, justice, and equality for all black people. Yet, they adamantly disagreed on the methods on achieving the same goal. Ironically enough, Malcolm X viewed Jackie Robinson as a hero until 1963. This was when Malcolm X was in the Nation of Islam. He preached black nationalism from the 1950's onward. Even when Malcolm X was in the NOI, he did spoke the truth about the viciousness of racism in America, the economic exploitation of the black community by corporate power, and the beauty of Blackness. Malcolm X was right on these issues. Malcolm X was also right to condemn police brutality and the political establishment in uncompromising, strong terms. He criticized white supremacists by name and he was right. When he was in the Nation of Islam, Malcolm X condemned white "devils" as harming the black community.
From 1963 to 1964, Jackie Robinson was one of Malcolm X's strongest critics. Malcolm X, before he left the NOI, wanted black separatism in desiring the establishment of a black state in North America. Jackie Robinson conversely believed in integration where black people and white people can live together in peace in a society filled with equality and justice. Jackie Robinson supported nonviolence and allied with Dr. Martin Luther King Jr. while Malcolm X believed in self defense. There is nothing wrong with nonviolence and self-defense either. He wrote the following words about Malcolm X (this was when he was in the NOI): "…"Malcolm X and his organization believe in separation. They have every right to. If they want to go off into some all-black community, why don't they just go." (The Chicago Defender on July 13, 1963 )
Back then during 1952-1964, Malcolm X believed that white society was totally irredeemable, therefore black people have the right to promote separatism when American society treated black people as twentieth century slaves. In essence, Malcolm X wanted to promote political and economic independence. Malcolm X criticized sellouts who felt that they didn't have the best interests of the black community at heart. On April 6, 1963, Robinson published a column in the New Journal and Guide — a weekly African-American news journal that, like outlets such as The Chicago Defender, was a megaphone of the civil rights movement criticized revered Congressman Adam Clayton Powell for suggesting that black people boycott the NAACP and support Malcolm X and the Nation of Islam. Of the minister, Robinson expressed his respect, but hammered home the notion that black Muslims were not the true solution to the black man's problem. John H. Young III responded to Jackie Robinson in the following terms:
"Your failure to check the source or the truth, led you to publicize an untruth. You wrote of Adam's 'rallying call to the Negro people to support Malcolm X and Black Muslims. Adam's only reference along this line was substantially the following: 'I don't agree with many of the things said and done by Malcolm X, but I do agree with him that the man must control his own destiny.' "– John H. Young III, co-worker of Congressman Adam Clayton Powell, New Journal and Guide ( April 13, 1963 )
Malcolm X responded a month later in strong terms of Jackie Robinson. He said that Dr. King's actions were dictated by white liberals who helped to fund his nonviolent movement. Jackie Robinson traveled to Birmingham to support Dr. King after the bombing of the Baptist church, which killed 4 little girls. He was a leader in civil rights and a successful businessman, becoming the vice president of Chock full o'Nuts coffee, a corporation with many black employees. Jackie Robinson continued to criticize Malcolm X in the July 1963 column in the Chicago Defender. He wanted Malcolm X and the Nation of Islam to accept responsibility for an egging incident on Dr. King in Harlem. Malcolm X accused of Jackie Robinson of selling out. Later, words among both men would get more personal. Civil rights leader Medgar Evers was assassinated in his driveway by the coward Byron De La Beckwith on June 12, 1963 in Jackson, Mississippi. Malcolm X didn't attend Evers' funeral. Robinson made another column in November 16th column in The Chicago Defender. "Dr. Bunche attended the funeral of Medgar Evers in Jackson, Miss. and denounced the cold-blooded murder," Robinson wrote. "Malcolm is very militant on Harlem street corners where militancy is not dangerous." Of course, I don't agree with those comments. Robinson responded to Malcolm X's comments about Bunche as as person who "represents, speaks for and defends the white man. He does none of this for the black man." 3 Days later, you know Malcolm X would respond to Jackie Robinson. The Philadelphia Tribune reported Malcolm X responded in a fiery speech at a Philadelphia Muslim bazaar. He denounced the March on Washington for Jobs and Freedom, called Robinson an "ex-baseball player" and said King was a "handkerchief-headed Uncle Tom." Malcolm X gave his strongest criticisms of Jackie Robinson in his note to Robinson. It was also a December 7th column. Malcolm X wrote that Jackie Robinson's advocacy for Nixon and Nelson Rockefeller are contrary to promoting the interests of the masses of the black community. He said that Robinson stays away from the black community. Malcolm X wrote in that same column that: "…If my integrity or sincerity is to be measured in your eyesight by attendance at funerals of Negroes who have been murdered by whites, if you should ever meet with such misfortune I promise to attend your funeral. Then, perhaps you will be able to see me in a different light. If you should ever become as militant on behalf of your oppressed people as Medgar Evers was, the same whites whom you now take to be your friends will be the first to put the bullet or the dagger in your back, just as they put it in the back of Medgar Evers."
Jackie Robinson accused Malcolm X as being a racist in the December 1963 column. He mentioned Elijah Muhammad. Tensions cooled slightly in 1964. Malcolm X and Robinson represented 2 strong viewpoints in the black community in America during the 1960's. Months after the victory of Muhammad Ali, Malcolm X left the Nation of Islam. Muhammad Ali (who later courageously opposed the Vietnam War) was powerful, uncompromising, and an example of black independent cultural expression. Malcolm X was already suspended for months after his remarks about President John F. Kennedy's assassination. Malcolm X believed that the NOI didn't go far enough in using political engagement to stand up for the human rights of black people. After he left the Nation of Islam, Malcolm X had an ideological transformation where he became more progressive. He supported women leadership in the OAUU. He believed in opposing capitalism. He supported the internationalization of the struggle for justice. He supported anti-colonial movements in the Third World. He didn't believe in a separate black state in America. He saw Muslims of all colors in Mecca worshiping Allah. Malcolm X denounced racism in all of its forms. Malcolm X also wanted America to be held accoutnable for its injustices against black Americans via the United Nations. Jackie Robinson knew of Malcolm X's transformation. "In my view, if Malcolm were sincere and honest in his new visions," Robinson wrote in The Chicago Defender on July 18, 1964, "he would reflect on how harshly and unjustly he has belittled and sought to discredit our national responsible leaders who have been working in the struggle for so long."
Malcolm X after Mecca focused more pan-African unity and he criticized Elijah Muhammad in public on many issues. Malcolm X was illegally monitored by the FBI, the CIA, and the NYPD (via the BOSSI program). Also, Malcolm X was constantly threatened. Malcolm X was courageous and he was assassinated on February 1965. Jackie Robinson was playing golf during that time. Jackie Robinson wrote the following words in March of 1965 about Malcolm X's assassination: "…The person or persons who murdered Malcolm have stilled his articulate voice…But, in making him a martyr, they have only deepened whatever influence he may have had. In addition, they have generated a senseless brutal … war which sees black hands raised against brothers at a time when we most need unity among black people…" In his autobiography, Jackie Robinson mentioned the assassination as a "tragedy of the first order." Jackie Robinson found out that Malcolm X was more than just preaching in Harlem street corners. Malcolm X was risking his life day by day for the liberation of black people. Malcolm X confronted injustice and stood up like a man to condemn the international Western power structure. If Jackie Robinson and Malcolm X had more time to speak to each other, they could have totally reconciled or at least found common ground (as Malcolm X said that he was willing to work with any civil rights leaders and organizations dedicated to results after he left the Nation). Jackie Robinson saw how the heinous racism in American society couldn't end with Richard Nixon and Malcolm X's transformation after Mecca led him into be even more revolutionary than his time in the Nation of Islam. Jackie Robinson by the late 1960's felt that the NAACP was getting too moderate in not cultivating enough young leaders to militantly express their views. Jackie Robinson felt obligated to speak out on many issues. Robinson accused Richard Nixon (when he was President) of polarizing the country.
Both Jackie Robinson and Malcolm X were freedom fighters.
Social Activism
Jackie Robinson made history in many different ways and his courage was phenomenal. Oppression, injustice, and bigotry couldn't stop him from achieving his goals and dreams. He loved athletics, but he also loved his family greatly. From confronting the racism of white racists to confronting the extremism of the Goldwater campaign, he was politically aware and his social activism is well known. He lived during the times of extreme anti-Communism (during the Cold War), of Jim Crow (where many laws not only violated the human rights of black Americans, but many corporate institutions permitted such discriminatory policies), of the Vietnam War, of the civil rights movement, of the counterculture, and the other changes going on in the culture of American society in general.
There was also massive unionization during the 1930's where workers of many races fought against the anti-worker policies of many businesses. During 1945 and 1956, more than 4 million Americans were on strike for their rights. During that time period, more than 500,000 black people were in CIO unions. Many great people fought against discrimination and injustice as well. In the midst of all of these occurrences, Jackie Robinson had an inner core which existed from his parents and from his friends around him. Movies, documentaries, and other modes of media cover his life comprehensively (like the movie 42 and the excellent Ken Burns documentary called Jackie Robinson. When I first saw that documentary, I was amazed at the detail of it and how great in scope it is). Likewise, we ought to appreciate the sacrifice, the determination, and the heroism of his life. When some people were afraid to speak out against injustice, he was in the front lines to oppose legalized apartheid decades ago. He had allies and adversaries among many quarters. Yet, he grew his consciousness to see how protecting the rights of all is important along with building in our black community. He loved his wife. His wife is still here promoting the same causes that he advanced when he was alive. Also, the struggle continues. We know that must continue to fight for racial, social, environmental, and gender justice. Social justice doesn't just involve demonstrations, strategies, and organization. It also involves an active program to achieve economic and social justice. Therefore, we learn the lessons of the past, so we can develop a better future.
Jackie Robinson was very active in civil rights activism. He was once a columnist for the Pittsburgh Courier. Wendell Smith, the Pittsburgh Courier sportswriter and columnist who, along with Sam Lacy of the Baltimore Afro-American and Joe Bostic of the (New York) People's Voice, had been lobbying hard for desegregated baseball in the mid-1940s. The Courier, the Afro-American, and the Chicago Defender were some of the most powerful newspapers in the African American community during the 20th century. They carried news around the world. The black press, the black church, and the black community in general gave Jackie Robinson help and encouragement to continue in his baseball career. In 1960, he was at the Democratic National Convention. His friends told him that John Kennedy was serious about civil rights. When Kennedy wanted to hold the Dixiecrat coalition together and sat segregationist Governor of Arkansas Orval Farbus on stage, Robinson walked out in legitimate disgust. Jackie Robinson was a political independent. He supported Nixon for President in 1960. Later, Jackie Robinson praised John F. Kennedy for his stance on civil rights. He supported the Civil Rights Act. By 1964, he supported Nelson Rockefeller (or the New York Governor) as President as a Rockefeller Republican delegate. He saw the ascension of Barry Goldwater, which he opposed because Barry Goldwater opposed the Civil Rights Act of 1964. When Jackie Robinson was in the Republican National Convention in 1964, he saw racism and bigotry massively. Barry Goldwater made a play to appeal to southern whites. Goldwater caused the modern conservative movement. His extreme words would be echoed by Richard Nixon, Ronald Reagan, and Donald Trump. The 1964 Convention was disgraceful. 1300 delegates were there and 15 were black. Of those 15, one had his credential revoked and another black person there had cigarettes put out on him by Goldwater supporters. One angry Alabama delegate wanted to fight Jackie Robinson. Jackie Robinson was a man and he was ready to defend himself like a man. The delegate's wife held the racist back and it didn't occur. It was after this scene that Robinson later said he now had "a better understanding of how it must have felt to be a Jew in Hitler's Germany."
Jackie Robinson and Dr. Martin Luther King Jr. were friends. In 1957, both men were given honorary doctorates of law at the Howard University's commencement ceremony in June. Robinson would be with his wife and child in the Washington 1963 speech where Dr. King gave his famous "I Have a Dream" speech. They both fought injustice. Dr. King encouraged Robinson's involvement in the movement. Dr. King said of Jackie Robinson in these terms: "... a pilgrim that walked in the lonesome byways toward the high road of Freedom. He was a sit-inner before sit-ins, a freedom rider before freedom rides." Robinson also chaired the National Association for the Advancement of Colored People's (NAACP) million-dollar Freedom Fund Drive in 1957, and served on the organization's board until 1967. In September 1962, Robinson delivered an address to the Southern Christian Leadership Council at its annual Freedom Dinner in Birmingham, Ala. Robinson praised King in his remarks saying: "People used to tell me a lot of things about Dr. King, that he was trying to take over the world, that he was making money on the civil rights issues. I didn't believe them, of course. I knew this was a dedicated man and that he has made tremendous personal financial sacrifices in the cause. I sort of wondered why people would stoop to talk about him. Then I realized that the world has always talked against great men. The best way to keep from getting talked about is to do nothing."
When King and other civil rights activists were jailed for their protests, the Robinson family hosted a jazz concert at their home in Stamford, Conn., to raise bail money. When King's march in Selma became the tragic event now known as "Bloody Sunday," Robinson sent a telegram to President Lyndon B. Johnson urging him to intervene to stop the violence. In April of 1968, King spoke to another Dodgers great -- former pitcher Don Newcombe -- saying: "You'll never know how easy you and Jackie and Doby and Campy made it for me to do my job by what you did on the baseball field." In 1964, Jackie Robinson would help found with Harlem businessman Dunbar McLaurin the Freedom National Bank. This was a black owned and operated commercial bank based in Harlem. He served as the first Chairman of the Board. He later became special assistant for community affairs when Rockefeller was re-elected governor of New York in 1966. Jackie Robinson soon switched his allegiance to the Democrats as he supported Hubert Humphrey against Nixon in 1968. By the mid to late 1960's, the black freedom struggle's young people increasingly became militant. The Black Power movement reached new heights by 1966. There was the rise of the Black Panther Party and SNCC would embrace Black Nationalism by the late 1960's too. Jackie Robinson was from an older generation, so Jackie Robinson had disagreement with much of the rhetoric of the black nationalists. Yet, he always believed in freedom, justice, and equality for black people. He would support the Vietnam War. Of course, I don't agree with the Vietnam War because of many reasons. In 1970, Robinson formed the Jackie Robinson Construction Company to build housing for low income families.
Later Years
Jackie Robinson's strength was that in his life, he stood up against injustice and he appealed to our better selves. He promoted compassion and eloquently spoke about improving society. In his later years, Jackie Robinson wanted the major leagues to promote more minority managers and central office personnel. That is why Robinson turned down an invitation to appear in an old timers' game at Yankee Stadium in 1969 to protest the lack of black voices in managerial positions of major league baseball. He made his final public appearance on October 15, 1972, throwing the ceremonial before Game 2 of the World Series. He gratefully accepted a plaque honoring the twenty-fifth anniversary of his MLB debut, but also commented, "I'm going to be tremendously more pleased and more proud when I look at that third base coaching line one day and see a black face managing in baseball." His wish unfortunately was fulfilled after is passing. The 1974 season was when the Cleveland Indians gave their managerial post to Frank Robinson (no relation), a Hall of Fame-bound player who would go on to manage three other teams.
His wife Rachel Robinson would work in nursing and she became an assistant professor at the Yale School of Nursing. She was a director of nursing at the Connecticut Mental Health Center. She also served on the board of the Freedom National Bank until it closed in 1990. Jackie Robinson's health declined during the 1970's. He had complications from heart disease and diabetes, which caused him to almost blindness by middle age. On October 24, 1972, nine days after his appearance at the World Series, Robinson died of a heart attack in his home at 95 Cascade Road in North Stamford, Connecticut. His funeral service was held on October 27, 1972 at Upper Manhattan's Riverside Church adjacent to Grant's Tomb in Morningside Heights. 2,500 mourners came to the funeral. Many of his former teammates and other famous baseball players served as pallbearers, and the Rev. Jackson gave the eulogy. Tens of thousands of people lined the subsequent procession route to Robinson's interment site at Cypress Hills Cemetery in Brooklyn, New York, where he is buried next to his son Jackie and mother-in-law Zellee Isum. Twenty-five years after Robinson's death, the Interboro Parkway was renamed the Jackie Robinson Parkway in his memory. This parkway bisects the cemetery in close proximity to Robinson's gravesite. His wife founded the Jackie Robinson Foundation to help people and society. Therefore, Jackie Robinson has a strong legacy of courage, compassion, and of strength.
RIP Brother Jackie Robinson.
Jackie Robinson's Historic Legacy
He inspired athletes decades after the 1940's. Many people have gained inspiration in their own lives by the life work of Jackie Robinson as well. He taught people about determination and patience. He was never afraid of standing up for himself since he stood up against white racists back decades ago. He represents courage just like his wife and the rest of his family. We see black people today making records and other great achievements in the 2016 Rio Olympics, which is another aspect of black excellence. Black excellence existed during the past, it continues to exist in the present, and black excellence will continue to flourish during the future as well. He would want all of us to fight prejudice, bigotry,and injustice. His life made the world much better and we owe a lot to his courage and sacrifice as a man, as a father, and a civil rights proponent. Now, the torch has been passed to us and we have the responsibility to live out the ideals of justice and social liberation.


By Timothy