Pope Francis I in America
Pope Francis I's arrival in North America was very historic. He was born in Argentina and now, he is the leader of the Roman Catholic Church. He wants to spread his gospel and he wants the expansion of the Roman Catholic power base especially among the youth since the youth is representative of the future. He has dealt with controversies head on. First, he traveled into Cuba to talk with Raul Castro and Fidel Castro. Fidel Castro was excommunicated from the Catholic Church in 1963. Later, Cuba has a more open relationship with Roman Catholicism by the 1990's. The Pope came into Washington, D.C. on Tuesday afternoon. First he met with the President Barack Obama, First Lady Michelle Obama, Sasha, Malia, President Obama's other relatives. He also met with Vice President Joe Biden and his wife as well. News media globally covered the events. Also, the Pope arrived in America amid the heaviest security for this temporary time period (in protecting one well known religious figure) in history. The Secret Service, Homeland Security, and other agencies among all levels of government are actively protecting the Pope. For example, the intelligence community called this event the National Special Security Event of the NSSE. There are FBI, Coast Guard, Capitol Police, Pentagon, and the Federal Emergency Management Agency working with local police departments in New York City, Washington, D.C. and Philadelphia. Pope Francis I is an Latin American man and he has certain views on immigration, economics, poverty, etc.
Federal employees have been told to work from home if possible from Tuesday through Thursday, the days when the Pope is in the US capital. On Friday, when he addresses the UN General Assembly, more than 5,000 New York City policemen will be deployed on Manhattan's east side. Philadelphia closed many highways and bridges for two days throughout the papal visit, a more elaborate security measure than taken for a presidential appearance. These policies rise civil liberty concerns indeed. Pope Francis has a history in the controversial Dirty Wars of Argentina. Also, he has talked about the excesses of capitalism, global warming, and other issues that reactionaries don't agree with him on. Also, I agree with the separation of church and state. I don't believe in calling a grown man "Holy Father." I don't believe that the Pope is the Vicar of Christ. I deny transubstantiation and believe in the symbolic nature of communion. I don't believe in the Immaculate Conception and I believe in the priesthood of universal believers not a select few who are forbidden to voluntarily marry.
The New Testament is clear that all believers of "a royal priesthood": "But ye are a chosen generation, a royal priesthood, an holy nation, a peculiar people; that ye should shew forth the praises of him who hath called you out of darkness into his marvellous light." (1 Peter 2:9)
The New Testament is very clear that a proclamation to force priests not to marry is a doctrine of devils: "...1 Timothy
4:1 Now the Spirit speaketh expressly, that in the latter times some shall depart from the faith, GIVING HEED TO seducing spirits, and DOCTRINES OF DEVILS;
4:2 Speaking lies in hypocrisy; having their conscience seared with a hot iron;
4:3 FORBIDDING TO MARRY, and commanding to abstain from meats, which God hath created to be received with thanksgiving of them which believe and know the truth..."
There is no historical evidence that Peter viewed himself as the Pope or the leader of the entire Church. The early church was autonomous and had many bishops in cities and towns throughout Africa, Asia, and Europe. Cyprian or an early Christian leader of the third century A.D. made it very clear that no man is a bishop of bishops by the following words: "It remains, that upon this same matter each of us should bring forward what we think, judging no man, nor rejecting any one from the right of communion, if he should think differently from us (a direct allusion to Stephen). For neither does any one of us set himself up as a bishop of bishops, nor by tyrannical terror does any compel his colleague to the necessity of obedience; since every bishop, according to the allowance of his liberty and power, has his own proper right of judgment, and can no more be judged by another than he himself can judge another. But let all of us wait for the judgment of our Lord Jesus Christ, who is the only one that has the power both of preferring us in the government of His Church, and of judging us in our conduct there.." (Ante-Nicene Fathers (Peabody: Hendrickson, 1995), The Seventh Council of Carthage Under Cyprian, p. 565).
This, of course, goes back to Cyprian's view of ecclesiology as expressed in his treatise On the Unity of the Church. In that treatise he makes it clear that all bishops are of equal status. William Webster compiled quotations from the writings of fifty Church early leaders and theologians (from the third century to the eighth century) about the Rock of Matthew 16:18. They all said that the Rock was Jesus Christ—not Peter. They also said that the Church was built upon Peter's confession of faith—"Thou art the Christ, the Son of the living God." (Matthew 16:16).
So, I do have religious disagreements with the Vatican. Many of the views of Catholicism are false doctrines. I can't co-sign the belief that a grown man should be called the Pontiff. I can't venerate statues.
*Also, it is important to make another point too. I believe in religious liberty. So, I don't agree with many doctrines of the Roman Catholic Church, but people have the right to believe in what they want without persecution and without oppression. No one of any creed should be oppressed or suffer unfair discrimination. In other words, Protestants, Baptists, Catholics, Muslims, Jewish people, Muslims, atheists, Buddhists, etc. should never suffer discrimination, persecution, and any injustice point blank period exclamation point. We believe in justice for all and the right to dissent. I don't agree with the religion of Roman Catholicism at all. So, I want to make that perfectly clear.
I do believe that immigrants and refugees should be treated with dignity and with respect. I have no issues with immigrant rights. We should help the poor and the oppressed. The real point is that we need religious freedom and justice. We also need to fight for justice and reject capitalist exploitation. We reject imperialism.
The Pope's visit to North America was historic. It took place from September 19 to 27, 2015. His objective in his visit was to spread his religion of Roman Catholicism and to speak in front of the 2015 World Meeting of Families. His visit was covered by news media channels galore. The United States first set up full diplomatic relations with the Vatican since 1984 when Ronald Reagan was President. Today, the President Barack Obama is also very pro-Catholic. First, he went into Cuba. He was the third Pope in history to visit Cuba. John Paul II did it in 1998 and Pope Benedict XVI did it in 2012. Pope Francis visited Havana, Holguin, and Santiago de Cuba. He with Raul Castro in the Plaza de la Revlucion. For over 10 years, there has been an easing of tensions between Cuba and the Vatican as the leaders of Cuba are heavily atheist. He left Cuba to Washington, D.C. on September 22 on 12:30 pm.
Pope Francis I came to the United States first at Joint Base Andrews in Maryland, outside of Washington, D.C. He met the President Barack Obama, First Lady Michelle Obama, and their children (who are Sasha and Malia). In the base, Francis meets the military, political staff members, and children.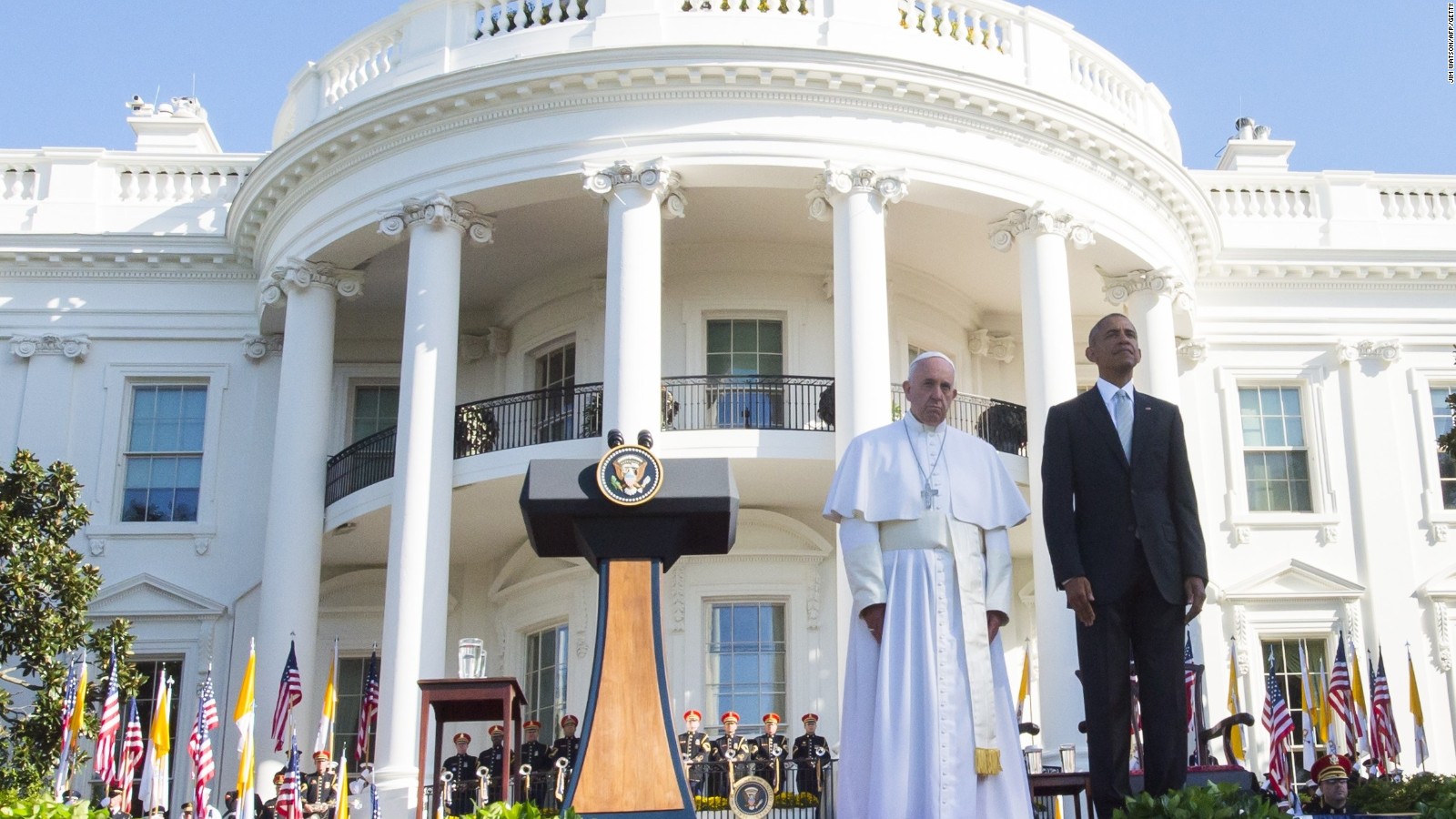 In September 23, 2015, the Pope and President Barack Obama meet at the White House. There is a crowd of more than 11,000 people in the White House South Lawn. This was the third visit of the Pope in the White House following meetings in October 1979 (the first was when Pope John Paul II met with President Jimmy Carter). President Barack Obama gave introductory remarks about religion and the Pope before the Pope spoke in the White House lawn. Later, the Pope came into the Cathedral of St. Matthew the Apostle Midday Prayer with the bishops of America in 11:30 am. He did the mass canonization of the person Named Junipero Serra at 4:15 pm. at the Basilica of the National Shrine of the Immaculate Conception. He met with the Little Sisters of the Poor after the mass, which means that Francis is against a contraception mandate as part of the ACA (or the Affordable Care Act). Pope Francis I is part of the Ecumenical Movement. The following comes from remarks that he made during his very first ecumenical meeting:
"I then greet and cordially thank you all, dear friends belonging to other religious traditions; first of all the Muslims, who worship the one God, living and merciful, and call upon Him in prayer, and all of you. I really appreciate your presence: in it I see a tangible sign of the will to grow in mutual esteem and cooperation for the common good of humanity.
"The Catholic Church is aware of the importance of promoting friendship and respect between men and women of different religious traditions – I wish to repeat this: promoting friendship and respect between men and women of different religious traditions – it also attests the valuable work that the Pontifical Council for interreligious dialogue performs."
In September 24 (on Thursday morning), Pope Francis address the joint session of the U.S. Congress for the first time in history. He was invited to speak by 2 Roman Catholics House Speaker John Boehner and Minority Leader Nancy Pelosi. The democratic principle of separation of church and state has been greatly compromised with the Pope's speech according to some. Francis I spoke of his views and the members of Congress gave numerous standing ovations.
The Roman Catholic Church is not without controversy. For centuries, the Vatican has been an enemy of science, reason, and social progress. Catholic authorities were complicit in the Inquisition and a lot of the genocide of Native Americans. Back between 1976 and 1983, he (known as Jorge Bergoglio back then) was the leading clerical official who oversaw a military junta that slaughtered thousands of people in Argentina. In Congress, the Pope made no mention of the drone missile strikes that advance assassinations carried out by presidential order, without the sanction of any court or trial—which have become routine under the Obama administration.. He began his speech to Congress by praising the United States, in the following terms as "The land of the free and the home of the brave." How that squares with the reality of omnipresent NSA spying, police killings and a military establishment that regularly incinerates defenseless people with remotely controlled missiles and bombs, he did not bother to explain.
In his speech, Pope Francis talked about immigration, protection for persecuted religious groups like Christians, etc., poverty, capital punishment, and climate change.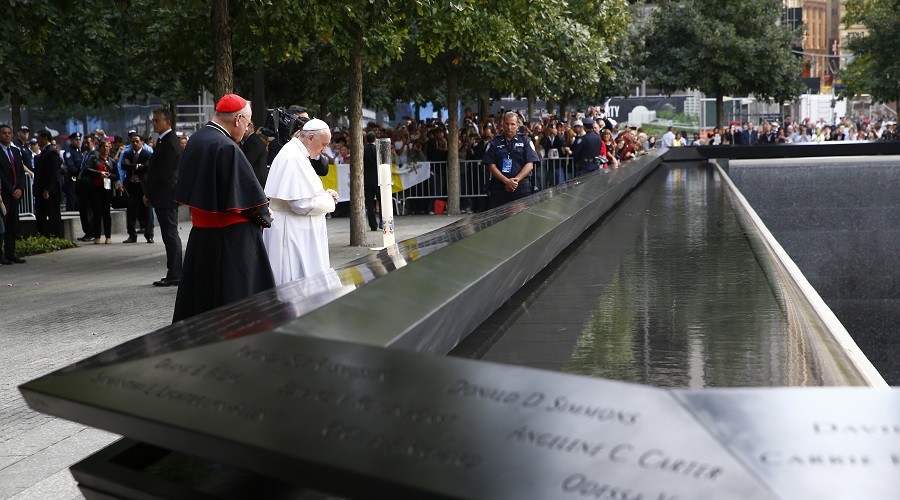 He visited the St. Patrick in the City and Catholic Charities of the Archdiocese of Washington. Then he left D.C. from Joint Base Andrews and arrived at John F. Kennedy International Airport in New York City at 5:00 pm. By 6:45 pm., he goes into St. Patrick's Cathedral in Manhattan for Evening Prayers and Vespers.
One September 25, Pope Francis spoke in the United Nations Building to address the United Nations General Assembly. He visited the 9/11 Memorial in Ground Zero and multi-religious people spoke about spirituality and 9/11. Also, the Pope gave his remarks. He visited the Our lady Queen of Angels School in East Harlem. He led a Papal procession throughout Central Park and led a mass in Madison Square Garden in 6:00 pm. The next day, he comes into Philadelphia. On September 26, he visited Cathedral Basilica of Saints Peter and Paul to have mass. He came into the Independence Mall and came into the Festival of Families at Benjamin Franklin Parkway. Pope Francis went into St. Martin's Chapel at St. Charles Borromeso Seminary in Wynnewood, Pennsylvania. He came into a prison of Curran-Fromhold Correctional Facility in Holmesburg, Philadelphia. He blessed people at Saint Joseph's University. He came into the World Meeting of Families at Benjamin Franklin Parkway to have mass and a meeting. He visited organizers, volunteers, etc. He left Philadelphia to Rome at 7:30 pm.
By Timothy