Miriam Makeba
One of the greatest heroes in human history was Sister Miriam Makeba. We remember her legacy and her glorious contributions to the human race. Miriam Makeba was born in Johannesburg to Swazi and Xhosa parents. She traveled the world to spread her great, sacrosanct messages of equality, music, love, and human justice. She lived in this Earth for decades as an ambassador of not only being against apartheid, but showing international music as a precise, important means of bringing people together. She was full of compassion, strength, and intellectual power throughout her life. She loved Africa unconditionally and we love Africa eternally too. Africa is the birthplace of humanity with its inspiring people, and its glorious cultural diversity. Decades ago, she was in a movie that opposed apartheid in Africa. The 1959 film is called Come Back, Africa, an anti-apartheid film produced and directed by the American independent filmmaker Lionel Rogosin. Her music was ahead of its time and she was one of the first African musicians that had worldwide acclaim. She worked with American civil rights leaders and she made famous records throughout the 1950's, the 1960's and beyond. She made tons of people aware that freedom in South Africa means freedom for humanity globally. Also, unsung anti-apartheid heroes must always be acknowledged for their courage too. She gave us light and hope. Miriam Makeba inspires us to this very day. Miriam Makeba was an icon and she will always be a legendary black woman.
The Beginning
The story of Miriam Makeba begins in South Africa. She was born on March 4, 1932 in the black township of Prospect. That is near Johannesburg. Her mother was a Swazi woman named Christina Makeba. She was a traditional healer or a sangoma and a domestic worker. He father was a Xhosa human being. His name was Caswell Makeba and he was a teacher. He passed away when he was only 6 years old. Her mother gave her the name Zenzile. Later, she was 18 days old. At that time, her mother was arrested and sentenced for 6 months in prison for selling umqombothi. Umqombothi is a homemade beer brewed from malt and cornmeal. Since the family couldn't afford the small fine required to avoid a jail term, her mother went to jail including her (as a young toddler). Makeba sang in the choir of the Kilnerton Training Institute in Pretoria as a child. That location was an all-black Methodist primary school. She attended the school for eight years. Her gift of singing was praised by people at the school. Makeba was baptized as a Protestant. She sang in church choirs in English, Xhosa, Sotho, and Zulu. Later, she said that she learned to sing in English before she could speak the language. Her family moved into Transvaal when Makeba was a child. She did domestic work after her father passed away.
She also worked as a nanny. She said that she was a shy person during those years. Her mother worked for white families in Johannesburg and had to live away from her six children. Miriam Makeba lived for a while with her grandmother and a large number of cousins in Pretoria. She was influenced by her family's musical tastes. Her mother in fact played many traditional instruments. Her older brother collected records like those of Duke Ellington and Ella Fitzgerald (who are legendary black American musicians). He taught her about songs. Her father played the piano. Her family inspired her in her pursuit of musical expression. On 1949, Makeba married James Kubaby, who was a policeman in training. They had their only child named Bongi Makeba. That was in 1950. Later, Makeba was diagnosed with breast cancer. Her husband was said to have beaten her. He left her after a 2 year marriage. After one decade, she overcame cervical cancer via a hysterectomy (or the surgical removal of the uterus of a woman).
Early Career
Miriam Makeba's start of her professional musical career started with the Cuban Brothers. They were a South African all-men close harmony group. She sang covers of many popular American songs with them. By the age of 21, she joined a jazz group called the Manhattan Brothers. This group sang a mixture of South African songs and pieces from popular African American groups. She was the only woman in the group. With the Manhattan Brothers, she recorded her first hit called "Laku Tshoni Ilanga." That was in 1953 and it developed her a national reputation as a musician. In 1956, Miriam Makeba joined a new all-women group called the Skylarks. This group sang a blend of jazz and traditional South African melodies. They were formed by Gallotone Records and the group was also known as the Sunbeams. While traveling abroad, she sang with both the Skylarks and the Manhattan Brothers. She sang alongside the Rhodesian-born (now Zimbabwe) musician Dorothy Masuka (with the Skylarks). She followed Dorothy's music including the music from Dolly Rathebe.
Several of the Skylarks' pieces from this period became popular; the music historian Rob Allingham later described the group as "real trendsetters, with harmonization that had never been heard before." Makeba received no royalties from her work with the Skylarks. She met Nelson Mandela in 1955 while she was performing with the Manhattan Brothers. Makeba said that Nelson said that she was "going to be someone." In 1956, Gallotone Records released "Lovely Eyes", Makeba's first solo success; the Xhosa lyric about a man looking for his beloved in jails and hospitals was replaced with the unrelated and innocuous line "You tell such lovely lies with your two lovely eyes" in the English version. The record became the first South African record to chart on the United States Billboard Top 100. In 1957, Makeba was featured on the cover of Drum magazine.
In 1959, Makeba sang the lead female role in the Broadway inspired African jazz opera called King Kong. Among those in the case was the musician Hugh Masekela. The musical was performed to racially integrated audiences. This raised her profile among all South Africans regardless of skin color. By 1959, she had a short guest appearance in the anti-apartheid movie Come Back, Africa. It was directed by the American independent filmmaker Lionel Rogosin. Rogosin cast her after seeing her on stage in African Jazz and Variety show. She performed for 18 months on the show. The film blended parts of a documentary and fiction. It had to be filmed in secret as the government was expected to be hostile to it. Makeba appeared on stage and sang 2 songs. Her appearance in the film lasted for about 4 minutes. The viewers loved her cameo. Rogosin organized a visa for her to attend the premiere of the film at the 24th Venice Film Festival in Italy. The film won the prestigious Critics' Choice Award in Italy. Makeba's presence was key in the film since it showed a cosmopolitan black identity that also connected with the working class people because of the dialogue being in Zulu. Her popularity increased after the release of the movie of Come Back, Africa (which was a honest movie about the strong spirit of black South Africans). She traveled into London and New York City to perform her great music.
In London, she met the American singer Harry Belafonte. He helped her with her first solo recordings. These recordings included "Pata Pata." That song would be released many years later. Another song was a traditional Xhosa song called, ""Qongqothwane", which she had first performed with the Skylarks. Though "Pata Pata"—described by Musician magazine as a "groundbreaking Afropop gem"—became her most famous song, Makeba described it as "one of my most insignificant songs." While in England, she married Sonny Pillay, a South African ballad singer of Indian descent; they divorced within a few months. She moved into New York City making her U.S. music debut on November 1, 1959 on the Steve Allen Show in Los Angeles for a television audience of 60 million people. Her New York debut at the Village Vanguard occurred soon after. She sang in Xhosa and Zulu, and performed a Yiddish folk song. Her audience at this concert included Miles Davis and Duke Ellington. Her performance received strongly positive reviews from critics. She first came to popular and critical attention in jazz clubs, after which her reputation grew rapidly. Belafonte worked to handle the logistics of her first performances. When she first moved into America, she lived in Greenwich Village along with other musicians and actors. She worked as a babysitter for a time.
The evil Sharpeville Massacre of 1960 changed her life forever. The massacre was about black anti-apartheid protesters being murdered by white supremacist South African police forces. After the massacre, Makeba learned that her mother had died. She tried to go home into South Africa to witness her funeral, but her South African passport was cancelled. 2 of Makeba's family members were killed in the massacre. That is why she was concerned about her family and many of her relatives were in South Africa including her daughter. The nine year old Bongi joined her mother into the U.S. in August 1960. During her first years in America, Miriam Makeba rarely sung explicitly political music. Yet, her popularity had led an increase of awareness of apartheid and the anti-apartheid movement. Following the Sharpeville killings, Makeba felt a responsibility to help, as she had been able to leave the country while others had not. From this point, she became an increasingly outspoken critic of apartheid and the white-minority government; before the massacre, she had taken care to avoid overtly political statements in South Africa. Now, this was a different era and Miriam Makeba would become one of the greatest activists in human history.
Here is Miriam Makeba at the United Nations in 1963.
Exile
During her exile, Miriam Makeba's musical career increased greatly in America. She signed with the recording label RCA Victor. Later, she released her first studio album entitled, Miriam Makeba in 1960. It was backed by Belafonte's band. RCA chose to buy out Makeba's contract with Gallotone Records. This was despite the fact that Makeba couldn't perform in South Africa back then. Gallotone received US$45,000 in the deal, which meant that Makeba received no royalties for her debut album. The album included one of her most famous hits in the US, "Qongqothwane", which was known in English as "The Click Song" because Makeba's audiences could not pronounce the Xhosa name. Time magazine called her the "most exciting new singing talent to appear in many years," and Newsweek compared her voice to "the smoky tones and delicate phrasing" of Ella Fitzgerald and the "intimate warmth" of Frank Sinatra. Since the album wasn't commercially successful, Makeba was briefly dropped from the RCA label. She was re-signed soon after as the label recognized the commercial possibilities of the growing American interest in African culture. Her South African identity was downplayed during her first singing, but it was strongly empathized the second time as a representation of increased interest. Makeba made many appearances on television, often with Belafonte.
In 1962, Miriam Makeba and Belafonte sang at the birthday party for U.S. President John F. Kennedy at Madison Square Garden, but Makeba didn't go to the party afterwards because she was ill. Kennedy nevertheless insisted on meeting her, so Belafonte sent a car to pick her up. In 1964, Makeba released her second studio album for RCA called, The World of Miriam Makeba. An early example of world music, the album peaked at number eighty-six on the Billboard 200. Makeba's music had a cross racial appeal in America. Black Americans, white Americans, and other Americans were fans of her. Black African Americans related our experiences of racial segregation to Makeba's struggle against apartheid. She was friends and allies with many African exiles and emigres in New York City like Hugh Masekela. She married him from 1963 to 1968. During their marriage, Makeba and Masekela were neighbors of the jazz musician Dizzy Gillespie in Englewood, New Jersey. They spent much of their time in Harlem. She came to know actors like Marlon Brando and Lauren Bacall plus musicians like Louis Armstrong and Ray Charles. Fellow singer-activist Nina Simone became friendly with Makeba along with actress Cicely Tyson. Makeba and Simone performed together at Carnegie Hall.
Continued Activism
Miriam Makeba was among the black entertainers, activists, and intellectuals in New York City at that time who believed that the civil rights movement and popular culture could reinforce each other to create "a sense of intertwined political and cultural vibrancy." Other people who believed in this true ideal were Maya Angelou and Sidney Poitier. She later described about her difficulty living with Jim Crow apartheid in America. She said that, "There wasn't much difference in America; it was a country that had abolished slavery but there was apartheid in its own way." She continued to travel and promote activism. Her music was popular in Europe too. She toured and performed there. She added songs from Latin America, Europe, Israel, and in Africa to her repertoire via the advice from Belafonte. She visited Kenya in 1962 in support of the country's independence from British colonial rule. She also raised funds for its independence leader Jomo Kenyatta. Later in 1962, she testified before the United Nations Special Committee against Apartheid about the effects of the system.
She wanted economic sanctions against South Africa's National Party government (that government endorsed the evil apartheid system). She requested an arms embargo against South Africa, because the weapons sold to the government would likely be used against black women and children. Later, South Africa banned her music. Her South African citizenship and right to return were revoked. So, Makeba was a stateless person. She was soon issued passports by Algeria, Guinea, Belgium, and Ghana. Throughout her life, she held nine passports. She was granted honorary citizenship in ten countries. Soon after her testimony to the United Nations, Haile Selassie or the emperor of Ethiopia, invited her to sing at the inauguration of the Organization of African Unity. She was the only performer to be invited. As the fact of her ban from South Africa, she was a well-known. She was a cause célébre for Western liberals, and her presence in the African-American civil rights movement provided a link between that movement and the anti-apartheid struggle. In 1964, she was taught the song "Malaika" by a Kenyan student while backstage at a performance in San Francisco; the song later became a staple of her performances.
Throughout the 1960's, Miriam Makeba strengthened her involvement in a wide range of black-centered political movements. She worked in support of the civil rights, anti-apartheid, Black Consciousness, and Black Power movements. She briefly met the Trinidadian American activist Kwame Ture (his original name was Stokely Carmichael). Kwame Ture was the leader of the Student Nonviolent Coordinating Committee and an ally in the Black Panther Party for years. Belafonte invited Ture to one of Makeba's concerts. They met again in Conakry six years later. They entered a romantic relationship. It was initially secret from all but their closest friends and family. Makeba was involved in fundraising activities for many civil rights groups including a benefit concert for the 1962 Southern Christian Leadership Conference that civil rights activist Dr. Martin Luther King Jr. referred to as "the event of the year." Following a concert and rally in Atlanta in support of King, Makeba and others were denied entrance to a restaurant as a result of Jim Crow laws, leading to a televised protest in front of the establishment. She also criticized King's Southern Christian Leadership Conference for its investment in South African companies, informing press that "Now my friend of long standing supports the country's persecution of my people and I must find a new idol." Her identity as an African woman in the US civil rights movement helped create "an emerging liberal consensus" that extreme racial discrimination, whether domestically or internationally, was harmful.
Also, Dr. King opposed apartheid and supported Nelson Mandela too. In 1964 she testified at the UN for a second time, quoting a song by Vanessa Redgrave in calling for quick action against the South African government. In 1966, both Makeba and Belafonte received the Grammy Award for Best Folk Recording for An Evening with Belafonte/Makeba. The album dealt with the plight of black South Africans under apartheid. It had songs that were critical of the South African government like "Ndodemnyama we Verwoerd" ("Watch our Verwoerd", a reference to Hendrik Verwoerd, one of the architects of apartheid). It sold greatly. Makeba's profile increased in America. Belafonte and Makeba's concert tour following its release was often sold out and the album has been described as the best they made together. Makeba used lyrics in Swahili, Xhosa, and Sotho. American audiences loved her for her love of her African heritage. In 1967, more than ten years after she first recorded the song, the single "Pata Pata" was released in the US on an album of the same title, and became a worldwide hit. During its recording, she and Belafonte had a disagreement, after which they stopped recording together.
This rare picture showed Amiri Baraka, Amina Baraka, Miriam Makeba, and Kwame Ture.
Miriam Makeba and Kwame Ture married on March of 1968. There was a backlash against this, but Miriam is her own black woman who has the right to marry who she wanted. Her popularity in America started to decline. Conservatives viewed her as a militant and extremist. Her performances were cancelled and her coverage in the press declined despite her efforts to portray her marriage as apolitical. Many American audiences stopped supporting her. Black Americans and the rest of her fans of diverse backgrounds continued to love her. The U.S. government took an interest in her activities. The Central Intelligence Agency started to follow her and placed hidden microphones in her apartment. The FBI also placed her under surveillance. While she and Kwame Ture (her new husband) traveled in the Bahamas, she was banned from returning to the United States. She was refused a visa. As a result, the couple moved into Guinea in Africa. That is where Kwame called himself Kwame Ture. Makeba didn't return to America until 1987. Guinea remained Makeba's home for the next 15 years.
She and her husband became close to President Ahmed Sekou Toure and his wife, Andree. Touré wanted to create a new style of African music, and all musicians received a minimum wage if they practiced for several hours every day. Makeba later stated that "I've never seen a country that did what Sékou Touré did for artists." After her rejection from the US she began to write music more directly critical of the US government's racial policies, recording and singing songs such as "Lumumba" in 1970, (referring to Patrice Lumumba, the assassinated Prime Minister of the Congo), and "Malcolm X" in 1974. During this time, she performed more frequently in African countries. More African nations became independent of European colonial powers. She was invited to sing at independence ceremonies in places like Kenya, Angola, Zambia, Tanganyika, and Mozambique. By September 1974, she performed alongside a multitude of well-known African and American musicians at the Zaire 74 festivals in Kinshasa, Zaire (formerly the Congo). This was around the time when Muhammad Ali fought and defeated George Foreman in the boxing match in Congo. She also was a diplomat for Ghana. She was appointed Guinea's official delegate to the UN in 1975.
She addressed the United Nations General Assembly in 1975. She performed in Europe and in Asia. She didn't perform in America where there was a de facto boycott in effect. In Africa, she was very popular. She was the highlight of FESTAC 77, which was a Pan-African arts festival in Nigeria in 1977. During a Liberian performance of "Pata Pata," the stadium was so loud that she was unable to complete the song. "Pata Pata" and her other songs were banned in South Africa. During this period, she sang the song of "Nkosi Sikelel' iAfrika" She never recorded the song. Makeba later said that during this period, she accepted the label of Mama Africa. In 1976, the South African government replaced English with Afrikaans as the medium of instruction in all schools. This caused the Soweto uprising where black children wanted to promote their own black South African identity. Between 15,000 and 20,000 students took part, caught unprepared, the police opened fire on the protesting children. The police killed hundreds of black people including injuring over a thousand. Hugh Masekela wrote "Soweto Blues' in response to the massacre of innocent black people. The song was performed by Makeba and it was a staple of her live performances for many years. A review in the magazine Musician said that the song had "searingly righteous lyrics" about the uprising that "cut to the bone." In 1973, she was separated from Kwame Ture. In 1978, they divorced and in 1980, she married Bageot Bah, an airline executive.
Miriam Makeba's daughter named Bongi was a singer in her own right. She accompanied her mother on stage. She died in childbirth in 1985. Makeba was left responsible for her two grandchildren. She moved out of Guinea. She settled in the Woluwe-Saint-Lambert district of the Belgian capital of Brussels. In 1986, Masekela introduced Makeba to Paul Simon (who is a famous American singer). In a few months later, she embarked on Simon's very successful Graceland Tour. The tour concluded with 2 concerts held in Harare, Zimbabwe. It was filed in 1987 of the release of Graceland: The African Concert. After touring the world with Simon, Warner Bros. Records signed Makeba and she released Sangoma ("Healer"), an album of healing chants named in honor of her sangoma mother. Her involvement with Simon caused controversy: Graceland had been recorded in South Africa, breaking the cultural boycott of the country, and thus Makeba's participation in the tour was regarded as contravening the boycott (which Makeba herself endorsed). When she prepared for the Graceland tour, she started on her autobiography. She worked with journalist James Hall. Her autobiography was entitled, "Makeba: My Story." The book shown information about her experiences involving apartheid and the criticism by her of the commodification and consumerism she experienced in America. The book was translated into five languages.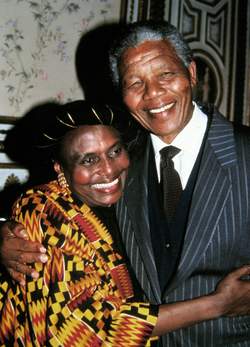 Sister Miriam Makeba was a great black woman whose wisdom inspires us to this very day in 2018.
Return to South Africa
She took part in the Nelson Mandela 70th Birthday Tribute. This was a popular music concert that took place on June 11, 1988 at London's Wembley Stadium. It was broadcast to an audience of 600 million across 67 countries. The political aspects of the concert were heavily censored in the U.S. by the Fox television network. The use of music was used to raise awareness about the evil of apartheid. A survey after the concert found that among young people between the ages of 16 and 24, three quarters knew of Nelson Mandela and supported his release from prison. After growing pressure from the anti-apartheid movement domestically and internationally, State President Frederik Willem de Klerk in 1990 reversed the ban on the African National Congress (plus other anti-apartheid organizations). He announced that Mandela would shortly be released from prison. Mandela was released on February of 1990. Mandela persuaded Makeba to return to South Africa, which she did, using her French passport on June 10, 1990.
Later Years
Miriam Makeba, Gillespie, Simone, and Masekela recorded and released her studio album in 1991 called, "Eyes on Tomorrow." It merged jazz, R&B, pop, and traditional African music. It was hit across Africa. Makeba and Gillespie toured the world together to promote it. By 1992, she she starred in the film Sarafina! Sarafina! is one of my favorite films. The movie is about students involved in the 1976 Soweto uprising. Makeba portrayed the title character's mother Angelina. The title character is the famous South African actress named Leleti Khumalo (she was born in Durban, South Africa on March 30, 1970). That was the role which the New York Times mentioned that Miriam Makeba performed with "immense dignity." By October 16, 1999, Makeba was named a Goodwill Ambassador of the Food and Agriculture Organization of the United Nations. Homeland was the name of her January 2000 album. It was produced by the New York City based record company Putumayo World Music. It was nominated for a Grammy Award in the Best World Music Album category. She worked closely with Graca Mchael-Mandeal or the South African first lady. They both advocated for children suffering from HIV/AIDS, child soldiers, and the physically handicapped.
She formed the Makeba Centre for Girls which was home for orphans. This was her personal project. She also took part in the 2002 documentary Amandla!: A Revolution in Four-Part Harmony, which examined the struggles of black South Africans against apartheid through the music of the period. Her second autobiography was entitled, "Makeba: The Miriam Mekeba Story." It was published in 2004. In 2005, she said that she would retire and began a farewell tour. She had osteoarthritis. She continued to perform until her death. During this period, her grandchildren Nelson Lumumba Lee and Zenzi Lee, and her great-grandchild Lindelani, occasionally joined her performances. She was ill during a concert in Castel Colturno near Caserta, Italy. This was on November 9, 2008.
The concert had been organized to support the writer Roberto Saviano in his stand against the Camorra, a criminal organisation active in the Campania region. She suffered a heart attack after singing her hit song "Pata Pata", and was taken to the Pineta Grande clinic, where doctors were unable to revive her. She was 76 years old.
Legacy
Sister Miriam Makeba was one of the greatest singers in human existence. Her legacy encompasses great singing and social activism. She revolutionized not only African music, but music in general. Her style was a combination of African music, jazz, R&B, and other genres. She made more than 30 albums during her life. World music was loved by her. Human beings from across racial and national plus political backgrounds love her music. She loved South Africa and believed in justice for humanity. As an active fighter against apartheid, she spoke out and worked for social change. She sang songs in Xhosa and in English. She promoted her hair as an liberated, beautiful black African aesthetic. She was a gorgeous black woman. She wore African jewelry. She was Mama Africa. Other musicians influenced by her include Youssou N'Dour, Salif Keita, Ali Farka Toure, Baaba Maal, and Angelique Kidjo. She increased the power and vitality of world music. Pata Pata is a record that will always be cherished by us. She promoted Pan-Africanism, liberation, and black identity. Part of advancing black liberation is the promotion of black families. There is always glory in black men and black women having black children. We should unite with the African Diaspora and Africans globally. She once promoted unity among black people of African descent globally by mentioning the following magnificient words: "Africans who live everywhere should fight everywhere. The struggle is no different in South Africa, the streets of Chicago, Trinidad or Canada. The Black people are the victims of capitalism, racism and oppression, period." Miriam Makeba promoted equality among the sexes and social justice. She won many awards (like the Dag Hammarskjold Peace Prize in 1986 and the Otto Hahn Peace Medal in Gold by the United Nations Association of Germany or the DGVN in Berlin for promoting peace and international understanding) because of her great accomplishments. Legend, strong, wise, and consciousness personified plus defined the life of Sister Miriam Makeba.
Rest in Power Sister Miriam Makeba.
Conclusion (for Spring of 2018)
Certainly, after all of these years, we haven't backed down. We still believe in fighting against economic inequality, which is one of the most important issues of the 21st century. We believe in the growth of jobs and living wages via progressive policies from the super wealthy paying their fair share of taxation to investments in public infrastructure programs (used to repair roads, bridges, hospitals, schools, etc.) without massive corporate privatization. We believe in education that is strong, modernized, and creative which benefits all children not just some children in more affluent, rich communities. Likewise, we believe in social justice and an end to police brutality. In terms of the environment, we fight for a clean environment. It was our forebears who fought for Social Security, a 40 hour work week, voting rights, civil rights, suffrage, and other important regulations in dealing with the environment plus health safety standards. In our time, we are renewed in our commitment to human justice.
Donald Trump, nativists, and xenophobes continue to spread lies about immigrants and immigration in general. Therefore, it is always the right time to show the truth about immigration in America. One big myth is that immigrants collectively take away American jobs. The truth is that immigrants add to demand and increase jobs. For the few past decades, deindustralization, trickled down economics, and other economically regressive policies (not immigrants) have harmed American jobs for real. Some believe that we don't need any more immigrants, which is false. The reality is that the American population is massively aging and retiring at a high rate. Immigration is essential to build up the retirement system. Immigrants pay taxes. There is a recent study that says that undocumented immigrants pay $11.8 billion dollars in taxes (in 2012), which is a net positive to state plus local budgets. Comprehensive immigration reform can add more 2.2 billion dollars in extra tax revenue. Another lie promoted by xenophobes is that they believe that legal immigration and undocumented migration is increasing in America. The truth is that net rate of undocumented immigration into America has declined in recent years. The net rate of undocumented immigration went from 12.2 million in 2007 to 11.3 million in 2015. The blame for economic problems in America is not caused by immigrants.
The real issue is that economic oligarchs have promoted economic unfairness and economic inequality via their policies (for decades and centuries in America) which harm the masses of people (regardless of immigration status) nationwide and worldwide. That is why I believe in comprehensive immigration solutions whereby those who are here and are undocumented can have a pathway to citizenship. Scapegoating immigrants doesn't solve anything and it's xenophobic plus wrong. I agree with DACA and I certainly stand with the Dreamers.
Not to mention that many immigrants are black people. Therefore, I support black immigrants as I always believe in black liberation.
Also, we must promote the freedom of the press. Trump is known for demonizing the press and journalists in ad hominem attacks. Trump is the notorious liar by saying that there is massive voting fraud and he won in a landslide (which are notorious falsehoods). Trump is known to block many of the media from traveling with him and has threatened to sue the media (and he wanted to change libel laws, which attacks the freedom of speech). We must always support responsible media, especially media that legitimately critiques those in power. I reject imperialism too. One solution to economic inequality is to use progressive economic policies and end racism. The marketplace can't be trusted unconditionally which is why laws exist to regulate the environment and other aspects of our society. Also, I am not a class reductionist. I don't believe that ending economic inequality alone will end racism. That's false and that's fantasy. What ends racism is using policies and activism to confront and defeat racist barriers, racist institutions, and racism itself period. That is my position.
During March 24, 2018, people have made history in rallying in Washington, D.C. New York City, Australia, Florida, Virginia, and other places in fighting against gun violence. When the history books are written, the decade of the 2010's will be seen as a further growth of protest movements. The young people are clear that a human life is worth more than gun. They are clear that change is needed and they will have their voices heard. Many of them will vote for the first time in 2018 by November and we all salute their strength and courage to stand up against reprehensible violence. We have to also confront lies. One lie is that anyone promoting gun safety laws desire total gun disarmament. We don't want total gun disarmament from everyone in the world. We desire those who are criminals or those with severe mental health issues (and are a danger to themselves plus others) to not own a gun. We desire children to not have access to AR-15s. We desire universal background checks (which a majority of Americans want). We desire to get rid of bump stocks. We want accountability from the NRA which funds a lot of rhetoric that promotes fear mongering not facts. We want more people to know that the Heller Supreme Court decision calls for gun regulation. We express empathy with people in urban, rural, and suburban communities. Also, we are motivated to fight for our rights and refute the gun worshiping hysteria of the NRA. We believe in truth and safety is an important goal to achieve. This is our country too and we have the right to love democratic principles and to love freedom.
Recently, protests have existed in Sacramento, California over the shooting death of the unarmed black man named Stephon Clark.The police investigated cars having their windows being broken. Stephon Clark ran from the police and he was cornered near his grandmother's house. The police falsely assumed that he had a gun and they shot at him 20 times. He had no weapon and he wasn't a direct threat to any officer at all. He had a cell phone. Later, some officers turned off their body camera audio, which is very strange and suspicious. We have been through this before. In our time and back in the days, many cops have been given immunity to abuse and kill black people without much consequences even if the black person is non threatening. There has never been a real discussion among officers collectively on the problem of police brutality. Many cops get defensive every time black people talk about this issue in opposition to police terrorism since they want to defend the blue.
We must defend truth not every cop unconditionally. That proclamation is what the Black Lives Matter movement believes in. Our ancestors fought against the evil of Jim Crow not to suck up to white people in a self-hating fashion. We wanted desegregation, so our human rights would be honored and we could be allowed to have the freedom to set up our own infrastructure as we see fit. We wanted adequate resources (which were denied to us), so we can use those resources to build in our communities. Jim Crow involved racism, lynching, and other wicked barriers to our freedom. Our ancestors fought to end Jim Crow oppression. Today, we live in a new time where it is necessary to advocate economic empowerment, a fight against poverty, and complete liberation among the black community. That is the point of black liberation. We want to free economically, socially, and politically (and not allow the government to discriminate against us based on our skin color). People have protested and marched in one highway in California. This problem of police brutality is not just a regional or urban problem. This is a national and worldwide problem since police terrorism is happening against our Black Brothers and our Black Sisters overseas in Brazil, Canada, the UK, France, etc. Therefore, we want the truth about this shooting to be known fully for the sake of honoring the dignity of Clark's family and friends. Yes,
Black Lives Matter
. Justice for all is a key principle that we accept. Addressing racism and getting rid of it (plus other policies being instituted) eliminate economic inequality too. After what we have lived through, we still rise.
By Timothy