Detroit
The home of hard workers, strong people, activists, and labor rights heroes encompass Detroit. Detroit is a city with a long history and a beautiful culture. It is home to so many heroes and we will always recognize the great people of Detroit forever. Detroit stands alone in its resiliency, its power, and its influences in American history. Detroit is uncompromising and it is time to let the world know that Detroit is not going anywhere. Detroit is the most populous city in the state of Michigan. It's the fourth largest city in the Midwest. It is very close to the United States, Canadian border. Its cultural influences have spread globally. Detroit is a major American port. It is on the Detroit River that connects to the Great Lakes System to the Saint Lawrence Seaway. The City of Detroit anchors the second-largest economic region in the Midwest, behind Chicago, and the thirteenth-largest in the United States. Today, Detroit has 680,000 people with about 147.87 square miles. Keith Ellison, Diana Ross, Berry Gordy Jr., Mary Wells, Gilda Radner, Ben Carson, Smokey Robinson, Ralph Bunche, Roger Corman, Florence Ballard, Francis Ford Coppola, David Alan Grier, James Lipton, and so many people were born in the great city of Detroit. Detroit has been through a lot and we realize the camaraderie and the love found in the people of Detroit is real and will exist forever.
Early History
Detroit has a long history. In the beginning, the land of Detroit was first inhabited by Native Americans. By the year 1600, there were about 100,000 Native Americans living in five tribes in the state of Michigan. They are the Potawatomi, Ottawa, Ojibwa/Chippewa, Miami, and Huron. The Potawatomi, Ottawa and Ojibwa speak similar Algonquin languages and are known as the "People of the Three Fires." In 1618, Samuel de Champlain, who founded Quebec, sent Etienne Brule on an exploring mission. He is called the first European to set foot in Michigan. Other European explorers traveled all across the Americas as well. In 1630, Samuel de Champlain sent Jean Nicolet to find a passage to China. Yet, he passed through the Straits of Mackinac and he or Jean Nicolet explored the shores of Lake Michigan. From 1650 to 1700, European diseases caused as many of half of the Michigan Native Americans to die. By 1669, the French explorer Adrien Joliet and an Iroquois guide traveled from St. Mary's River down Lake Huron and a camp at the present day Detroit. By 1699, the French settle in New Orleans, Louisiana. The first recorded mention of the site as found in Detroit was in the 1670's. This was when French missionaries found a stone idol that was venerated by Native Americans. They or the missionaries destroyed it with an axe. The early settlers then planted 12 missionary pear trees named for the twelve Apostles. The grounds of that event is now known as Waterworks Park. The name of the city of Detroit has an interesting origin. It comes from the French phrase of "le détroit du Lac Érie" meaning the strait of Lake Erie.
The Detroit River links Lake Huron and Lake Erie. This strait also includes Lake St. Clair and the St. Clair River. The sieur de Cadillac (or Antoine Laumet de La Mothe) was a French explorer or adventurer in New France. New France was the area colonized by the French in North America. New France started from 1534 (when Jacques Cartier explored the Saint Lawrence River in 1534) to 1763 (when the French lost the French-Indian War against the British. New France ceded territory to Great Britain and Spain. New France was in its peak in 1712). So, the sieur de Cadillac proposed to his French government in Paris that Detroit must be established as shelter for displaced Native American allies. Paris approved of his plan. So, in 1701, Cadillac led a party of 100 Frenchmen to establish a post called Fort Pontchartrain du Détroit, naming it after his sponsor the comte de Pontchartrain, Minister of Marine under Louis XIV. In 1704, he was given ownership over the strenuous opposition of officials in New France. There was an investigation done by de Pontchartrain. The investigation found that Cadillac acted tyrannical as a profiteer whose mischief hurt the French cause. Therefore, Cadillac was removed and sent to faraway New Orleans as the governor of Louisiana. Ste. Anne de Détroit, founded 1701, is the second oldest continuously operating Catholic parish in the United States. It was the first building erected in Detroit. Grants of free land were given to families who came to Detroit. Detroit's population grew to 800 people in 1765. During this time period, the main business was trading furs with the Native Americans (using goods supplied from Montreal). Detroit was the largest French village between Montreal and New Orleans.
Francois Marie Picoté, sieur de Belestre (Montreal 1719–1793), the last French commander at Fort Detroit (1758–1760), surrendered on November 29, 1760 to the British. They shortened the name to Detroit. Detroit would experience conflicts over land and political power. Many Native Americans have shown independent power to worked together in Pontiac's Rebellion in 1763. They overran smaller forts, but they didn't conquer Detroit. During the age of the American Revolution, American forces always wanted to get Detroit for political and strategic reasons. Detroit was in the American frontier and gaining Detroit wasn't going to be easy. There was the American Native American allies of Great Britain that would prevent any armed rebel force from America from reaching the Detroit area. In the Treaty of Paris on 1783, Great Britain ceded territory that included Detroit to the newly recognized United States. Detroit still was in British control. Great Britain continued to trade with and defend her Native American allies in the area, and supplied local nations with weapons to harass American settlers and soldiers. The British left in 1796 following the Jay Treaty. In 1794, a Native American alliance, that had received some support and encouragement from the British, was decisively defeated by General Anthony Wayne at the Battle of Fallen Timbers near Toledo, Ohio. Wayne negotiated the Treaty of Greenville (1795) with many of these nations, in which tribes ceded the area of Fort Detroit to the United States. Father Gabriel Richard arrived at Ste. Anne's in 1796. He helped start the school which evolved into the University of Michigan, started primary schools for white boys and girls as well as for Indians. During that time, a territorial representative to U.S. Congress helped establish a road-building project that connected Detroit and Chicago, and brought the first printing press to Michigan which printed the first Michigan newspaper. In 1805, fire destroyed most of the settlement. A river warehouse and brick chimneys of the wooden homes were the sole structures to survive. Detroit's motto and seal (as on the Flag) reflect this fire.
Detroit was incorporated as a town by the legislature of the Northwest Territory at Chillicothe, Ohio on January 18, 1802, effective February 1, 1802. The government was administrated by a five person board of trustees and there was no office of mayor. After this, Ohio became a state and the eastern half of Michigan was linked to the Indiana Territory. Before the new territorial government started officially, a fire destroyed almost all of Detroit on June 11, 1805. In June 30, 1805, the Michigan Territory was established effective. This territory allowed Detroit as the capital. The territorial government back then had its newly appointed governor William Hull. The territorial judges of the government were Augustus B. Woodward, Frederick Bates, James Witherell, and John Griffin. They convinced the U.S. Congress to pass an act on April 21, 1806, which authorized them to lay out a town that included all of the old town of Detroit plus an additional 10,000 acres (40 km²) to be used as compensation for persons who lost their house in the fire.
After the fire of 1805, Justice Augustus B. Woodward create a plan (similar to the Freemason Pierre Charles L'Enfant's design for Washington, D.C.) for Detroit's monumental avenues and traffic circles. These circles fanned out in a baroque styled radial fashion with the Grand Circus Park in the heart of the city's theater district. This district facilitates traffic patterns along the city's tree-lined boulevards and parks. Main thoroughfares radiate outward from the city center like spokes in a wheel. The territorial government passed an act that incorporated the new city of Detroit on September 13, 1806. The governor appointed Solomon Sibley as mayor. Shortly afterward, Sibley resigned and Elijah Brush was appointed in his stead. The mayor was appointed by the governor. The act of incorporation allowed the mayor to disapprove legislation passed by the popularly elected council without any recourse for overriding the mayor. Because of this, many felt that the real aim of the governor in incorporating the city was to remove the popularly elected town officers and exert a more direct influence over governance of the city. This form of government was extremely unpopular, and was repealed on February 4, 1809. However, to prevent resurrection of the popularly elected town government, on September 16, 1810, an act passed repealing all laws pertaining to Michigan that had been passed by the Legislature of the Northwest Territory. This effectively eradicated any trace of legitimacy for the former popularly elected town government.
War of 1812
The War of 1812 was about Great Britain and America fighting again for territory in North America. Great Britain during this war tried to overtly control American lands that they have lost from the Revolutionary War. During the War of 1812, Governor Hull surrendered Detroit to a smaller British force which threatened to allow its Native American allies to kill all American prisoners. Tecumseh was a Native American leader of the Shawnee. His Tecumseh Confederacy opposed America during Tecumseh's War and was an ally of the UK during the War of 1812. He was born in present day Ohio. The British had bluffed the Americans into believing that there were thousands of native troops. Tecumseh marched his Native American troops through a clearing. Then, they circled the same troops through the clearing again to make it seem that there was a much larger Native American force. Hull was convicted of cowardice and sentenced to death by a court martial, but he received a Presidential pardon. The U.S. Army recaptured Detroit in 1813 after the British abandoned it and used it as a base to invade Canada and permanently end the threat of Native American raids on American settlements. After the British abandoned Detroit, American forces caught up to the escaping British and Native Americans. They killed Tecumseh. Lewis Cass was the territorial governor on October 24, 1815 restored control of local affairs to the people of Detroit, with the election of a five person board of trustees and enactment of a charter for the city of Detroit.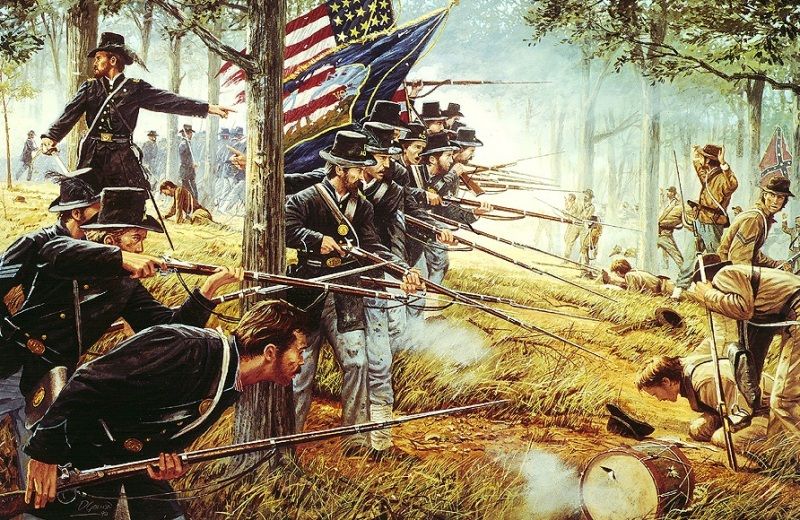 The Civil War
Before the U.S. Civil War, Detroit was a majority location of the Underground Railroad. The Underground was a network of locations and places where slaves escaped into freedom in the North and in Canada. Detroit is very close to the Canadian order too as runaway slaves traveled into Detroit constantly. The Michigan Soldier's and Sailors Monument in Detroit's Campus Martius Park commemorates the state's role in the American Civil War. During the civil war, thousands of Detroiters including the 24th Michigan Volunteer Infantry Regiment (part of the legendary Iron Brigade) which fought with distinction and suffered 82% casualties at Gettysburg in 1863. Abraham Lincoln is quoted as saying, "Thank God for Michigan!" Following Lincoln's assassination, General George Armstrong Custer delivered a eulogy to the thousands gathered near Campus Martius Park. Custer led the Michigan Brigade during the American Civil War and called them the Wolverines. There was the Detroit race riot of 1863 too on March 6, 1863. The riot was due to the military draft and racism. Irish and German Catholics resisted the mandatory draft laws. White racists beat mostly African Americans. 2 innocent people were killed. 35 buildings were burned to the ground and other buildings were damaged by the fire too. The riot caused the police in Detroit to act full time.
Industry and Commerce
After the Civil War, Detroit grew its industry and commerce into a higher level. Detroit is found in the Great Lakes Region, which contributed to its power as a center of global trade as well. Detroit grew. Later, Detroit's transportation services linked the Great Lakes system of waterways to the Erie Canal and to rail lines. Parke-Davis and other pharmaceutical firms developed in the 1870's. There was the creation of the Frederick Stearns Company during the 1890's. It formed centers between East Jefferson Avenue. Globe Tobacco built a manufacturing facility closer to downtown in 1888. New wealthy industrialists grew after the rise of manufacturing. Some of this new class or nouveau riche built along East Jefferson. Some of these structures being created included: the Thomas A. Parker House (1868), the Croul-Palms House (1881), the William H. Wells House (1889), the John N. Bagley House (1889), and the Frederick K. Stearns House (1902). The further expansion of Detroit caused other citizens to push north of downtown. Buildings and houses further developed along Woodward, in what was at the time a quiet residential area. The city has many restored Victorian structures like those in: the Brush Park and East Ferry Avenue historic districts. The Elisha Taylor House (1870) and the Hudson-Evans House (1872) are both in Brush Park; the Col. Frank J. Hecker House (1888) and the Charles Lang Freer House (1887) are in the East Ferry Avenue neighborhood. Near the end of the 19th century, apartment living became more acceptable for affluent middle-class families, and upscale apartments, such as the Coronado Apartments (1894), the Verona Apartments (1894), the Palms Apartments (1903), the Davenport Apartments (1905) in the Cass-Davenport Historic District, and the Garden Court Apartments (1915) were constructed to meet the new demand. During the late 19th century, more churches were built in Detroit too. The Class Avenue Methodist Episcopal Church was formed in 1883. The First Presbyterian Church was formed in 1889. James E. Scripps created the Trinity Episcopal Church in 1890 and the First Unitarian Church was established in 1890.
Immigration in Detroit
Detroit has always been a city where immigrants came into. There were French and English settlers who came into Detroit during the 18th century. Many Irish immigrants came into the Corktown neighborhood in the 1840's. Germans make up a large part of the immigrant population as well. Many German and Polish immigrants settled in Detroit from the 1860s to the 1890's. Irish Catholics had a great favorable experience in Detroit as compared to other cities. There weren't as much religious prejudice against Irish Catholics as compared to other places. Many Irish in Detroit were successful in politics, government service, etc. Some worked in construction and dockyard jobs. Many of them built many churches. Some funded the migration of relatives from Ireland. Many of the Irish Americans would later take active leadership roles in the Democratic Party and labor movements. European immigrants opened businesses and formed numerous communities. German immigrations formed many German speaking churches. Most of them existed on the east side of the city. Their names included: Saint John's-St. Luke's Evangelical Church (1872), St. Joseph Catholic Church(1873), and Sacred Heart Roman Catholic Church (1875), as well as social clubs such as the Harmonie Club (1894) and west-side churches such as St. Boniface (1882) and Gethsemane Evangelical Lutheran Church (1891). Polish immigrants formed their own churches on the east side too from Roman Catholic churches too. Polish people founded West Side Dom Polski in 1916 on the west side. The son of Prussian Polish immigrants, Rev. John A. Lemke, born in Detroit on February 10, 1866, was the first American-born Roman Catholic Priest of Polish descent to be ordained in America. He was baptized at St. Mary Roman Catholic Church (1843), at the corner of St. Antoine and Croghan (Monroe), on February 18, 1866, attended St. Albertus for his primary education, and studied at Detroit College which is now the University where he received a bachelor's degree in 1884. Many Catholics worked in schools, orphanages, hospitals, and charitable organization. During 1900, 87 percent of Detroiters lived in single family homes. Home owners built their homes all over the city. There was a localized ethnically controlled housing market. That was different from the professionally operated housing market. Home ownership in Detroit surged in the city's immigrant neighborhoods by 1900.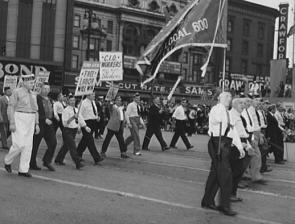 The Early Automobile Industry
The automobile industry developed greatly in Detroit. The work of Henry Ford is key to understanding Detroit history. Henry Ford was invoked in the establishment of the automobile Highland Park Ford Plant in 1910. His actions revolutionized automobile manufacturing. It grew the concept of the assembly line and mass production. This relates to workers building specialized parts, cars, other vehicles, etc. can be formed more efficiently and quicker. His manufacturing innovations were used by rival automobile manufactures. Most of these manufactures and their parts supplies back then were headquartered in the Detroit metropolitan area. Detroit has always been known as the world's car capital. Today, the 1904 Ford Piquette Avenue Plant is a National Historical Landmark. The Piquette Avenue Industrial Historic District and the New Amsterdam Historic is filled with references to early car history. Automobile assembly and associated manufacturing soon dominated Detroit, and the newly minted automotive magnates built commercial and office buildings such as General Motors Building (1919), the General (1928), and the Fisher Building (1928). Many of the best workers in the city worked in Ford plants. He dealt with wage policy. He began with a $5 a day minimum wage in 1910, about double the going rate at rival firms. It succeeded in stopping the massive turnover rate, raised productivity; lowered overall labor costs and helped to propel the Model T to industry dominance.
During the 1920's, Ford had a problem. By that time, his formula of cheap cars with little option fell behind General Motors. GM promoted upscale quality and variety. GM also provided financing for car buyers. The growth of the automobile industry caused labor to make more demands. More immigrants from Europe worked in such fashions. Also, the population grew massively during this time period. Between 1900 and 1930, Detroit's population soared from 265,000 to over 1.5 million, pushing the boundaries of the city outward. The population boom led to the construction of apartment buildings across the city, aimed at the middle-class auto workers. These include the Somerset (1922), the Garden Court Apartments (1915), and the Manchester Apartments (1915). With more population growth, transportation services changed. The Chestnut Street-Grand Trunk Railroad Bridge was created in 1929. It had a grade separation and unsnarled train and automobile traffic. The Fort Street-Pleasant Street and Norfolk & Western Railroad Viaduct (1928) was a product of the same program, routing trucking traffic over the train traffic. And the West Jefferson Avenue-Rouge River Bridge (1922) allowed the Rouge River to be expanded for barge traffic. Henry Ford had controversies that dealt with accusations of anti-Semitism, patronize, and he had battles with labor unions constantly.
The Progressive Movement and the Gilded Age
The Progressive movement had a long history in America. It was created in the 19th century. It included many factions too. One of its main functions was to use the upper middle class of both men and women to confront corrupt politicians. Some were against saloonkeepers and desired prohibition. One of the most prominent leaders of the progressive movement was Republican Mayor Hazen S. Pingree. Automaker Henry M. Leland of the Detroit Citizens League was a representative community leader. The League was supported by Detroit's business, professional, and Protestant religious communities. This organization wanted a new city charter, an anti-saloon ordinance, and the open shop whereby a worker would get a job if he or she didn't belong to a labor union. One of the most famous American clergymen in American history was the German-American Protestant minister Reinhold Niebuhr. He was trained at Yale Divinity School. He was a Detroit minister who attacked the KKK (which had huge support among white Protestants in Detroit). Henry Ford was very popular by the early 20th century. Niebuhr criticized the auto industry. Niebuhr preached what is now called the Social Gospel. Niebuhr criticized the auto industry, because he disagreed with the brutalization and insecurity of Ford workers. Niebuhr was a liberal person on many issues (not on every issue) and he wasn't ashamed of it.
He was troubled by the demoralizing effects of industrialism on workers. Niebuhr became an outspoken critic of Henry Ford. He allowed union organizers to use his pulpit to expound their message of workers' rights. Niebuhr attacked poor conditions created by the assembly lines and erratic employment practices. One of the defining legacies of Niebuhr was that he rejected prevailing optimism in the 1920's. He believed in realism. He understood that workers have been through a lot from the heat in factories to the terrible conditions back then. The historian Ronald H. Stone thinks that Niebuhr never talked to the assembly line workers (many of his parishioners were skilled craftsmen) but projected feelings onto them after discussions with Rev. Samuel Marquis. As some studies of assembly line workers have shown, the work may have been dull, but workers had complex motivations and could find ways to make meaning of their experiences; many boasted about their jobs and tried hard to place their sons on the assembly line. Ford tried but failed to control work habits. Sociologists who interviewed workers concluded that they were more interested in controlling their home lives than their work lives. The Ford solution was welfare capitalism, paying relatively high wages with added benefits, such as vacations and retirement that reduced turnover and appealed primarily to family men.
Link and Link conclude that by tying half a man's wages to the company's profit, Ford managers offered "a highly successful wage incentive plan that simultaneously increased job satisfaction and raised the productivity of labor." The Gilded Age in Detroit started in the beginning of the 20th century. Historic Gilded age areas included places like Brush Park, which gave rise to even more upscale neighborhoods like the Boston-Edison Indian Village and Palmer Woods. Woodward Avenue neighborhoods like Warren-Prentis Historic District and the Willis-Selden Historic District became mixed with apartments and commercial buildings. There were many architecturally and historically significant churches and cathedrals that arose during the period throughout the city's neighborhoods. Downtown Detroit businesses grew too as a product of automobile wealth (along with educational & technological advancements). More 20th century skyscrapers developed too. Some were the Art Deco National Historic Landmark Guardian Building in 1928 and the Fisher Building from 1928. Many of the city's skyscrapers and land markers were built by renowned architects like Albert Kahn, Writ C. Rowland, and others. Along Park Avenue, Broadway, and Woodward sprang up shopping districts. In 1881, Joseph Lowthian Hudson opened a small men's clothing store in Detroit. After 10 years he had 8 stores in the Midwest and was the most profitable clothing retailer in the country. In 1893, he began construction of J. L. Hudson Department Store at Gratiot and Farmer streets in Detroit. The store grew over the years and a 25-story tower was added in 1928. The final section was a 12-story addition in 1946, giving the entire complex 49 acres (20 ha) of floor space. During this period, the Fort Shelby Hotel was completed in 1916. The Detroit-Leland Hotel was finished by 1927 and the Royal Palm Hotel was completed in 1924. Well known and beautiful movie palaces such as the Fox (1928) and the Palms(1925) entertained thousands every day. Public buildings, such as Orchestra Hall (1919), the Detroit Public Library (1921), and the Detroit Institute of Arts (1923) were inspired by the City Beautiful Movement.
Immigration in the early 20th century grew rapidly. The growth of the automobile industry increased industrial production in Detroit. There was the rising demand for labor. It was filled by large amounts of immigrants from Europe and Canada. The city's population increased more than sixfold during the first half of the 20th century, fed largely by this influx who worked in the burgeoning automobile industry and opened neighborhood shops. Greek immigration in Detroit started in the late 1890's. It peaked in 1910-1914. They came as peasants from villages and became peddlers, grocers, and restaurateurs. They were concentrated in the Greektown neighborhood. Keenly attuned to regionalism and political factionalism in Greece, the community in Detroit was split into numerous small groupings. As Americanization proceeded, the family structure became much less patriarchal, while retaining strong affiliations with the Greek Orthodox Church. A wave of Italian immigrants arrived in 1890-1914. Most newcomers came from Europe or Canada, but there also were blacks from the South. Ford and Pullman were among the few major employers who welcomed black workers. Soon, Detroit increased its borders exponentially. Detroit annexed all or part of the incorporated villages of Woodmere in 1905, Delray in 1905, Fairview in 1907, St. Clair Heights in 1918, and Warrendale in 1925. Detroit gained thousands of acres of lands in the surrounding townships. There remained several legally separate cities that formed enclaves inside the city limits like Hamtramck and Highland Park. In 1930, Polish people became a large immigrant group with more than 66,000 Poles residing in Detroit at the time. Between 1900 and 1930, the city's population soared from 265,000 to over 1.5 million. During World War II, there was a large influx of whites from Appalachia and blacks from the rural South. Arabic people (especially Palestinians) arrived in large numbers after 1970. The Jewish community grew to about 34,000 by 1914 with new arrivals from Eastern Europe. Anti-Semitism in Detroit back then was less as compared to other large cities, anti-Semitism did exist in Detroit. There were huge tensions between the older established German Jews, and the poor new immigrants.
20th Century Developments for the Labor Movement and for Women.
Detroit local politics from 1870 to the 1910s had been influenced by German Americans and Irish Catholics. Many of these ethnic groups controlled the Democratic Party. This changed after 1910 when old school Protestant business leaders (especially from the automobile industry) led a Progressive Era crusade for efficiency. They elected some of their own men into office like James J. Couzens (who was mayor from 1919 to 1922. He was an U.S. Senator from 1922 to 1936). In 1918, voters changed the Common Council from a 42-man body elected on a partisan basis from 21 wards to a nine man unit. It was elected on a non-partisan basis from the city at large. Many ethnic groups like the Germans and the Democrats lost their political base. By the 1930's, the Democratic Party rebuilt its strength. They formed an alliance with the United Auto Workers union and restored the leadership of many people like Frank Murphy. He was the mayor from 1930-33. He was the Governor from 1937-1939. Mayors Jerome Cavanagh (1962–70) and Roman Gribbs (1970-74) were the last of the white ethnic mayors of the 20th century. The election of Coleman Young (1974–93) as mayor in 1974 brought to power a new generation of black leaders who represented the city's new majority. During the 20th century in Detroit, many young women took jobs before marriage and then quit after marriage. The country was more conservative socially. Many girls left school after the 8th grade at about the age of 15. Ciani (2005) shows that type of work they did reflected their ethnicity and marital status. Black mothers often chose day labor, usually as domestic servants, because of the flexibility it afforded. Most mothers receiving pensions were white and sought work only when necessary. Nursing became professionalized in the late 19th century, opening a new middle-class career for talented young women of all social backgrounds. The School of Nursing at Detroit's, begun in 1884, was a national leader. Its graduates worked at the hospital and also in institutions, public health services, as private duty nurses, and volunteered for duty at military hospitals during the Spanish–American War and the two world wars By the early 20th century, the middle class women of the Detroit Federation of Women's Clubs' (DFWC) promoted civic mindedness within the context of traditional gender roles. Most of them were married to prominent business and professional leaders. Issues of public health, sanitation, and public safety were of vital concern to all families. The DFWC pressured city leaders to provide adequate education and sanitation facilities, safe food handling, and traffic safety. They did not form coalitions with working class or ethnic women, nor labor unions. Later, many women formed progressive movements in Detroit to stand up for women's rights.
World War II in Detroit
No one can understand the history of Detroit without understanding World War II. First, the Great Depression must be explained first. The Great Depression was caused by Wall Street speculation and bad economic policies that caused massive unemployment and job loss in America, Europe, and throughout the Earth. After the 1928 Presidential campaign of the Roman Catholic Al Smith, the Democrats mobilized a huge number of Polish and other mostly Catholic ethnic groups to make their comeback. . Although the election for mayor was nonpartisan, the Democrats rallied behind Judge Frank Murphy, who served as mayor 1930-33. The Great Depression was devastating for Detroit, as sales of automobiles plunged and there were large-scale layoffs at all industrial enterprises. Murphy insisted that no one would go hungry, and set up the Mayor's Unemployment, Committee that set up relief soup kitchens and potato gardens. Murphy resigned in 1933. Frank Couzens was elected mayor and he served until 1938. He was the son the Republican U.S. Senator James Couzens, who had been mayor in 1919 to 1922. In 1933, Detroit was in a financial crisis. Tax receipts had plunged and welfare spending skyrocketed. The city had defaulted on its bond payments and had to use promissory notes ("script") to pay teachers, policemen, and other employees. Couzens restored the city's financial credibility by cutting the debt and balancing the budget.
Frank Couzens obtained a large amount of federal relief money and upgraded the street-lighting program and the sewage system. During the Great Depression, the labor movement fought back against oppression too. The growth of labor unions in Detroit came in the 1930's with organizations like United Auto Workers, which initiated disputes with manufacturers. The labor activism during those years increased the influence of union leaders in Detroit like the controversial Jimmy Hoffa of the Teamsters and Walter Reuther of the autoworkers. The unionization process in autos was led by CIO organizers. The strongest response came not from the semi-skilled assembly line men, but from the militant leadership of skilled tool and die makers including Black, British and Irish people. They abhorred the hardships of the depression (which started in the late 1920's). A lot of black people heroically fought for labor rights and against racism/discrimination too. Following the success of the sit down strikes at General Motors, non-unionized, semi-skilled workers followed suit in numerous plants in 1937. They were supported by the pro-union mood of the city, the New Deal's permissive political climate, and Governor Frank Murphy's pro-labor sympathies. They won many concessions and formed numerous locals outside the auto industry. Ford, however, successfully resisted unions until 1941. People had to fight for justice in order for Henry Ford to unionize.
America came into World War II officially by the end of 1941. World War II brought tremendous changes to the city. From 1942 to 1945, production of commercial automobiles in the city ceased. Its factories during that time period were used instead to create M5 tanks, jeeps, and B-24 bombers for the Allies. A headquarters for wartime production was located in the Guardian Building. Detroit made a huge contribution to the Allied war effort. That is why Detroit during WWII was nicknamed "America's Arsenal of Democracy." The B-24 Liberator was the most produced bomber in history. It was used to bomb Germany heavily. Before the war, the aviation industry could produce, optimally, one such plane a day at an aircraft plant. By 1943, Ford's plants managed to produce one B-24 an hour at a peak of 600 per month in 24-hour shifts. Many pilots slept on cots waiting for takeoff as the B-24 rolled off the assembly line at Ford's Willow Run facility. Racial tensions grew rapidly during World War II as high paying jobs brought in tens of thousands of families, despite severe housing shortages. One historian of Detroit's Poles said that they saw black people as "threatening their jobs, homes, communities, and churches." Of course, that is total, bold faced lie as black people were fighting for survival and justice in racist American society.
An August 1942 Life article, "Detroit is Dynamite", discussed in detail the city's labor and race issues, stating that "the news from Detroit is bad this summer ... The result is a morale situation which is perhaps the worst in the U.S." Because of the city's importance to the war effort, the article was censored from copies of the magazine sold outside North America. The June 1943 race riot in Detroit came about between white people and black people. Both groups of people fought it out in street fights, etc. It started in Belle Isle. From 1941 to 1943, 400,000 people migrated into Detroit (both African Americans and European Americans). They were competing for jobs in housing in a crowded city. They also competed against immigrants from other places. By the 1920's, the Klan was prominent in Detroit. The racist, white supremacist organization called the Black Legion was active in Detroit and in the Midwest. 48 members were convicted of numerous murders and attempted murder in 1936 and 1937, ending its run. A high percentage of Southern born residents lived in Detroit during the 1940's. The NAACP identified as causes of the riot as part of the longstanding problems in the city of housing and job discrimination, lack of minority representation in the police, and police brutality. It lasted for 3 days. By the time it was over 24 black people and 9 whites were killed. 433 people were wounded. There was destroyed property costing $2 million. The U.S. Army was called in to restore order in Detroit.
The Early Post war Era
The post war years revolve around the Baby Boom, the growth of the civil rights movement, and the growth of other social movements. It changed humanity forever. The post war years from 1945 to 1970 have seen high levels of prosperity for many people (not all people obviously) as the automobile industry had its most prosperous quarter-century. Although Detroit has a Rapid Transit Commission, it was not popular with the politicians or the public after the strikes of 1946 ended and automobile production resumed. People demanded cars so they could commute from work to spacious houses surrounded by grass in instead of riding the trolley to cramped upstairs apartments. During the war, three express ways were built to support the region's war industries. Later, the wartime model of federal, state, and local governments jointly planning and funding expressways gave a successful model for planning and financing more highways. Progress was slow in 1945-47 because of inflation, steel shortages, and the difficulty of building in built-up areas. By the early 1950s highways were in place, and plans were underway to make Detroit a central hub in the forthcoming Interstate Highway System. The new highways had a funding advantage over mass transit because of the availability of federal highway monies coupled with the availability of matching state money. Ultimately, they were paid for by gasoline taxes, which commuters seldom grumbled about. The replacement of Detroit's large electric streetcar network with buses and highways was much more controversial. In 1930, Detroit had 30 electric streetcar lines over 534 lines of track. In 1941, a street car ran on Woodward Avenue every 60 seconds at peak times. The huge usage of streetcars back then during the 1940's came about because of wartime restrictions on vital war materials (like rubber and gasoline. Between the end of the war and 1949, the city discontinued half of its 20 streetcar lines. Five more were discounted in 1951 (3 of which switched abruptly to bus lines during a DSR strike).
More closings followed until August 1955, when Mayor Albert Cobo, who promoted freeway construction as the way of the future, urged City Council to sell the city's recently purchased fleet of modern streetcars to Mexico City. It was a controversial move. A newspaper poll showed that Detroiters, by a margin of 3-to-1, opposed the switch to buses. Some even jeered the sunken freeways Cobo championed, dubbing them "Cobo canals." "A lot of people were against the decision... A common complaint was about the sale of the [new] cars, that the city didn't get its money's worth. Of course, the city had an answer for anything. ..." On April 8, 1956, the last streetcar in Detroit rolled down Woodward Avenue. After less than 10 years in service, Detroit's fleet of streamlined streetcars was loaded on railcars and shipped to Mexico City, where they ran for another 30 years. Back then, the Hudson's department store was the second largest in the nation. It discovered that its parking space was limited in downtown. Customers would have a problem near its downtown skyscraper. So, they formed a solution. In 1954, they opened the Northland Center in nearby Southfield just beyond the city limits. . It was the largest suburban shopping center in the world, and quickly became the main shopping destination for northern and western Detroit, and for much of the suburbs.
By 1961 the downtown skyscraper accounted for only half of Hudson's sales; it closed in 1986. The Hudson's name would later be discarded all together. The remaining Hudsons were first rebranded as branches of Chicago's flagship Marshall Field's State Street, and later rebranded again as branches of New York City's flagship Macy's Herald Square. Racism and economic inequality would be serious problems in Detroit just like in areas nationwide after World War II. Ethnic whites experienced high wages and suburban lifestyles. Black people made up 4% of the auto labor force in 1942 and 15% by the end of WWII. The labor force of black people grew to 16% by 1960. Many black people started in unskilled jobs and this caused many black people to be susceptible to layoffs and to be replaced when automation came. The powerful United Auto Workers union (although seriously anti-communist during the 1950's. The anti-communist hysteria of the McCarthyite era caused political repression and violation of human rights in America) would champion state and federal civil rights legislation, which is good. The problem is that the some of the leadership of the UAW was in no hurry to advance black people in the union hierarchy.
By the 1950's and the 1960's, a large, well paid black middle class in Detroit rapidly grew. Many black middle people (like many of white people) owned single family homes, some left poorer areas, and many lived in outlying districts plus the suburbs. By 1945, Detroit was running out of space for new factories; tight-knit home-owning neighborhoods rejected the notion of tearing out housing to make room for factories. There was plenty of space out in the suburbs, and that is where the factories had to locate. The proposals of liberal UAW leaders such as Walter Reuther for urban redevelopment did not please the UAW's largely white, conservative membership. Some UAW members still voted for conservative mayoral candidates like Republicans Albert Cobo (mayor 1950-57) and Louis Miriani (mayor 1957-62), for they protected white neighborhoods from residential integration. Home ownership was not just a very large financial investment. It was a political situation where people wanted homes to end the plight of financial hardships and foreclosures of the Great Depressions. Racists feared any black person living near them, so racist housing policies existed in Detroit.
As mayor in 1957-62, Louis Miriani was best known for completing many of the large-scale urban renewal projects initiated by the Cobo administration, largely financed by federal money, due to his rejection of implementing a city tax. Miriani also took strong measures to overcome the growing crime rate in Detroit. The United Automobile Workers (UAW), then at the height of its size and power, officially endorsed Miriani for reelection, stressing what they viewed as his conservative "law and order" position. However, while some African-Americans praised Miriani for helping to break down racial divides, other disagreed with the UAW that Miriani did enough. Mayor Miriani's legacy would exist in the realm of controversy to this very day. Historian David Maraniss cites milestones in 1962-64 that marked the city's sharp decline: the failure of a plan to host the Olympics; urban renewal uprooting black neighborhoods; urgently needed police reforms that stalled; and the failure to transform Detroit through the Model Cities and War on Poverty programs. Tensions started building that exploded in the 1967 riot. The 1970s brought a worldwide energy crisis with high gasoline prices and for the first time serious competition from imported automobiles. German Volkswagens and Japanese Toyotas posed a growing competitive reality.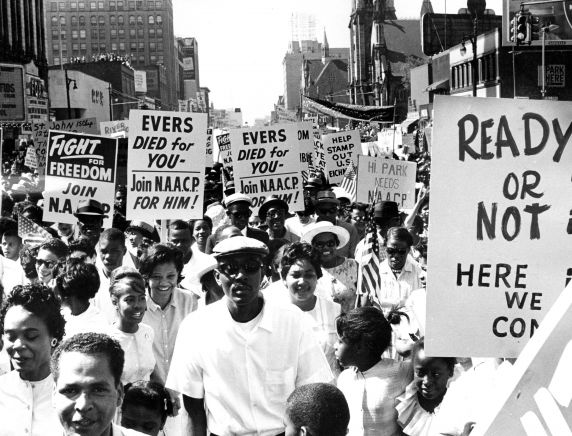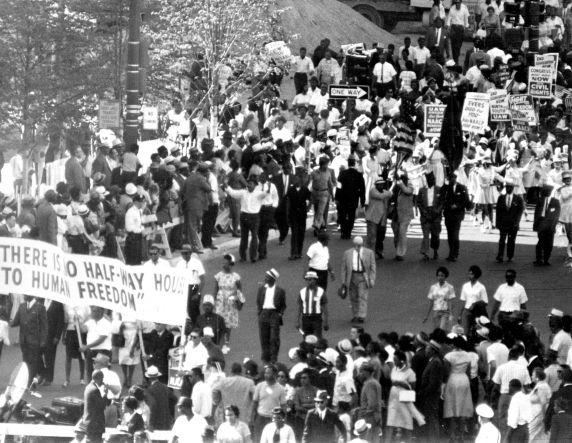 The Civil rights movement in Detroit
Black people had to fight racism and discrimination for a long time. Also, it must be greatly emphasized that the civil rights movement grew into the motivating force of inspiring other struggles from anti-imperialist movements, the women liberation movement, etc. Before World War I, Detroit had about 4,000 black people. By 1912, the National Association for the Advancement of Colored People (NAACP) founded a Detroit chapter. The Detroit Urban League was created in 1916. Both organizations used the support of black churches. Steve Babson, author of "Working Detroit: The Making of a Union Town," wrote that in the early 20th Century the black population "was relatively behind the middle-class leadership" of the NAACP and the Urban League. The great Migration (which was about the mass migration of African Americans from the South to the North, the Midwest, and the West Coast. Black people wanted to escape racism, lynching, and oppression. They desired a better life, great jobs, education, security, and an enriching life in general) came in the early 20th century. From 1916 to 1917, Black migration to Detroit averaged 1,000 a month. Many people considered Detroit at the beginning of the Great Migration as the "most Southern" of the Midwestern cities. Black people could sit in integrated trolleys. Yet, by the early 1920's 40,000 Klansmen lived in Detroit. A KKK mayor was almost elected. In 1925, a black doctor, Ossian Sweet, moved his family to a white neighborhood.
Armed with guns, the Sweet family defended themselves against racist mobs, killing one attacker. After trials and imprisonment, the Sweets were ultimately acquitted. Black people fought for union recognition in Detroit too. UAW Local 600 is well known as a center of black union power. Labor rights and civil rights are linked. In other words, we want black equality and workers to have their economic rights as well. Black people were key in unionizing The Ford Motor Company (as high as 45 percent of Black men in Detroit worked at Ford during the early 1920's.. Back then, Ford, GM, and Chrysler jobs in Detroit were given to black people in a discriminatory fashion). Professors Beth Bates and Quill Pettway documented this history too. The African American scholar Pettway said that in a last rally, in Detroit's downtown Cadillac Square, drew 60,000 people. "Regardless of race, creed or color, they came to hear Robeson, Walter Reuther, former City Council President Erma Henderson," among others.
UAW's Walter Reuther believed in civil rights, but he made the mistake of embracing virulent anti-Communist views (back during the 1960's). He worked with the House Un-American Activities Committee (HUAC) to put Local 600 in receivership in the early 1950s. Reuther was a famous anti-Communist. The overall McCarthyite witch-hunt was deplorable and anti-human rights. The civil rights movement in Detroit was grassroots and established its own unique identity. Detroit had people who also financially aided the 1963 Birmingham campaign as well. The civil rights movement involved the churches in Detroit too. Rev. Charles A. Hill Sr. was a famous civil rights activist of Detroit. He was a black leader who wanted social justice and he desired African Americans to have total equality. As early as the 1950's, deindustalization was taking place, but the movement inspired many people to fight for justice. Rev. Charles A. Hill Sr., pastor at Hartford Avenue Baptist Church supported unionism and he was against police brutality. He was outspoken. Many Marxists and church leaders worked together in the cause for justice as well. Rev. Charles A. Hill Sr. believed in the Social Gospel.
Both Dr. Martin Luther King J. and Malcolm X visited Detroit on many occasions. Detroit is home to a strong Black Nationalist movement. Black Nationalism is the movement that believes that black people must use self-determination including Black Unity to create their own autonomous, independent power base (in a nationalist format) to enrich the black community. Black Nationalists are diverse from conservatives to progressives. The Nation of Islam has a strong foothold in Detroit and the NAACP is very powerful in Detroit too. The Nation of Islam itself was a religious movement founded in Detroit, Michigan by Wallace D. Fard Muhammad on July 4, 1930. The NOI follows the teachings of Elijah Muhammad (whose followers call the Messenger of Allah). In June 1963, Reverend Martin Luther King Jr. gave a major speech in Detroit. He said that following words in Detroit in 1963:
"...Now the second thing that you can do to help us down in Alabama and Mississippi and all over the South is to work with determination to get rid of any segregation and discrimination in Detroit, [Applause] realizing that injustice anywhere is a threat to justice everywhere. And we've got to come to see that the problem of racial injustice is a national problem. No community in this country can boast of clean hands in the area of brotherhood. Now in the North it's different in that it doesn't have the legal sanction that it has in the South. But it has its subtle and hidden forms and it exists in three areas: in the area of employment discrimination, in the area of housing discrimination, and in the area of de facto segregation in the public schools. And we must come to see that de facto segregation in the North is just as injurious as the actual segregation in the South. [Applause] And so if you want to help us in Alabama and Mississippi and over the South, do all that you can to get rid of the problem here..."
Dr. Martin Luther King Jr. was a pacifist Baptist clergyman who believed in nonviolence and he wanted racial and economic justice for all. His speech in the great city of Detroit was a speech that foreshadowed his "I Have a Dream" speech two months later in Washington, D.C. The reason is that Dr. King spoke of his dream in Detroit before his speech in Washington, D.C. In Detroit, Dr. King was accompanied by Rev. C. L. Franklin or the father of the American musician, singer, and songwriter Aretha Franklin. Dr. King gave his famous Detroit speech at Cobo Hall in Detroit in wanting to make the American Dream a reality. Dr. King and other marched with 100,000 people in the March for Freedom ally in Detroit alongside Woodward Avenue. Another support of the Detroit rally was Mayor and Democrat Jerome Cavanagh. He welcomed Dr. King in Detroit and he supported the aims of the civil rights movement. Cavanagh defeated Miraiani in the mayoral race, because of Miriani's handling of Detroit financial affairs and race relations in Detroit's African American community. Miriani was accused by many black people of condoning police brutality. Black voters came out in force to elect Cavanagh as mayor in 1962.
Malcolm X also gave great speeches in Detroit too. Back then, Malcolm X viewed American democracy as disguised hypocrisy. Malcolmx gave 2 famous speeches in Detroit. One was in December 10, 1963, while still the leading spokesman for the Nation of Islam, Malcolm X gave a speech at a rally in Detroit, Michigan. It was called, "Message to the Grassroots" where spoke about black nationalism, he criticized the mainstream civil rights movement (including the 1963 March on Washington), and he wanted justice for black people. He gave the Ballot or the Bullet speech again (the first time he gave it was in Cleveland, Ohio in April 3, 1964) in Detroit. "The Ballot or the Bullet" was given in Detroit in the date of April 12, 1964. One of the greatest allies of Malcolm X was the late preacher of Detroit Albert Cleage. He was born in Indianapolis in 1911, but he preached in Detroit. He changed his name to Jaramogi Abebe Agyeman to identify with his black African heritage. Jaramogi represented the views of Black Nationalism. Dr. Cleage was a major figure in the Detroit medical community, even being designated as City Physician by Mayor Charles Bowles in 1930. He worked as a social worker and he worked in many churches from San Francisco to Lexington, Kentucky. He returned into Detroit in 1951 to serve at an integrated church, St. Mark's Community Church (United Presbyterian Church of North America) mission. However, some of the white leaders of the church disagreed with the way Cleage was leading his Black congregation.
In 1953, Cleage and group of followers left the church and formed the Central Congregational Church that in the mid-1960s was renamed Central United Church of Christ. Their mission was to minister to the less fortunate and they offered many programs for the poor, political leadership and education. Later on, Cleage opposed nonviolence and he founded the Michigan branch of the Freedom Now Party. He supported Malcolm X and he wasn't in support of socialism. Malcolm X is very clear in his opposition to capitalism by making the following statement in January 18, 1965:
"…It is impossible for capitalism to survive, primarily because the system of capitalism needs some blood to suck. Capitalism used to be like an eagle, but now it's more like a vulture. It used to be strong enough to go and suck anybody's blood whether they were strong or not. But now it has become more cowardly, like the vulture, and it can only suck the blood of the helpless. As the nations of the world free themselves, then capitalism has less victims, less to suck, and it becomes weaker and weaker. It's only a matter of time in my opinion before it will collapse completely…"
Also, Malcolm X spoke of black people in America as Africans: "…We're not Americans, we're Africans who happen to be in America. We were kidnapped and brought here against our will from Africa. We didn't land on Plymouth Rock - that rock landed on us."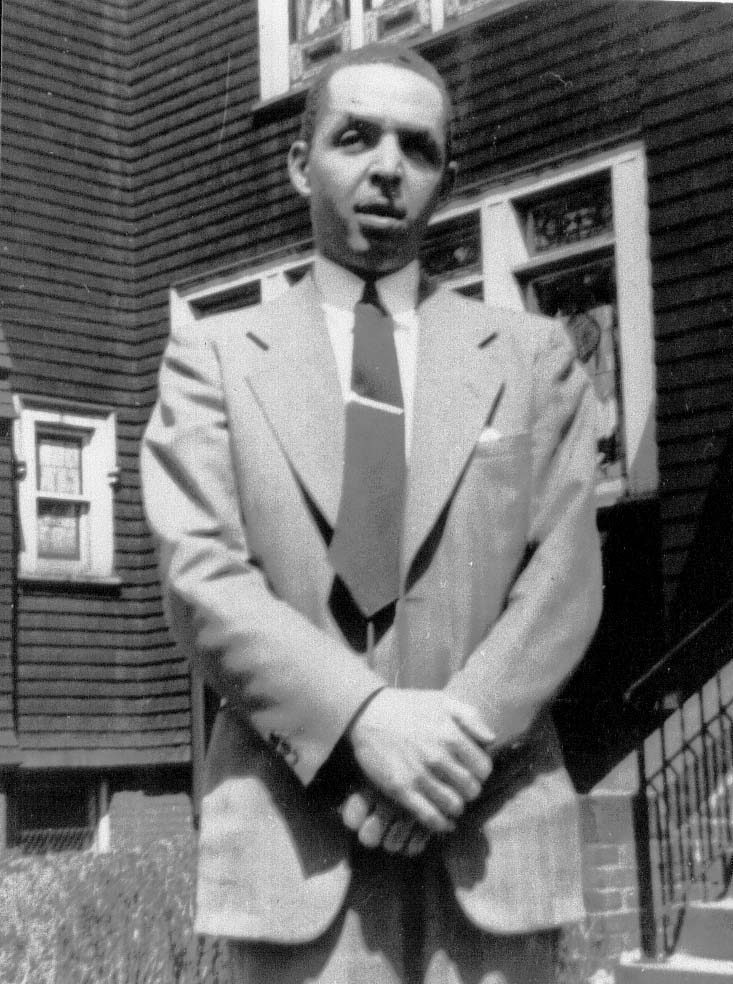 Pastor Cleage transformed his church to embrace what is now called Black Liberation Theology (or the view that Jesus Christ is black and part of a revolutionary movement to crush oppression and injustice, so black people have the right to fight oppression). In 1967, he began the Black Christian National Movement. This movement was encouraging black churches to make Jesus's teachings to suit the social, economic, and political needs of black people. In March 1967, Cleage installed a painting of a black Madonna holding the baby Jesus in his church and renamed the church The Shrine of the Black Madonna. He supported pan-Africanism. He wanted black people to understand about Africa and never be ashamed of their black heritage. He was a supporter of the Black Arts movement in 1966. On Easter of 1967, Cleage unveiled an 18-foot painting of a Black Madonna, and renamed Central Congregational as the Shrine of the Black Madonna. He rejected integration. For decades, he has helped he black community and he passed away in February 20, 2000.
The late civil rights advocate of Detroit Daisy Elliot was a black woman who helped pushed through a landmark law that protected people against racial bias and other forms of discrimination. "I had seen the unfairness and wanted a law that would do something about it," Elliott told The Detroit News in 2003. "I would go to the library and look up the state constitution and noticed there was nothing in it about discrimination." Elliott eventually teamed with a white suburban Republican lawmaker, Mel Larsen, to work on securing the bill's passage during a particularly turbulent time for racial minorities. Larsen, who represented the Oxford area at the time, was on the House's civil rights committee, which Elliott chaired. Passed in 1976 and patterned after federal law, the Elliott-Larsen Civil Rights Act forbids discrimination based on race, color, national origin, religion, ethnicity, gender, age, marital status, height, weight, arrest record or physical or mental disabilities. It passed with bipartisan support. Because of Elliott's work, many people "owe her a great debt," said Barbara-Rose Collins, a former congresswoman, state representative and Detroit City Councilwoman. "She created changes in this state that last today."
Daisy Elliot was a co-author of the 1963 state constitution. It created the Michigan Civil Rights Commission, and made a proposal aimed at creating an intermediate appellate court, which led to the establishment of the Michigan Court of Appeals. Elliott was a Democratic delegate to the 1961-1962 Constitutional Convention, according to her biography in the 1977-78 Michigan Manual. Daisy Elliot spoke out against racism and discrimination throughout her life. Ron Scott was a famous civil rights crusader too. He fought against police brutality, he was very brilliant, and his colleagues respected his courage. He was in the 1963 Detroit March with Dr. King and he co-founded the Detroit Black Panther Party Chapter.
A great advocate for civil rights was Grace Lee Boggs, who was an Asian-American. She passed away last year in 2015 at the age of 100 years old. Her political evolution was widespread. She was in the Trotskyite movement in the early 1950's, and she later evolved into the black nationalist movement, feminist politics during the 1960's, and she focused on urban gardening before she passed. She corresponded to Kwame Nkrumah or the President of Ghana. She certainly loved Detroit and she served humanity. Her husband was a black autoworker and Marxist thinker named Jimmie Boggs. She was an organizer of the 1963 Detroit civil rights march. She also respected the views of Malcolm X. Grace unsuccessfully attempted to convince Malcolm X to run for the United States Senate in 1964. Of course, I disagree with some of her latter views of not sending more money and more computers to solve educational problems. I disagree with her views of Americans have to accept a lowering of its living standards and the sole focus on "individualistic self-help" to solve our problems. The fact is that we are in a class struggle and collective workers solidarity along with helping the poor is necessary to solve our problems. The blame for social ills should never be placed on every human being on Earth, but on the wealthy beneficiaries of the system.
The 1% is violently crushing protests against neoliberal austerity programs around the world—programs designed to transfer the wealth produced by the majority into its own hands. Likewise, we do honor the good works that Grace Lee Boggs has done to people of Detroit throughout her life. She founded Detroit Summer, a multicultural intergenerational youth program, in 1992 and was the recipient of numerous awards. Additionally, Boggs' home in Detroit also serves as headquarters for the Boggs Center to Nurture Community Leadership. She was right to advocate grassroots organizing, social activism, etc. locally and nationally. She was a courageous woman. Grace Lee Boggs will be greatly missed.
Mayor Cavanaugh supported the Model Cities program. The Model Cities program was part of Lyndon B. Johnson's Great Society and War on Poverty. It started in 1966 to invest in 150 cities, so poverty can decline and cities can develop (among the poor people, black people, and other city residents). The ambitious federal urban aid program succeeded in fostering a new generation of mostly black urban leaders. Detroit was one of the largest Model Cities projects. Mayor Cavanagh was the only elected official to serve on Johnson's task force. Detroit received widespread acclaim for its leadership in the program, which used $490 million to try to turn a nine-square-mile section of the city (with 134,000 inhabitants) into a model city. Detroit's political and business elite, city planning, along with many in the black middle class wanted the federal funding to assist the economic growth of the whole city. They sought to protect the central business district property values from nearby slums and to construct new revenue-generating structures. However local community organizers and civil rights activists rallied poor residents in opposition to these plans. They said federal renewal funding should be used to replace deteriorating housing stock, whether with new public housing or low-cost housing built by private developers. The Model City program was terminated in Detroit and nationwide in 1974 after major rebellions in most of its target cities.
By 1965, under the reality of higher earning, lower unemployment, expanding industry, Cavanagh was reelected overwhelmingly in 1965. In 1966, Cavanagh was elected president of both the United States Conference of Mayors and the National League of Cities, the only mayor to hold both posts at the same time. The rebellion in 1967 and economic problems ultimately caused Cavanaugh to experience problems and his popularity as mayor decreased. After World War II, the automobile industry, requiring more lateral space than was available in a city, and desiring to avoid city taxes, decentralized its operations. As with other cities, Detroiters were leaving Detroit for its suburbs by the thousands by 1967. Some 22,000 residents, mostly white, moved to the suburbs in 1966 alone, following new auto plants and new housing, or using the newly constructed Interstate system to commute into Detroit. Detroit faced serious financial trouble. Cavanagh had inherited a $28 million budget gap in 1962. To close the gap, and to pay for the new programs he wanted to implement, Cavanagh had pushed through the legislature income and commuter taxes for Detroit, but these proved unpopular with residents and businesses. Cavanaugh declined to run for reelection in 1969. He passed away in an apparent heart attack on November 27, 1979 at St. Joseph Hospital in Lexington, Kentucky. He was buried in Mt. Elliott Cemetery in Detroit.
The rebellion in Detroit (which lasted from July 23, 1967 – July 27, 1967) had a long history. It was caused by events long before 1967. For a long time, black people have been the victims of racism, discrimination, economic deprivation, lax education, police brutality (as the police acted harsh against black people in the city), and other evils. Supreme racial tensions have been rising in Detroit for decades and centuries. Even in 1965 (in April), white racist supremacists burned crosses in Detroit. These burned crosses were located in 25 black residencies in the integrated neighborhoods of Detroit. On June 12, 1967, a white mob of more than 80 white people firebombed the home of a white woman and a black man (or an interracial couple). On June 23, a black couple (Mr. and Mrs. Thomas) were attacked by white racists. The racists talked about wanting to rape Mrs. Thomas. Mr. Thomas was killed by being shot three times. Mrs. Thomas was pregnant, she was assaulted, and her baby miscarriage. This is why we fight against white racism. This is why I believe in standing up against brutish cowards who attack families. None of the six whites arrested were convicted. Only July 1, 1967, Vivian Williams (a young black woman who worked in prostitution) was murdered. It is rumored that a police officer killed her. So, the rebellion happened beyond "blind pig" raids. A blind pig is an underground club that serviced black people, especially when other bars discriminated against black people in bars.
On early hours of Sunday (or 3:45 am.), in July 23, 1967, Detroit police officers raided an unlicensed weekend drinking club in the office of the United Community League for Civil Action above the Economy Printing Company, at 9125 12st Street. There were 82 black people in the place including 2 local GIs who returned to America from the Vietnam War. The police arrested everyone in the location. A sizable crowd watched the people being arrested. Later, in a memoir, Walter Scott III, a doorman whose father was running the raided blind pig, took responsibility for starting the riot by inciting the crowd and throwing a bottle at a police officer. Many men were dragged into the patty wagon and some in the crowd thought the police used excessive force. People started to talk about racism and not taking it anymore. Also, one woman was thrown down the stairs by the police and this angered people. People started to throw bottles and rocks. Soon, the rebellion happened in the neighborhood. This rebellion was unique in that the rebellion involved snipers from buildings, sophisticated tactics, and the growth of police plus military forces to try to end it.
The Detroit rebellion was one of the biggest rebellions in the 20th century in America. By Monday on July 24, 1967, Michigan State Police and the Wayne County Sheriff's Department were called into Detroit to help an overwhelmed Detroit police force. The violence spread all over Detroit. Black owned businesses were looted too. Firefighters were shot at by people. Over 2,000 rifles and 38 handguns were stolen from local stores. The Detroit, County, and Michigan forces couldn't restore order during the beginning of the rebellion. U.S. Representative John Conyers (a famous black progressive man) tried to ease tensions, but he was unsuccessful. Reportedly, Conyers stood on the hood of the car and shouted through a bullhorn, "We're with you! But, please! This is not the way to do things! Please go back to your homes!" But the crowd refused to listen. Conyers' car was pelted with rocks and bottles. Shortly before midnight on Monday, July 24, President Lyndon Johnson authorized the use of federal troops in compliance with the Insurrection Act of 1807 that authorizes the President to call in the armed forces to fight an insurrection in any state against the government. Historically, Detroit was occupied by federal troops three times. The U.S. Army's 82nd Airborne Division and 101st Airborne Division had earlier been positioned at nearby Selfridge in suburban Macomb County. Starting at 1:30 on Tuesday, July 25, some 8,000 Michigan Army National Guardsmen were deployed to quell the disorder. Later, their number would be augmented with 4,700 paratroopers from both the 82nd and 101st Airborne Divisions, and 360 Michigan State Police officers.
Chaos continued and the police were overworked plus tired. Detroit Police were found to have committed many acts of abuse against both blacks and whites who were in their custody too. Mayor Cavanagh's Model City plans were stifled. A strong incident of police brutality in Detroit was the Algiers Motel Incident. Three black men were found dead in a manor house-turned-motel at Woodward and Virginia Park known for prostitution. Two white, teenaged cosmetology school dropouts recently arrived from Columbus, Ohio, were staying in the motel with local black men when the police and National Guard responded to a call of shots being fired. Evidence presented later suggested that three Detroit police officers called out all occupants of the motel to the main lobby, searched them for weapons, threatened to kill them, and threw knives at their feet in a "game" before searching the rooms for weapons. They shot the men later in two of the rooms and their bodies were discovered later. A police confession to the shooting was later covered up.
The journalist John Hersey published a book about the case, The Algiers Motel Incident, in 1968. Most National Guard troops were white while Army troops were heavily black. Both forces involved in firefights with Detroit residents. Residents and military forces died. The Cyrus Vance report later criticized the actions of the National Guardsmen who shot and killed 11 people. Tanks and machine guns were used in Detroit. This was a new level of military intervention in an American city which hasn't been seen on this level since the Civil War. By Thursday, July 27, sufficient "order" had returned to the city that officers withdrew ammunition from the National Guardsmen stationed in the riot area and ordered them to sheath their bayonets. Troop withdrawal began on Friday, July 28, the day of the last major fire in the riot. The Army troops were completely withdrawn by Saturday, July 29, 1967. The civil rights movement in general would be changed forever. Civil rights activists continued to work. After 1967, the Black Panther Party and the anti-war movement grew in Detroit. A new era came in Detroit in 1973 when Coleman Young was elected as Detroit's first black American mayor. Coleman would be mayor for 20 years, which is a long time.
There was another organization that was involved in the black freedom movement in Detroit as well. It was called Dodge Revolutionary Union Movement or DRUM. DRUM was an unique organization. It wanted black workers to organize and promote workers' rights for black people in the Detroit area as a catalyst to ultimately create black liberation worldwide. Its membership came heavily from black industrial workers. The May 1968 wildcat strike of Detroit's automobile factories inspired the creation of DRUM too. A black worker named George Baker was kicked out of the Dodge Main automobile plant. Therefore, George Baker, Marxist attorney Ken Cockrel, theorist Mike Hamlin, John Watson, and John Williams invented DRUM. During this time, it was near the end of the post-war economic boom. Many New Deal and Great Society programs expanded economic opportunity and decreased the poverty rate. Yet, racism and economic exploitation still existed massively in America. Workers wanted to end corporate exploitation and the growth of economic justice. DRUM quickly expanded its membership from the factories, to the streets in many communities.
People in the assembly line wanted their just treatment. Although, we love the labor movement. Although, we have to be clear that many people (not all) involved in the union bureaucracy were racists. DRUM wanted to root out racism that was found in various factories. DRUM had explicit demands in promoting equal pay, ending racial discrimination, and other grievances. On July 8, 1968 DRUM led a wildcat strike against conditions in the Hamtramck plant. The strike was observed by some 4,000 workers, lasted 2.5 days and prevented the production of 3,000 cars. In the subsequent Local 3 election, DRUM ran as an alternative slate. Although it did not win, the new organization drew notice for its militancy and willingness to challenge the UAW hierarchy. DRUM would continue to use strikes and protests. Within one year, more black revolutionary labor organizations would develop like FRUM (Ford Revolutionary Union Movement), The Black Panther Caucus of Fremont, California, GRUM (General Motors Revolutionary Union Movement), etc. In 1969, these groups merged into one organization called the League of Revolutionary Black Workers (which was established by Hamlin, Cockrel, and Baker).
SNCC leader James Forman worked in this movement as well. The UAW had to take this movement seriously, so they tried to demonize the movement as divisive and tried to divide its membership based on age or other things. UAW treasury secretary Emil Mazey attacked DRUM. As it grew, DRUM faced a crisis of expectations. Auto workers had created an independent organization, but opinions differed about DRUM's future mission. Debates concerned whether DRUM should continue as a reform movement within the UAW or a dual-union which would seek to replace the UAW. The League of Revolutionary Black Workers eventually split between those who wanted to remain focused on the auto industry and those who wished to expand the League into a national political organization. The nationally oriented movement, led by General Baker, retained the organizational name the League and DRUM and was associated with the New Communist Movement. By 1975, however, the plant-level organization was largely defunct. Many members had been fired, and those who stayed often joined other currents in the union reform movement, such as the United National Caucus. DRUM believed that black workers were the vanguard of the working class. In 1971, DRUM divided into one group that was more nationalist and wanted to focus in Detroit. The other faction was more socialistic and wanted to expand their reach nationwide. Ultimately, the lesson of DRUM is that labor organizing is important and there is no human liberation without black liberation.
Motown
Motown is part of black culture, American culture, and world culture. To this very day, we are inspired by its music and cultural power. Therefore, to understand Detroit, everyone must understand about Motown. It was founded by Berry Gordy in January 12, 1959. Berry Gordy worked in a factory as an autoworker. He was influenced by the assembly line (as African Americans traveled into Detroit in order to get good paying jobs). He incorporated the concept of the assembly line into his record company, so he can make great records efficiently like clockwork. That is why Motown's recording studio would be called "the hit factory." Before Motown, Berry Gordy was also a songwriter for local Detroit artists like Jackie Wilson and the Matadors. Wilson's single "Lonely Teardrops", written by Gordy, became a huge success, but Gordy did not feel he made as much money as he deserved from this and other singles he wrote for Wilson. He realized that the more lucrative end of the business was in producing records and owning the publishing. In 1959, Motown was called Tamla Record. He received an 800 loan from his family and royalties earned writing for Jackie Wilson. Gordy originally wanted to name the label Tammy Records, after the hit song popularized by Debbie Reynolds from the 1957 film Tammy and the Bachelor, in which Reynolds also starred. Gordy's first signed act was the Matadors, who immediately changed their name to the Miracles. (They were not the Matadors who recorded for Sue). Miracles lead singer William "Smokey" Robinson became the vice president of the company (and later named his daughter "Tamla" and his son "Berry"). Several of Gordy's family members, including his father Berry, Sr., brothers Robert and George, and sister Esther, were given key roles in the company. By the middle of the decade, Gwen and Anna Gordy had joined the label in administrative positions as well.
Gordy purchased the property that would become Motown's Hitsville USA studio. As time went on, the Hitsville studio expanded to include a recording in studio, other offices, and other departments. Motown had hired over 450 employees and had a gross income of $20 million by the end of 1966.Eartly Motown artists were Mable John, Eddie Holland, and Mary Wells. In 1960, the Miracles' "Shop Around" was their first number 1 R&B hit, which peaked at number two on the Billboard Hot 100 in 1960. From 1960 to 1971, Motown had 110 top 10 hits. Motown thrived during the period of the civil rights movement. As the civil rights movement expanded, musical barriers were broken and black artists in a higher level gained international acclaim. During the early 60's, in the South, music concerts were readily segregated. Later, Motown artists saw audiences integrated in the South and people dancing together hand holding hands. In 1960, Motown released its first hit called "Money (That's What I Want)" sung by Barrett Strong. It was written by Berry Gordy Jr. and Janie Bradford. In the same year, the Marvelettes, Marvin Gaye, and Mary Wells sign with Motown. Mary Wells recorded "Bye, Bye, Baby" on Motown too. In 1961, the historic group the Temptations would sign with Motown. They were once called the Elgins before. Steve Wonder signed with Motown.
The Marvelettes release "Please Mr. Postman." This was the first Motown song to reach the number one position on the Billboard Hot 100 pop single chart. In 1961, the Primettes sign with Motown. The Primittes will go on to be the legendary Supremes. Eddie Holland would record the song "Jamie" too. In 1962, Motown expanded. The music production team included Brian Holland, Eddie Holland, and Lamont Dozier. The Funk Brothers were key people involved in Motown as music producers. There can be no understanding about Motown without mentioning the actions and the creativity of the Funk Brothers. By this time, Motown tours in the East Coast and the South heavily. The tour included artists like the Miracles, Martha and the Vandellas, the Supremes, Mary Wells, Stevie Wonder, Marvin Gaye, the Contours, the Marvelettes, and the Choker Campbell Band. Smokey Robinson would be Vice President in 1962. Mary Wells' hit was "You Beat Me to the punch." It reached number one on the R&B chart and number 9 on the Billboard's pop chart.
In 1963, more changes came to Motown. Engineers developed a disc cutting machines, so "demos" could be on a record rather than the master tape. Mary Wells increases her popularity by appearing on American Bandstand with Dick Clark. Martha & the Vandellas are nominated for "Love is Like a Heatwave." Stevie Wonder performs in Paris for a 2 week engagement. Motown by 1964 saw the Temptations have their first Top 20 hit called "The Way you Do the Things You do." It was written and produced by Smokey Robinson and Bobby Rogers of the Miracles. Shindig! was created in 1964 too in ABC live. This was the time when the Beatles arrive in NYC at JFK International Airport to tour and concert at Carnegie Hall. The Temptations and the Supreme grow into even more popularity in 1965. Motown released its eight track tapes. The Four Tops have their hit record "I Can't Help Myself." The Supremes released "Stop in the Name of Love." James Brown released "Papa Got a Brand New Bag." Motown artists also tour in London, England in 1965 too. Motown grosses $22 million in 1966. Gladys Knight and the Pips, Tammi Terrell, and the Isley Brothers sign with Motown in 1966. Norman Whitfield produced for the Temptations. Also, Nick Ashford (who was born in South Carolina) and Valerie Simpson sign with Motown as staff writers. They would be excellent artists and writers. Nick and Valerie Simpson loved each other so much and Black Love is always Beautiful. These talented songwriters and performers produced some of the most outstanding pop music of the 1960s.
Ashford and Simpson's most enduring compositions are undoubtedly those recorded by Marvin Gaye and Tammi Terrell (who died of a brain tumor in 1970 six weeks before her 25th birthday) between 1967 and 1968, among them "Ain't Nothing Like the Real Thing," "Ain't No Mountain High Enough," "You're All I Need to Get By," and "Your Precious Love." Just to say the names of these songs is to conjure up a wealth of emotion and memory. "There ain't no mountain high enough/Ain't no valley low enough/Ain't no river wide enough/To keep me from getting to you," wrote Ashford in one of their biggest hits. By 1967, Motown had the five major labels of Tamla, Motown, Gordy, Soul, and V.I.P. Stevie Wonder tours Europe. Diana Ross and the Supreme perform and continue to make hits. Martha and the Vandellas record "Jimmy Mack" on the Gordy label. Also, a proto-disco or a psychedelic sound emerges. Music starts to evolve and change. The famous Suzanne de Passe in 1968 worked for Motown as Creative Assistant. The Temptations promote "Cloud Nine" as psychedelic soul. Also, Marvin Gaye's version of "I Heard it Through the Grapevine" hits number one in the pop chart. Motown expands. People from Motown met with people from Russia. The Jackson Five perform at the Daisy Disco in Los Angeles with an introduction of Diana Ross (who would be a lifelong friend of Michael Jackson). By 1970, Sammy Davis Jr. and Berry Gordy form the Ecology record label. Motown talks about the Vietnam War issue. Motown sign the rock act Soney and Meatloaf on the Rare Earth label. In 1971, the Jackson Five increases their popularity massively. Supremes continue to perform without Diana Ross. In 1971, Marvin Gaye released "What's Going ON" which was one of the greatest records in human history. It addressed the Vietnam War, family issues, and poverty. Stevie Wonder become 21 and signed big contract with Motown. In 1972, Motown moves its headquarters from Detroit to Hollywood, California.
Suzanne DePasse became the corporate director of Motown Productions, which produced "Lady Sings the Blues." This was the movie about the life of blues vocalist Billie Holiday. It starred Diana Ross, Billy Dee Williams, and Richard Pryor. The Commodores sign with Motown and open for the Jackson Five. Stevie Wonder would continue to show classic albums like Music of My Mind in 1972, Talking Book, in 1972, and Innervisions in 1973. There would be the Key of Life, etc. Despite losing Holland–Dozier–Holland, Norman Whitfield, and some of its other hitmakers by 1975, Motown still had a number of successful artists during the 1970s and 1980s, including Lionel Richie and the Commodores, Rick, Teena Marie, the Dazz Band and DeBarge. By the mid-1980s Motown had started losing money, and Berry Gordy sold his ownership in Motown to MCA Records and Boston Ventures in June 1988 for $61 million. In 1989, Gordy sold the Motown Productions TV/film operations to Motown executive Suzanne de Passe, who renamed the company de Passe Entertainment and continues to run it as of 2016. Motown would continue to add starts like Boyz II Men, Johnny Gill, 702, Brian McKnight, and Erykah Badu from the 1990's. Many artists left Motown. On April 1, 2014, it was announced that Island Def Jam will no longer be running following the resignation of CEO Barry Weiss. In a press release sent out by Universal Music Group, the label will now be reorganizing Def Jam Recordings, Island Records and Motown Records all as separate entities. Motown would then begin serving as a subsidiary of Capitol Records. Motown's legacy is real and we love the music of Motown as well.
Miliken v. Bradley
One of the most important Supreme Court decisions in history is Milliken v. Bradley. On August 18, 1970, the NAACP filed suit against Michigan state officials including Governor William Milliken. The NAACP charged Michigan of using de facto public school segregation. The original trial started in April 6, 1971 and lasted for 41 days. The NAACP argued that although schools were not officially segregated (white only), the city of Detroit and its surrounding counties had enacted policies to maintain racial segregation in schools. The NAACP also suggested a direct relationship between unfair housing practices (such as redlining) and educational segregation. District Judge Steven J. Roth held all levels of government accountable for the segregation. The Sixth Circuit Court affirmed some of the decision, withholding judgment on the relationship of housing inequality with education. The Court specified that it was the state's responsibility to integrate across the segregated metropolitan area. Later, the Governor and other accused officials appealed to the Supreme Court. The Supreme Court case took up the case on February 27, 1974. The subsequent Milliken v. Bradley decision had wide national influence. In a narrow decision, the Court found that schools were a subject of local control and that suburbs could not be forced to solve problems in the city's school district. According to Gary Orfield and Susan E. Eaton in their 1996 book Dismantling Desegregation, the "Supreme Court's failure to examine the housing underpinnings of metropolitan segregation" in Milliken made desegregation "almost impossible" in northern metropolitan areas. "Suburbs were protected from desegregation by the courts ignoring the origin of their racially segregated housing patterns." "Milliken was perhaps the greatest missed opportunity of that period," said Myron Orfield, professor of law and director of the Institute on Metropolitan Opportunity at the University of Minnesota. "Had that gone the other way, it would have opened the door to fixing nearly all of Detroit's current problems."
John Mogk, a professor of law and an expert in urban planning at Wayne State University in Detroit said that the decision increased mass white flight to the suburbs and a decease of a tax base. Supreme Justice William O. Douglas' dissenting opinion in Miliken held that: "there is, so far as the school cases go, no constitutional difference between de facto and de jure segregation. Each school board performs state action for Fourteenth Amendment purposes when it draws the lines that confine it to a given area, when it builds schools at particular sites, or when it allocates students. The creation of the school districts in Metropolitan Detroit either maintained existing segregation or caused additional segregation. Restrictive covenants maintained by state action or inaction build black ghettos...the task of equity is to provide a unitary system for the affected area where, as here, the State washes its hands of its own creations."
The 1970's and the 1980's.
The 1970's in Detroit represented the start of the era of the late Detroit mayor Coleman Young. His legacy has been debated to this very day. Many liberals love him while many of the conservative crowd blame him for the problems in Detroit. In order to show the truth, we should start from the beginning. Coleman Young was born in Tuscaloosa, Alabama in Mary 24, 1918. His father was Coleman Young and he was a dry cleaner. His mother was named Ida Reese Jones. In 1923, his family moved into Detroit. He graduated from Eastern High School in 1935. He worked in the civil rights movement and union rights activism. He worked in the Ford Motor Company. Also, he was backlisted for his work in union and civil rights activism. He served in World War II as a Tuskegee Airmen. He was part of the 477th Medium-Bomber Group of the United States Army Air Forces. He was a bombardier and navigator. As a lieutenant in the 477th, he played a role in the Mutiny in which 162 African-American officers were arrested for resisting segregation at a base near Seymour, Indiana in 1945. He worked with groups who had Communist members. Young's involvement in progressive organizations including, the Progressive Party, the United Auto Workers and the National Negro Labor Council made him a target of anti-Communist investigators including the FBI and HUAC. He protested segregation in the Army and racial discrimination in the UAW. In 1948, Young supported Progressive Party presidential candidate Henry A. Wallace (who opposed Jim Crow, supported no use of atomic weapons, and wanted a more peaceful foreign policy). Just because someone opposed the evil of McCarthyism doesn't mean that this person should be disrespected. Communists and non-Communists have every right to show their views in any society. In 1952, Coleman Young refused to tell the HUAC (or the anti-democratic House Committee on Un-American Activities) on whether he was a Communist or not.
On HUAC's charge that he seemed reluctant to fight communism, Coleman said: "I am not here to fight in any un-American activities, because I consider the denial of the right to vote to large numbers of people all over the South un-American." On the HUAC congressman from Georgia: "I happen to know, in Georgia, Negro people are prevented from voting by virtue of terror, intimidation and lynchings. It is my contention you would not be in Congress today if it were not for the legal restrictions on voting on the part of my people." Some historians like Harvey Klehr, John Earl Haynes, and Ronald Radosh accuse Young of being a secret CPUSA member, but he had the right to believe in what he wants as a human being. Freedom of thought is a basic human freedom that must maintained in the world. His actions made Young a hero in Detroit's black community. Coleman worked in the East Side in the 1940's and in the 1950's to build his political base. He worked to form a new state constitution in Michigan in 1960. He was in the state Michigan Senate in 1964. His most significant legislation was a law requiring arbitration in disputes between public-sector unions and municipalities. During his senate career, he also pointed out inequities in Michigan state funding, "spending $20 million on rural bus service and a fat zero for the same thing in Detroit.
The 1973 mayoral election was polarizing. 92% of blacks voted for Coleman Young, while 91% of the whites voted for former police Commissioner John Nichols. Coleman Young talked about violence in an increasingly black city. Detroit was slightly less than 50 percent in 1972. Most of the police department back then was white. He wanted to eliminate one particularly troubled police decoy unit, STRESS (Stop the Robberies and Enjoy Safe Streets), whose officers had been accused of killing 22 residents and arresting hundreds more without cause during its two-and-a-half-year existence. He campaigned from the left. He wanted to work in a community policing fashion. He ended STRESS and he integrated the Detroit Police Department. The proportion of blacks rose to more than 50 percent in 1993 from less than 10 percent in 1974 and has remained at about that level. Both actions were credited with reducing the number of brutality complaints against the city's police to 825 in 1982 from 2,323 in 1975. He won reelection by wide margins in November 1977 and in November 1981.
He upgraded the transit system in Detroit and he established massive construction projects. His administration saw the completion of the Renaissance, Detroit People Mover, the General Motors Detroit/Hamtramck Assembly Plant, the Detroit Receiving Hospital, the Chrysler, the Riverfront Condominiums, the Millender Center Apartments, the Harbor town retail and residential complex, 150 West Jefferson, One Detroit Center & the Fox Theater restoration, among other developments. Many neighborhood activists didn't agree with these projects. This opposition typically manifested itself in rigorous budget debate rather than in serious electoral challenges against Young. Most of the time Young prevailed over this opposition, seeking jobs and economic stimulus as a way to help rebuild Detroit's neighborhoods.
There were problems too. Coleman Young emerged from the liberal element in Detroit, but not all of his policies were progressive. Highly controversial was his using eminent domain to purchase and raze an 465-acre inner-city neighborhood known as Poletown that was home to 3,500 people, mostly Polish property owners, in order to make way for a half-billion dollar General Motors Cadillac assembly plant. Rich argues that he pulled money out of the neighborhood to rehabilitate the downtown business district, because "there were no other options." He worked with Detroit's economic elite on many issues. During the 1970's and the 1980's, Detroit's crime rate increased. The homicide rate in Detroit existed long before Young was mayor. The crime epidemic persisted during the time that he was mayor. It persisted because of poverty, deindustrialization, the War on Drugs, the growth of gangs, and other reasons. Young is responsible for some of this trend not all of it. Dozens of violent black street gangs gained control of the city's large drug trade, which began with the heroin epidemic of the 1970's and grew into the even larger crack of the 1980's and early 1990's. There were numerous major criminal gangs that were founded in Detroit and dominated the drug trade at various times; most were short-lived. They included The Errol Flynns (east side), Nasty Flynns (later the NF Bangers) and Black Killers and the drug consortiums of the 1980's such as Young Boys Inc., Pony Down, Best Friends, Black Mafia Family and the Chambers Brothers.The Young Boys were innovative, opening franchises in other cities, using youth too young to be prosecuted, promoting brand names, and unleashing extreme brutality to frighten away rivals. There was a serious arson problem in Detroit, especially among Halloween called "Devil's Night" in the 1980's. This involved vandalism and arson. It peaked in 1984 when 800 fires were set in Detroit. Several times during Young's tenure Detroit was named the arson capital of America, and repeatedly the murder capital of America. Often Detroit was listed by FBI crime statistics as the "most dangerous city in America" during his administration. Crime rates in Detroit peaked in 1991 at more than 2,700 violent crimes per 100,000 people. Many people left Detroit and even today, many abandoned buildings exist. Scholars and researchers believe that the 1967 rebellion contributed heavily too many of the problems in Detroit then and now. Also, redlining, white resistance to court ordered desegregating, aging industrial plants, and a declining automotive industry contributed to economic problems. A lax of tax revenue (including economic mismanagement, and a radical decline of population growth) led into lax services and a struggle for investments back during the tenure of Coleman Young.
Detroit civil rights leader Arthur L. Johnson in his memoir, Race and Remembrance blamed the racist policy of redlining by the banking and insurance industries for much of Detroit's problems. He cites a series of investigative articles in 1988 by the Press entitled "The Race for Money" which documented the discriminatory practices of the major banks in metropolitan Detroit. "The Free Press series showed that black Detroiters were much less likely to qualify for a home mortgage than suburban whites in the same income bracket... The unfair lending practices of the major banks also made it more difficult for blacks to secure business, home improvement and auto loans. In effect, banks were punishing blacks who wanted to make Detroit their home..." During Mayor Young's political tenure, with the unemployment rate trending from approximately 9% in 1971 to approximately 11% in 1993, when Young retired. However, most economic metrics (unemployment, median income rates, and city gross domestic product) initially dropped sharply during economic recessions, reaching their "low points" in the late 1980s and/or early 1990s, with the unemployment rate in particular peaking at approximately 20% in 1982. Coleman Young was known for his colorful language. He spoke the truth about racism being a serious problem, but he also used profanity.
By January of 1994, he left being Mayor. He soon passed away at November 29, 1997 in Detroit at the age of 79 years old. So, Coleman Young's legacy is mixed. He has great things as standing up against racism, promoting infrastructure, and working in the civil rights movement. He has made mistakes as supporting many neoliberal economic policies (when he allied with the corporate world in cutting city services in many cases, reduced spending, and promoting the private economy. On many cases, Coleman was a fiscal conservative), and many of his other policies. Also, it is fair to point out that he was mayor during Reagaonomics and Reagan (via his crippling cuts in social programs during his Presidency) should also be blamed for much of the economic downturn in Detroit too. Young was the only Detroit mayor since 1950 to preside over a city with more income than debt, although he relied heavily on tax increases to pay for services. It is really inaccurate to blame one mayor for the bankruptcy of Detroit. So, Coleman Young was a man. He was a man who wasn't perfect, but the problems in Detroit existed long before he was mayor.
Ultimately, the urban decline, lax tax revenue, deindustrialization, evil, racist redlining policies, and other reckless economic policies contributed to the economic problems in Detroit.
Detroit in the 1990's.
By the 1990's, the city of Detroit experienced a revival. Much of it was found in Downtown, Midtown, and New Center. One (1993) arose on the city skyline. Newer downtown residents are predominantly young professionals. The city has three casino resort hotels - MGM Grand Detroit, MotorCity Casino, and Greektown Casino - with one of the larger gaming industry markets in the U.S. There were also many developments in the city too. In November 5, 1992, a black motorist named Malice Green died after struggling with the white policemen Larry Nevers and Walter Budzyn during a traffic stop. The officers were later convicted and sentenced to prison. The convictions were overturned, but the officers were retried and convicted of lesser charges. Nevers struck Green in the head with his flashlight approximately 14 times during the struggle which, according to the official autopsy, resulted in his death. A subsequent report presented by experts testifying for the defense at the trial stated that Green died of heart failure, caused in part by an enlarged heart due to years of substance abuse, and aggravated by the struggle with police. Detroit Mayor Coleman A. Young stated that Green was "literally murdered by police" on national television. The City of Detroit paid a civil agreement of $5.25 million to Malice Green's family. Malice Green was unarmed. This tragedy represented the continued debate about policing and community issues in America. President William J. Clinton in 1997 elevates Detroiter Charles Leroy Thomas from Distinguished Cross to Medal of Honor, citing a past policy of awarding heroic African-American soldiers lesser honors than white soldiers for similar or greater acts of heroism. Thomas receives the award posthumously for his service in World War II. Later in 1997, the Detroit Red Wings win their first Stanley Cup in 42 years. In 1999, the Detroit Tigers play their final baseball game in classic Tiger Stadium, which had opened in 1912. The team relocated to the new Commercial Park downtown in 2000. From 1994 to 2001, under Mayor Dennis Archer, the city's credit rating rises to a solid investment grade, on the back of a bout of urban renewal (we know that historically, urban renewal has displaced black and poor communities in America).
21st Century Detroit
The 21st century in Detroit began with many expansions of new buildings and the continued class struggle. Economic inequality and poverty were still a problem in Detroit and throughout the Earth. New downtown stadiums were constructed for the Detroit Tigers and the Detroit Lions in 2000 and 2002 respectively. In 2007, Detroit completed the first major portions of the River Walk, including miles of parks and fountains. The Renaissance Center received a major renovation in 2004. New developments and revitalizations are mainstays in the city's plan to enhance its economy through tourism. Along the river, upscale condominiums rose up, such as Watermark Detroit. Some city limit signs, particularly on the Dearborn border say "Welcome to Detroit, The Renaissance City Founded 1701." In 2004, Compuware made Detroit in downtown its world headquarters like Quicken Loans in 2010. The city has hosted major sporting events - the 2005 MLB All-Star Game, 2006 Super Bowl XL, 2006 World Series, WrestleMania 23 in 2007 and the NCAA Final Four in April 2009 - all of which represented the growth of worldly culture. In 2008, the city witnessed grand restorations of the historic Book Cadillac Hotel and the Fort Shelby Hotel. The city's International Riverfront was developed more. Significant landmarks such as the Fox Theatre, Orchestra Hall Detroit Opera House, and the Gem Theater have been restored and host concerts, musicals, and plays. The Detroit Institute of Arts completed a major renovation and expansion in 2007. Many downtown centers such as Greektown, Cobo Center and Campus Martius Park, draw patrons and host activities. During this time period, Kwame Kilpatrick was the mayor of Detroit. He was the second black man to be mayor. Both of his parents were politicians. He was in the Michigan House of Representatives before he was mayor. He was elected mayor of Detroit in 2001 and he was inaugurated in 2002. Since his start, Kwame Kilpatrick was filled with controversy. He was one of the many Democrats who followed austerity policies.
During his first term he closed the century-old Belle Isle Zoo and Belle Isle Aquarium. The City Council overrode his funding veto for the zoo and gave it a budget of $700,000. He enacted a no bid contract to a close personal aide. He received reelection in 2005. By 2008, things changed. In his 2008 state of the city address, Kwame Kilpatrick said that Detroit had positive changes like increased police surveillance, new policing technologies, and initiatives to rebuild blighted neighborhoods in the city. He received repeated standing ovations from the invitation-only audience. It is true that Kilpatrick was a victim of racist attacks, even against his own family. It is also true that Kilpatrick made mistakes in his mayorship. Scandal hit Kwame Kilpatrick involving corruption, an affair with Christine Beatty, and obstruction of justice. In January, the Detroit Free Press began publishing extensive excerpts of text messages by Kilpatrick and Beatty, sent out over their city-owned cell phones, which confirmed both their affair and the retaliatory firing of the policemen (Gary Brown, Harold Nelthorpe and Walter Harris). On March 24, 2008, Kilpatrick was charged with eight felony counts, including perjury, misconduct in office, and obstruction of justice. On May 13, 2008, the Detroit City Council approved a resolution to request that Michigan's governor, Jennifer Granholm, remove Kilpatrick from office. On August 8, 2008, Michigan's Attorney General, Mike Cox, announced two new felony counts had been filed against Kilpatrick for assaulting and interfering with a law officer. On September 4, 2008, Kilpatrick announced his resignation as mayor, effective September 18, following a guilty plea to two felonies for obstruction of justice arising from a complex settlement scheme in a civil case where he lied about an extra-marital affair under oath, then caused the case to be settled at a premium in exchange for an agreement by the parties not to disclose his affair. He was sentenced to 28 years in prison on October 10, 2013. Kwame Kilpatrick, Federal Bureau of Prisons Register #44678-039, is serving his sentence at Federal Correctional Institution, El Reno in El Reno, Oklahoma. There is no parole in the federal prison system. However, with time off for good behavior, his earliest possible release date will be August 1, 2037—when he will be 67 years old.
There are no serious political differences between Kilpatrick and the business and financial elite of the Detroit area. He has carried out the mandate of the auto bosses and millionaires to hold the line on wages and benefits of city workers, cut services to the city's impoverished residents, and create a "business-friendly" environment in the city, including tax-free enterprise zones and the promotion of casino gambling that preys on the most vulnerable sections of the working class. The disaffection with Kilpatrick on the part of the corporate establishment arises because his personal corruption has become an obstacle to the implementation of their agenda. Even before the current scandal, Kilpatrick had become notorious for plundering city resources for his family's benefit while demanding incessant sacrifices from city employees. In 2005, Kilpatrick barely survived a challenge to his reelection mounted by Freeman Hendrix, a former city deputy mayor. Kilpatrick finished second to Hendrix in the first round of the non-partisan election, but won a runoff by a narrow margin. In other words, Kilpatrick (and we know that the real power structure has done more evil than Kilpatrick) was used by the same corporate elites that he worked for. His actions (which were wrong) should inspire us more to also expose the evils of the one percent in general and continue to defeat the enemy of the system of racism/white supremacy. Following a special election on May of 2009, businessman and former Detroit Pistons star Dave Bing became the Mayor and was subsequently re-elected to a full term of office. The decades long deindustrialization, austerity, population decline, urban decline, and other problems led into the bankruptcy crisis of Detroit. The crisis has reached national news by 2013. On March 1, 2013, Governor Rick Snyder announced that the state would be assuming financial control of the city.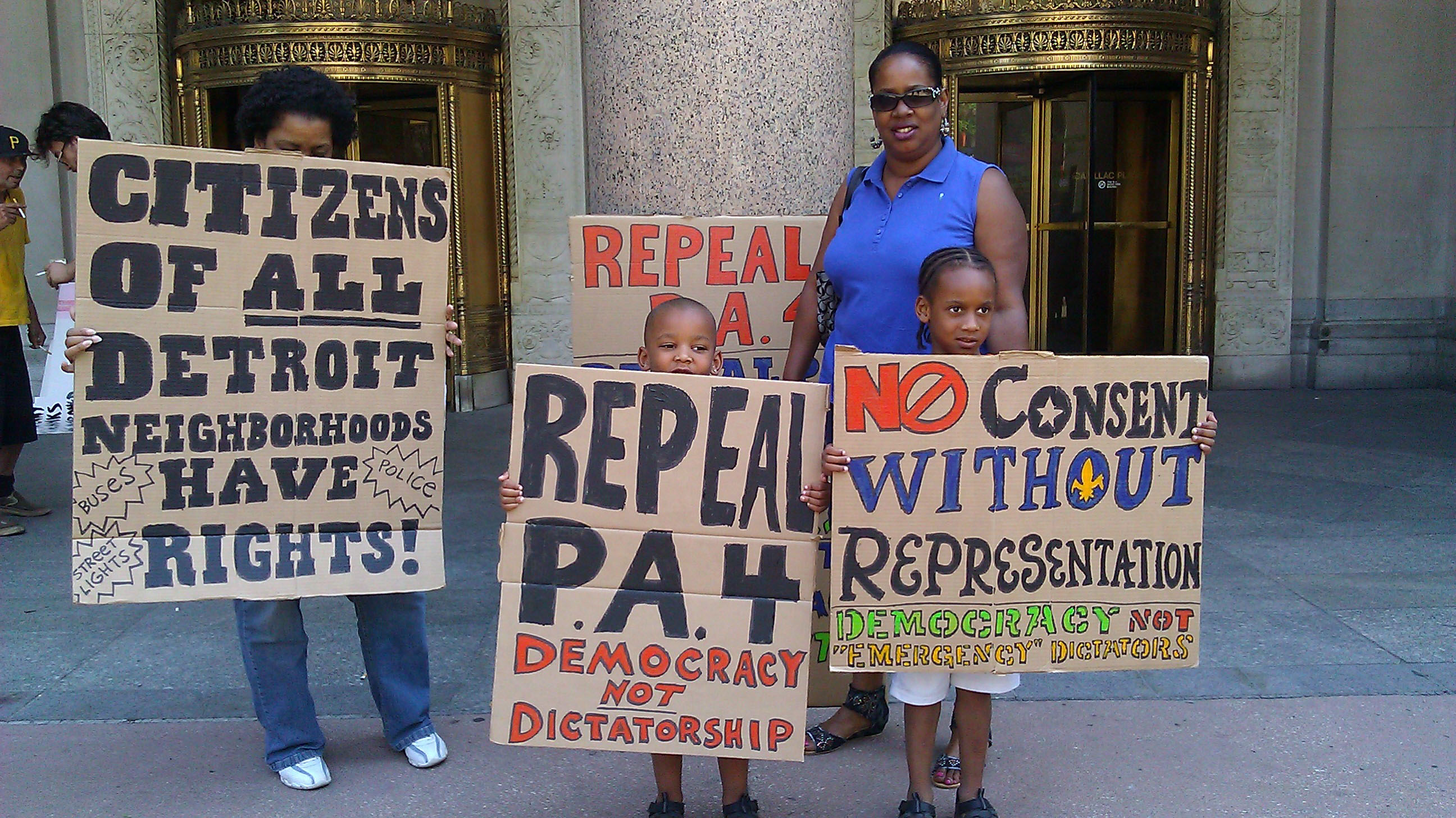 The Bankruptcy of Detroit
The city of Detroit experienced bankruptcy from 2013 to 2014. The following information is the truth and we know that economic exploitation by the oligarchy is real. There are many reasons for it. It was caused by many factors like the severe decline in revenues along with massive depopulation. Long term unemployment and depopulation caused the city's property and income tax revenues to decline. The state of Michigan also slashed revenues it had shared with the city. This caused more problems. Wall Street banks sold risky financial instruments to Detroit along with economic mismanagement (as done by Republicans and Democrats) increased the economic crisis in the city as well. Wall Street derivatives deals (plus predatory lending schemes that harmed disproportionately African Americans and Latino Americans) were disastrous along with the Great Recession. That contributed to the economic problems. Corporate entities moved money and other resources from Detroit into mostly white suburbs. For example, the state of Michigan owes Detroit more than $220 million in revenue-sharing state assistance. But it has refused to release the money. Meanwhile, the banks that pushed unaffordable mortgages on thousands of Detroit homeowners during the boom should be maintaining and paying taxes on the foreclosed properties they repossessed in recent years. Instead, in many cases, they've simply refused to pay up. In other cases, the banksters have taken homeowners into foreclosure without completing the process and obtaining title to the homes. Thus, thousands of people have been forced out of their homes, only to find out that the banks continue to stick them with the tax bill. This crisis existed by virtue of the city no longer bringing enough revenue to cover its immediate expenses.
In June of 2011, Michigan Governor Rick Snyder signed legislation allowing Detroit to continue collecting income and utility taxes. Dave warned in November 2011 that Detroit faced a projected cash shortfall of about $150 million by the end of March 2012. On Dec. 2, 2011, Michigan launched a preliminary review of Detroit's finances, citing the looming cash crunch. It found the city had a mounting debt problem with long-term liabilities estimated to top $12 billion compared with an annual budget of about $3.1 billion. In July of 2012, Dave Bing (or the then mayor of Detroit) imposed pay cuts on workers. City authorities audited Detroit's services. Later, there was the appointment of the emergency manager over Detroit. His name was the lawyer Kevyn Orr. The problem with an emergency manager system in Detroit is that an emergency manager is unelected and the democratic voice of Detroit citizens were excluded in the process. The emergency management plan was instituted against the wishes of Michigan voters who voted against the establishment of an emergency manager via referendum (on Public Act 4 in November of 2012). Emergency managers exist in Benton Harbor, Ecorse, Flint, Pontiac and Allen Park, and in the school districts of Muskegon Heights, and in Highland Park. All except one of these cities--Allen Park is the exception--have Black majorities. Orr followed austerity principles just like Snyder (who passed a right to work law in Michigan). The bankruptcy situation was the Snyder and Orr wanted pensions to be cut and assets to be sold to creditors (even to the big banks) in order for bankruptcy to end. They refused to outline other alternatives, but claimed that they had no choice, but to do it.
In fact, Snyder's office had lobbied Orr to take the job as early as January of 2013 and openly discussed with him arranging for the Chapter 9 bankruptcy, according to e-mails obtained by labor activist Robert Davis. Detroit was formally declared bankrupt in December 2013, a landmark ruling by U.S. Judge Steven Rhodes, who cited the city's dismal finances and $18 billion debt. About 40 percent of the city's streetlights did not work and about 78,000 abandoned buildings littered the city. Progressive activists like Demos and many socialists dispute the $18 billion debt number. Rhodes in April 11, 2014 approved a key settlement between Detroit and 2 investment banks over costly interest rate swaps. There was another deal between retirees and pension funds aided by an $816 million pledged by foundations, the Detroit Institute of Arts and the state of Michigan. Barclays bank and others received money. The state constitution protects pensions from cuts, but workers in Detroit have had their pension cuts for the sake of economic reasons. The banksters have taken jobs, homes and now massive assets of a major city. Citibank, General Motors, Chrysler, and other large corporations received a bailout from the federal government, but Detroiters have not. Many older workers who were retired have been forced to go back into work because of their pensions being depleted. On September 10, Detroit reached a deal with three Michigan counties over regional water and sewer services that could eliminate one roadblock to federal court approval of the city's plan to adjust its debt and exit bankruptcy.
The deal with Oakland, Wayne and Macomb counties created the Great Lakes Water Authority, a new regional water and sewer authority, but allows Detroit to maintain control of its local system. The deal was crucial to adjusting the city's $18 billion of debt and exits the biggest-ever municipal bankruptcy. The end of bankruptcy in Detroit came about in December 10, 2014. In Detroit, the Brewster Projects and the Jeffries have been torn down and replaced with housing that most poor and low-income people cannot afford. The promised new housing for the most marginalized sections of the working class has never materialized in the U.S. There have been water shutoffs and many people were forced to pay huge water rates. The Detroit News said that at least 4,000 households were living without water services including 66-year-old Fayette Coleman who has been shutoff since 2013. Out of the 200,000 customers, 108,000 were in arrears with 9,200 facing imminent terminations. Since the financial crisis of 2007 to 2009 and the bailing out of the banks, insurance firms and auto companies, the corporations have failed to reinvest their trillions of dollars in job creation or infrastructural improvements — because they would not guarantee the rate of profit these entities are demanding. The Detroit Institute of Arts (DIA) was turned over to a "trust" for its management and a scheme to construct a new hockey arena by Red Wings owner Mike Illitch was approved by a compliant City Council even before the bankruptcy had been finalized. As others have sad, we have seen a decrease in the majority black city of Detroit. The city of Detroit is still mostly black. We want black people to flourish in Detroit. Also, many schools in Detroit have been filled with mold and waste. That is why teachers have been protesting for justice. Downtown Detroit has seen development, but income inequality and poverty are serious problems in Detroit as well. We want the liberation of people in Detroit.
The New Era of Detroit
Now, we know about the New Detroit. The Detroit of the 21st century is filled with strong, courageous people making a difference. The truth is that tons of Brothers and Sisters in Detroit are creating businesses and making a difference. There is the black nationalist group called New Era Detroit confronting violence, setting up neighborhood programs, and standing up against police brutality. They show a red, black, and green flag to outline solidarity with black Americans and all black people of African descent. New Era Detroit is working on a range of projects, including a street watch program, in which men would patrol streets looking out for potential criminals. Other plans are boarding up vacant homes, establishing an afterschool program, and an effort called Come Black Home aimed at convincing blacks in and outside Detroit to buy property and invest in the city. On Angel's Night last month, they held a kids and family event in Highland Park with music, games, and sports. And on Thanksgiving Day, they handed out free food to needy people on public buses. "The reason you're seeing more of them is because some of those older groups are in decline and there is a void," said the Rev. D. Alexander Bullock, who founded two years ago the social justice group Change Agent Consortium. "Detroit has always been that kind of place ... there is something unchanging about Detroit. That activist-entrepreneurial 'I am somebody' spirit is still in this city." Bullock's organization also deals with education and poverty. There is the group Moratorium Now! in Detroit. Also, there is the Coalition for Black Struggle that deals with police abuse, water shutoffs, and housing evictions. The Detroit chapters of new national groups Black Lives Matter and Black Youth Project 100 have been active as well. The philosophies of the various groups differ, but they will work together on many issues. INN ANY movement for social justice, divergent voices exist. That's normal. Yet, we do agree with the same goal which is the freedom, justice, and equality given to black people and the rest of the human race.
Appendix A: The Culture of Detroit
The culture of Detroit is expansion and large. There can be no mention of the culture of Detroit without the mention of Detroit's African American population. Detroit has 81.2% of its residents being black people. Before World War I, Detroit had about 4,000 black people. That was 1 percent of its population. That would change. Black population growth grew massively via the Great Migration. In the Downtown Detroit District, there is the Charles H. Wright Museum of African American History. This is the world's largest institution dedicated to the African American experience. It wants to celebrate African American history and culture. It shows all people a wide spectrum of artifacts, archival material, and other exhibits which outlines the richness of black culture. It has the Blanche Coggin Underground Railroad Collection, Harriet Tubman Museum Collection, and other collections. "And Still We Rise: Our Journey Through African American History and Culture" is the museum's 22,000 square foot, interactive core exhibit. "Ring of Genealogy" is a 37-foot terrazzo tile creation by artist Hubert Massey surrounded by bronze nameplates of prominent African Americans in history. Dr. Charles Wright was an obstetrician and gynecologist. He wanted an institution to preserve Black History after he visited a memorial to the Danish World War II heroes In Denmark. So, in 1965, he created Detroit's first International African American museum. Later, it was moved in a land between John R and Brush Streets by 1978. In April of 1997, a 125,000 square-foot, state-of-the-art facility opened, making it the largest African American historical museum in the world. By 1998, it was renamed to the Charles H. Wright Museum of African American History. It has catering services and it celebrates the labor rights movement and cultures from around the world as well. There is lot of places in Detroit with great culture. Detroit's Music Hall for the Performing Arts has shown great activism, music, and fun. Many music fans have given their resources to help this music hall (Chaka Khan and other great artists have performed there).
By Timothy